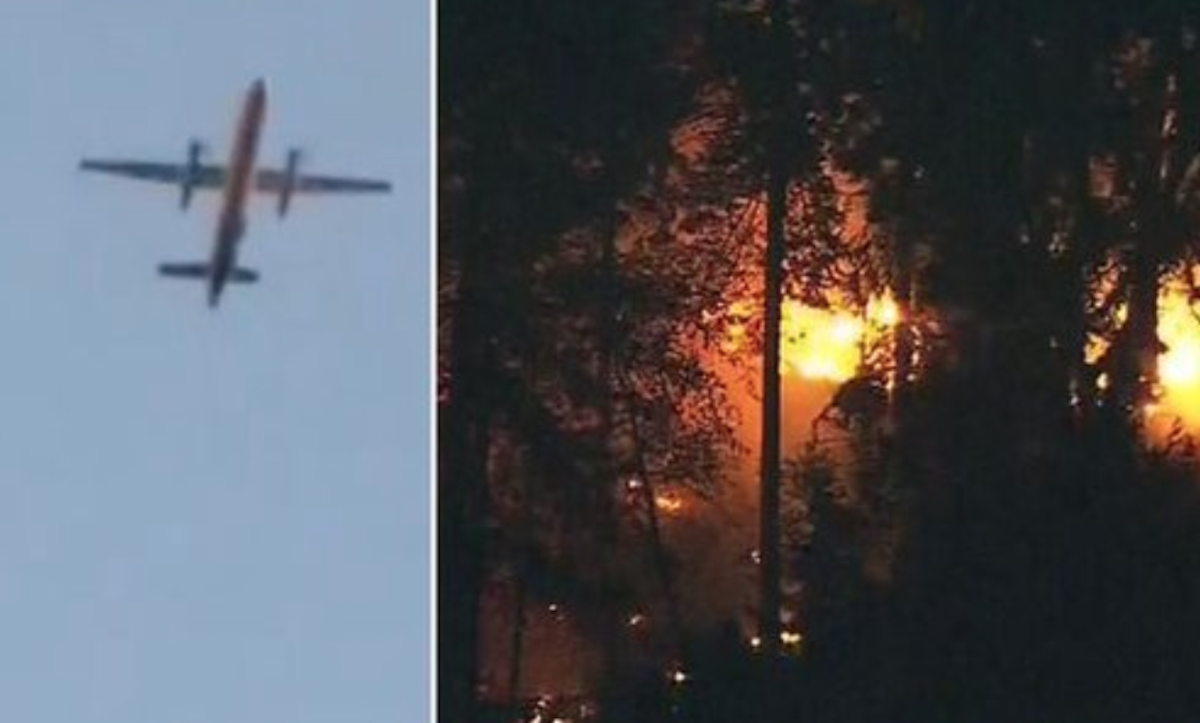 Seattle stolen plane suicide: A SeaTac mechanic steals Alaska Airlines 

Horizon Air Q400 commercial carrier and crashes it while pursued by F-15's.
A suicidal mechanic has died after stealing a commercial propeller airplane at Seattle–Tacoma International Airport on Friday and crashing it into a nearby island after being pursued by responding F-15 pilots. 
The empty 76 seater craft, a Horizon Air Q400 – belonging to Alaska Airlines' regional carrier Horizon was stolen from SeaTac and crashed into Ketron Island, 25 miles southwest of Tacoma, officials said.
Reports later told of the man being a married 29-year-old Horizon Air employee who dreamed of joining the military.
The ground service agent, referred to as 'Rich' and 'Richard' by air traffic controllers, was born in Key West, Florida and moving to Alaska as a child.
At the time of the initial hijacking, there'd been concerns that terrorism was involved, only for authorities soon determining otherwise. 
'Most terrorists don't do loops over the water,' Pierce County Sheriff Paul Pastor told reporters. 'This might have been a joyride gone terribly wrong.'
Terrorism or not, two F-15 fighters were scrambled from nearby Portland and all SeaTac flights were briefly grounded. 
'We've confirmed a Horizon Air Q400 that had an unauthorized takeoff from SeaTac around 8pm has gone down near Ketron Island in Pierce County, WA,' read a statement via Alaska Airlines.
'We're working to confirm who was on board, we believe there were no guests or crew on board other than the person operating the plane.'
Suicidal Seattle airport worker i'd in mystery motive and hijacking and plane crash.
Full video form John Waldron on Facebook being shown on CNN #seatac pic.twitter.com/R98bl5uQBr

— Cameron Thomsen (@CameronThomsen) August 11, 2018
Watches con air once #SeaTac #Seattle pic.twitter.com/bzIMYQIZX7

— carrie bentley (@actualcarrie) August 11, 2018
Some dude stole a plane from #Seatac (Allegedly), did a loop-the-loop, ALMOST crashed into #ChambersBay, then crossed in front of our party, chased by fighter jets and subsequently crashed. Weird times. pic.twitter.com/Ra4LcIhwfU

— bmbdgty (@drbmbdgty) August 11, 2018
Seattle stolen plane suicide:

A joyride or suicide mission?
Shortly after the plane took off, traffic controllers were heard on an Internet livestream speaking to a man identified as 'Rich', the Seattle Times reported.
'There is the runway just off your right side in about a mile, do you see that?' the traffic controller said.
'Oh those guys will try to rough me up if I try land there…,' Rich replied. 'I think I might mess something up there too. I wouldn't want to do that. Oh they probably have got anti-aircraft.'
'They don't have any of that stuff, we are just trying to find you a place to land safely.'
'Yeah, not quite ready to bring it down just yet, but holy smokes I need to stop looking at the fuel 'cos it's going down quick.'
It was upon one of the F-15s making contact with the rogue pilot shortly after, the plane took a nosedive and crashed, a source at Joint Base Lewis–McChord Air Force Base told KOMO.
I'm listening through the archive of the radio chatter on the #seatac hijacking. Below are some of the clips. pic.twitter.com/ziBAYv7cgn

— Jimmy Thomson (@jwsthomson) August 11, 2018
Seattle stolen plane suicide: 'I'm just a broken guy'.
While still in the air, 'Rich' or 'Richard,' was heard telling traffic controllers he was 'just a broken guy' before telling them he was preparing for 'jail time for life'. Police blamed 'doing stunts in the air and a lack of flying skills' for the crash.
'Male is confirmed a suicidal male. Acted alone he is 29 year old Pierce county residence,' the Pierce County Sheriff's Office tweeted.
'I'm down to 2,100 (pounds),' he told the ATC. 'I started at 30 something. … I don't know what the burnage is like on takeoff, but it burned quite a bit faster than I expected.'
Was it this guy? #Seattle #SeaTac #AlaskaAir #SEA pic.twitter.com/qHXi6tVz1t

— GunLink.info (@GunLink) August 11, 2018
Fighter pilots reached the rogue pilot within minutes and steered him away from highly populated areas, the sheriff said.
'This is not a terrorist incident. Confirmed info .. this is a single suicide male. We know who he is. No others involved,' the Pierce County Sheriff's Office said.
It was soon after that the suicidal pilot who may or may not have been on a joyride gone bad crashing.
'What we have is that someone stole a plane from Alaska Airlines,' Pierce County Sheriff's spokesman Ed Troyer told the News Tribune.
'We have multiple 911 calls, over 30, reporting a fireball. Witnesses said and Alaska Airlines plane is going down. We have police boats, we have everybody responding, we're trying to contact the military. We are sending resources and people. Hopefully it is just a stolen plane with one pilot and no passengers.'
Police blamed 'doing stunts in the air and a lack of flying skills' for the crash.
#BREAKING #SeaTac airline employee steals Horizon passenger plane and then crashes on island in #PugetSound . No passengers believed to be onboard. https://t.co/Bseqx6tIoe @nbcbayarea #AlaskaAir pic.twitter.com/q1zE5A6Mem

— Janelle Wang (@janellewang) August 11, 2018
Right after the crash. #Seatac #AlaskaAirlines #ChambersBay pic.twitter.com/5RvOimFp7Q

— Bo (@himynameisbora) August 11, 2018