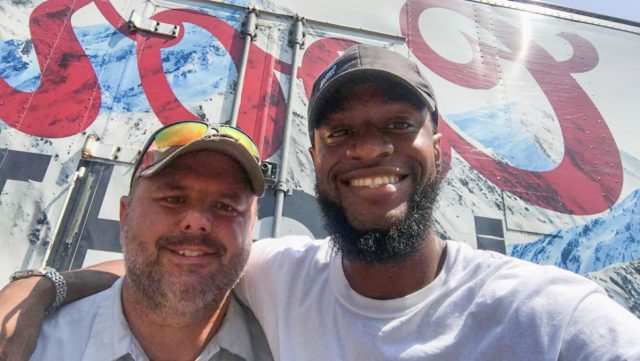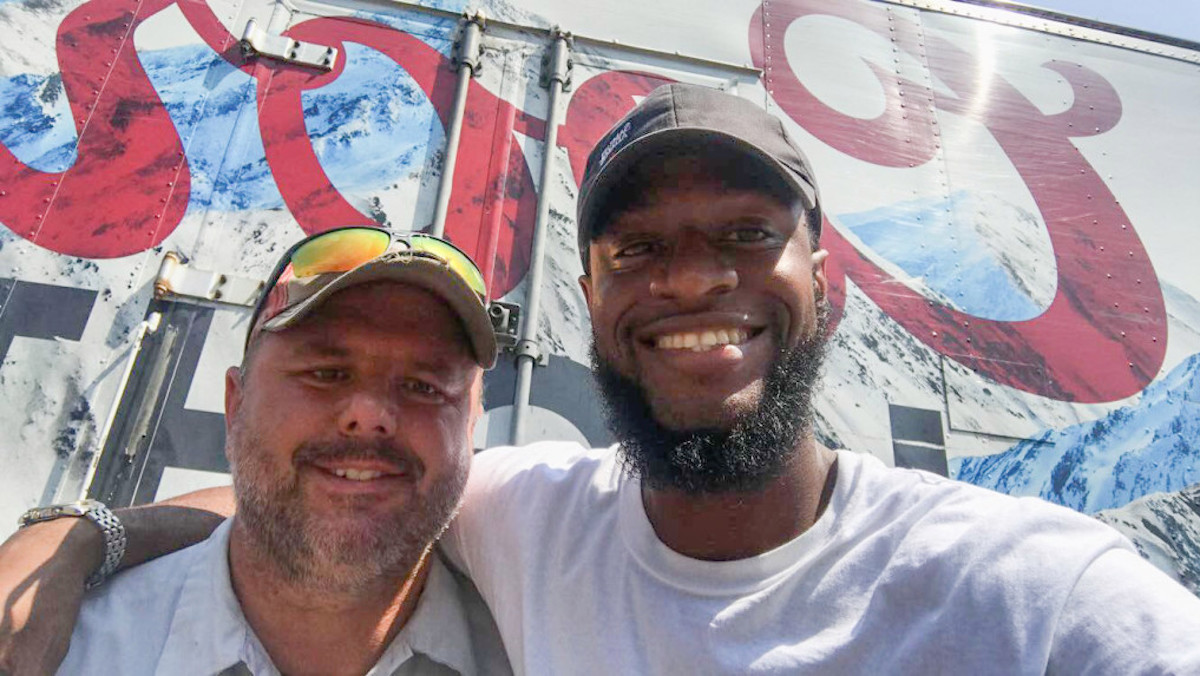 Two Coors Light beer deliverymen, 

Jason Gable and Kwame Anderson

save the life of a Minnesota suicidal man after stopping along the Interstate 94 pass and offering the man a beer.
Minnesota cops have told of two Coors Light beer deliveryman preventing a suicidal man from jumping off an interstate bridge in St. Paul after offering the man a beer.
Authorities say Jason Gable and Kwame Anderson were driving their 'Breakthru Beverage' truck Wednesday morning when they spotted the suicidal man clinging to the outer fence of the bridge over Interstate 94 and asked him if he was OK.
'Hey, what are you doing?' Anderson asked the man according to a report via the Pioneer Press. 'If you're thinking of jumping, you don't have to jump.'
'You don't know me, you don't care. Why are you trying to save me?' the suicidal man  said to which Anderson responded, 'If I didn't care I wouldn't be here right now.'
Jason Gable and Kwame Anderson referencing movie drama to save a troubled man's life:
Anderson, a comedian and by day a beer salesman recalled negotiating tactics actor, Denzel Washington used in the movie "Inside Man" and tried to build a rapport with the man before offering to talk to him over a beer about what was bothering him. Police say the man then slowly inched his way to safety.
During discussions, Anderson asked the man for his name, if he needed food or money before learning he was originally from Chicago.
'He said, 'Chicago's tough,'' Anderson said. 'I said, 'I grew up on the East Side of St. Paul, in the hood just like you.''
Upon the men connecting, Anderson ran back to the truck brought back a 12 pack and offered the troubled man a beer, leading to him crossing back from the edge of the fence.
Fox 9 reported police soon arrived and closing the interstate until the man came down and was taken to a hospital.
Because sometimes all a human being requires is rapport, decency, knowing that someone else cares, connects and understands the dilemma of being and simply just being heard….especially over a cold Coors Light beer.
The National Suicide Prevention Lifeline is at 800-273-TALK (8255). Additional information is at save.org.