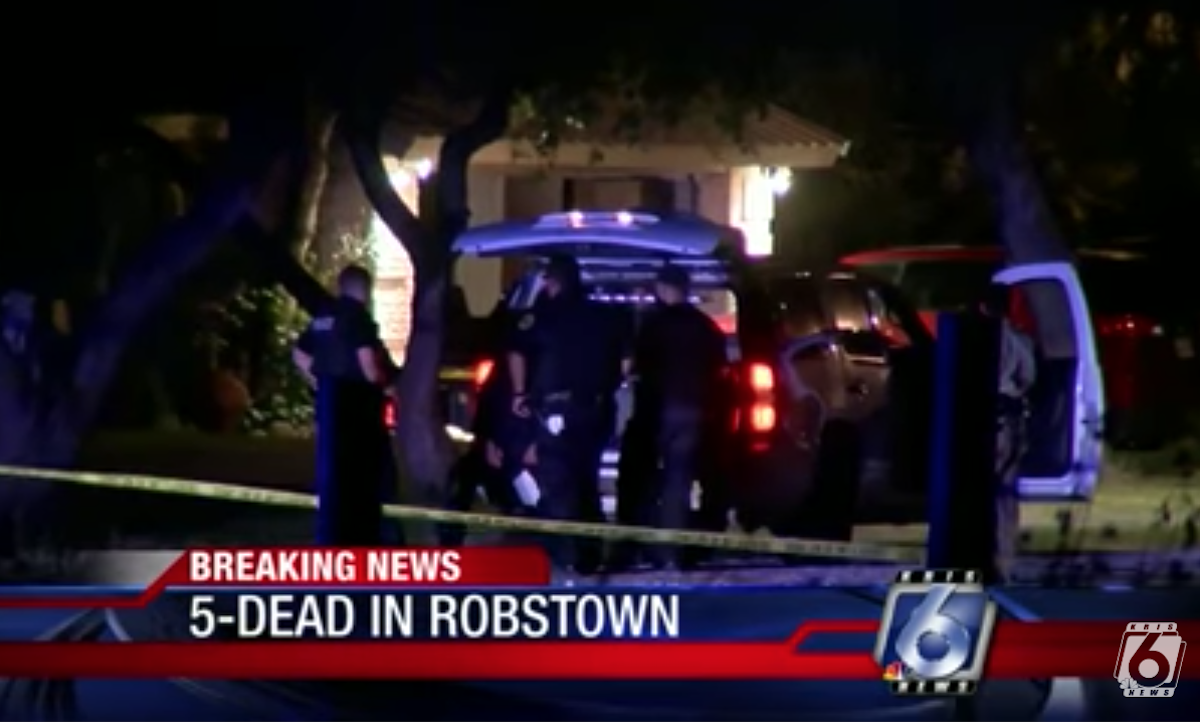 Robstown, Texas resident,

Richard Starry shoots father, Ernest Starry

 

and his wife, and Thelma Montalvo dead then self at nursing home residence. Two other relatives found dead at nearby home.
Texas authorities have told of five people being killed following separate shootings that included a nursing home at Corpus Christi suburb of Robstown.
Robstown City Secretary Herman Rodriguez in a post via Twitter said three people were killed Friday following a shooting at the Retama Manor nursing home. Two additional men were found dead at a nearby home linked to that shooting. All deceased were members of the same family, including a teenage boy. 
A Saturday press conference revealed 85-year old nursing home resident Ernest Starry found dead along with his wife Thelma Montalvo. Nearby was that of the shooter's body who killed themselves after gunning the couple.
Police identified the gunman as 60-year old Richard Starry and the son of 85 year old Starry.
AP reported officers responded to the nursing home about 7 p.m. Friday regarding an 'ongoing attack' where they happened upon two men and a woman dead. A phone call from family members prompted police to visit the residence of one of the nursing home victims, where two more men were found dead. The shooter was among those killed. 
What would motivate 60-year-old Richard Starry to kill his father, step-mother and two others? This is the question law enforcement officers are searching for answers to. https://t.co/RDEH0H0OGi pic.twitter.com/NHSF2WaKMv

— Emily Hamilton (@emilyhamiltontv) July 28, 2018
Robstown murder suicide: No established motive.
KRISTV reported the shooter being identified as the owner of the residential home, with the gunman initially shooting two males at his residence before making his way at the nursing home less than two miles away where he shot dead a male and a female before then taking his own life in what has since been described as an instance of murder suicide.
Authorities believe the shootings are related but have not identified the victims or established a possible motive.
Saturday's press conference identified a 13-year old boy and 40-year old man as the two deceased males at the residence. Police declined releasing the names of the victims from the second location only to say the 40-year old man was the son of Thelma Montalvo.
Abc7 reported Retama Manor Nursing Center being a medium-sized for-profit nursing home with 94 beds. The company operates a number of nursing homes in south Texas.
'You never think it's going to happen to your family', said Doris Salazar, whose mother lives at the nursing home, via USA Today following the shooting. 'You think they're safe.'
Welcome to a brave new America….
#BREAKING: Robstown City Secretary Herman Rodriguez said three people are dead after a shooting at Retama Manor Nursing Home in the 600 block of E. Avenue J. @callerdotcom pic.twitter.com/MYrlDEERua

— Alexandria Rodriguez ? (@Caller_AR) July 28, 2018