Marcus Antebi a juice entrepreneur sues his ex yoga instructor fiance & the mother of his 4yr old daughter for the return of a $30K diamond engagement ring that was never returned after breaking up.
At stake is a $30K diamond engagement ring, but perhaps what really might be at stake is how some couples negotiate love and their sexual market value.
Enter Marcus Antebi a 49 year old Manhattan, NYC entrepreneur and founder of a popular juice brand who earlier this month (July 3) filed a lawsuit against his former 'glamorous' yoga instructor fiancee after declining to return a $30K diamond engagement ring.
According the nypost, Antebi and his former fiancee, Katelin Sisson, 36 broke up two years, with the lithe athletic yoga ingenue having ignored all requests to return her former fiance's ring back.
In his suit, Antebi is asking Sisson either return the ring or the value of it, which including the gold band and diamond ring comes to said value of $30K.
Of note, neither party is struggling for money, with Antebi as the founder of Juice Press– a vegan juice and snack bar chain which was valued at $100million in 2015, and has 75 locations in the US.
Sisson is the co-founder of Yoga For Bad People, a yoga retreat held in idyllic locations around the world.
People pay up to $3,600 to attend Sisson's retreats, and others pay up to $11 for one of Antebi's juices.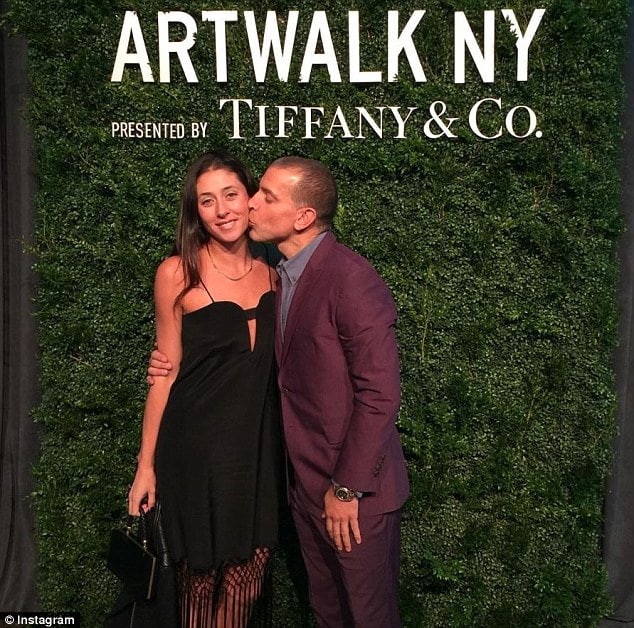 Marcus Antebi and Katelin Sisson diamond ring: But here's the catch… their daughter.
But here's the crunch. The couple have a daughter together and spent years in a relationship, extending the possibility that Sisson has kept the ring for sentimental purposes. But Antebi sees the jewelry as an unfulfilled transaction. 
'You have a ring, and you didn't get married, and the ring was given in contemplation of marriage and the guy gets the ring back,' Antebi's lawyer, Malcolm Taub, told the nypost.
'All he wants is what he's entitled to.'
Antebi remarried, wedding model and mother-of-two Teresa Lourenco in October last year. 
After he split with Sisson, the Yoga mogul and single mother told Refinery29 she had fought harder than she would have ordinarily to save the relationship because of their daughter.
Told Sisson, 'My ex and I were engaged when Minnie was born, and like some relationships, ours just didn't make it. I think we both put in plenty of effort to see if we could make it work,'
'I felt like that was important. But ultimately, we weren't supposed to be together in the long run,' she said.
'Today, I think everyone is better off.'  
Not immediately clear are the terms of custody and child support, if any, that Antebi pays towards the mother of his daughter, Minnie James. A state of affairs that might change whether a judge sees the former couple's relationship as a transaction not manifested. Tell that to their child….