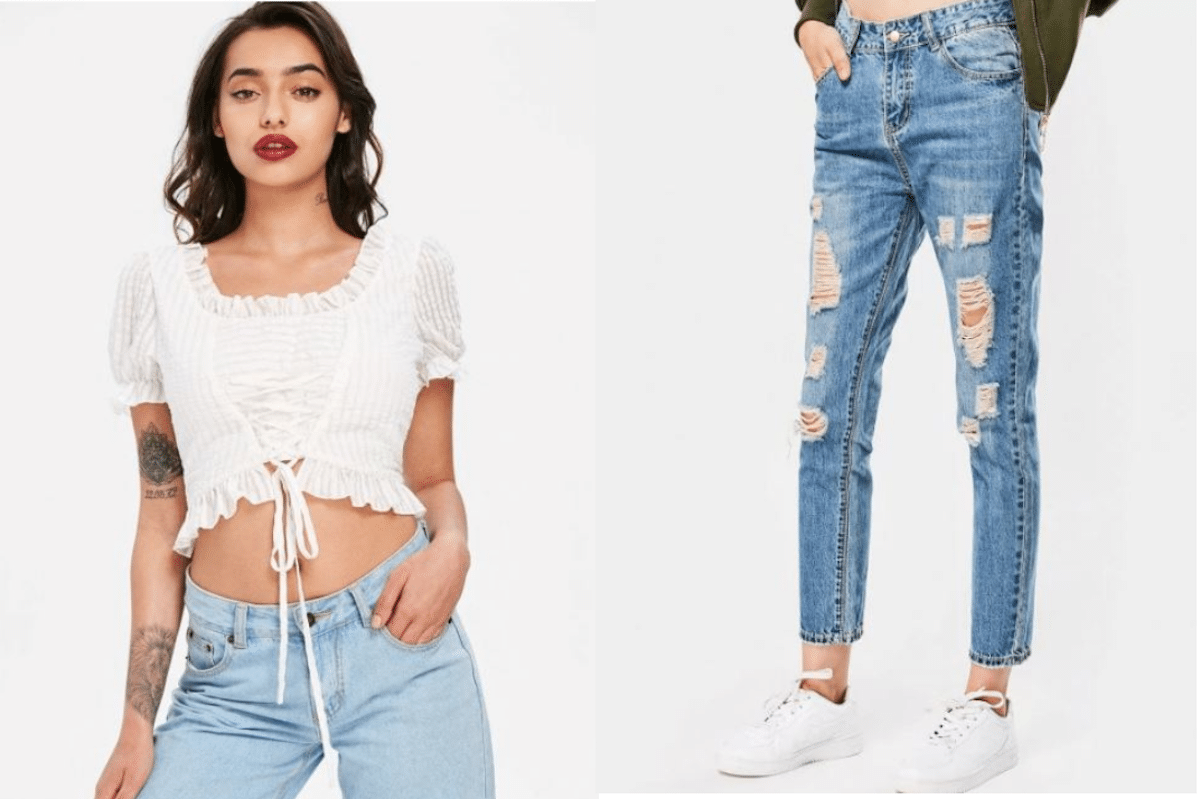 How To Wear The Lingerie Fashion Trend

: Embracing once inconceivable underwear-as-outerwear as the new trend of Spring Summer 2018. 
During last winter, it was tempting to stay duvet-bound in pyjamas 24/7. But instead, our fashionable selves braved the outdoors in floaty, bed-style trousers and sassy loungewear.  Now that spring has rolled around and summer is coming, we're taking sleepwear to the next level. We're shedding the layers and opting for the chicer version of 'underwear as outerwear', and you needn't be scared!
From spring corsets to day-appropriate lacy slips, there are many ways to incorporate this trend into your everyday fashion at Zaful. Need some inspiration? Here are three ways to wear the lingerie-dressing trend…
Broderie Bliss
At first mention, the thought of dressing in corsets during the day (or for evening wear outside of the house!) may evoke images of medieval days, or even the bedroom. But for SS18, trends have been twisted up, and pretty lace tops styled with the vision of corsets in mind are big news.
Whilst white textured crop tops might have a risqué connotation, they are now part of everyday fashion, designed with dainty shoulder ties, cute lace up features and detailed lacework.
Keep it cool for sunny days by pairing a sweet little Lace-up Crop Blouse in white with pale denim jeans, like these High Waisted Destroyed Ninth Pencil Jeans. The cute cap sleeves make it easy to wear a corset style top!
Or, chose a subtle corset style crop top, like this Lace Up Strapless Crop Top in white, which can be dressed up with a embroidered jacket or kimono, and faded denims.

Kimono Self Tie Cover Up Dress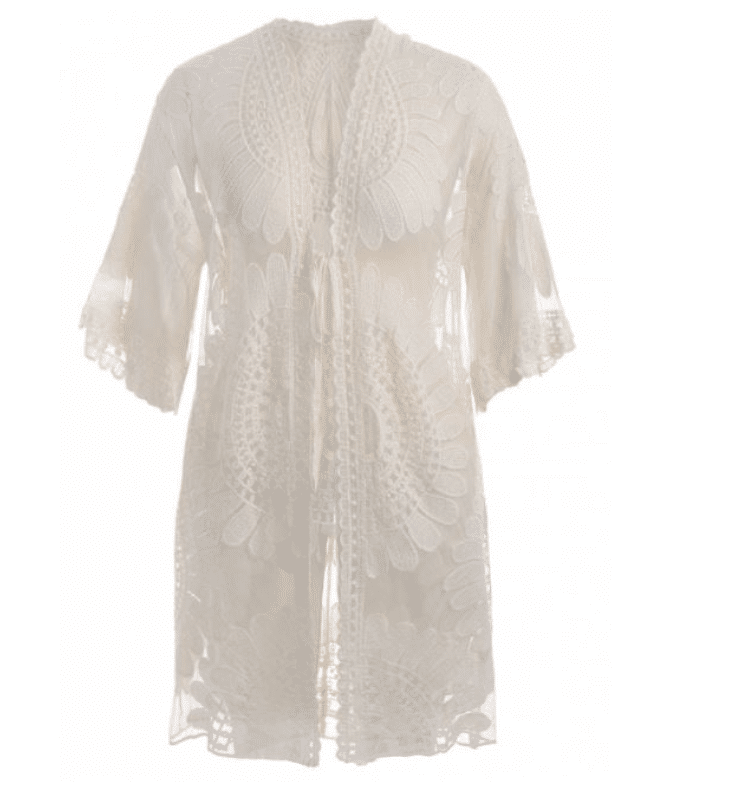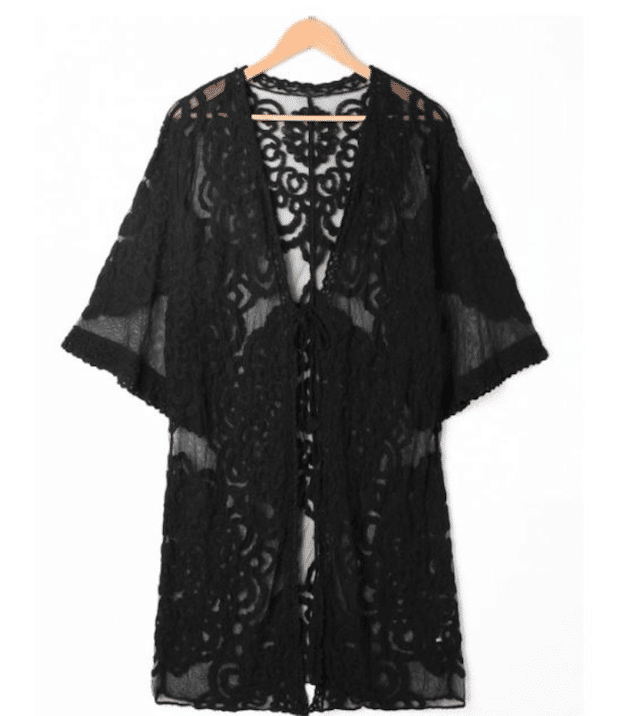 Balance it out

If the thought of putting on lingerie inspired pieces for outerwear gives you those immediate pangs of fear, then there are several ways to cleverly work around this.

One of them is the slip skirt, as it acts as your reliable middle man. The midi skirt is essentially a spring/summer staple, so if you can find a lace version or one with a little slit detail, it's a great option for delicate dressing.

In a striking black colour with a high side slit, this Oblique Button Midi Lace Slit Skirt gives that hint-of 'what's-underneath' contrast lace, aiming to set those pulses racing. You could team this up with a sheer white long-sleeve tee to balances out the detailing in the look, like this Shiny Sheer Mesh Beach Cover Up Top.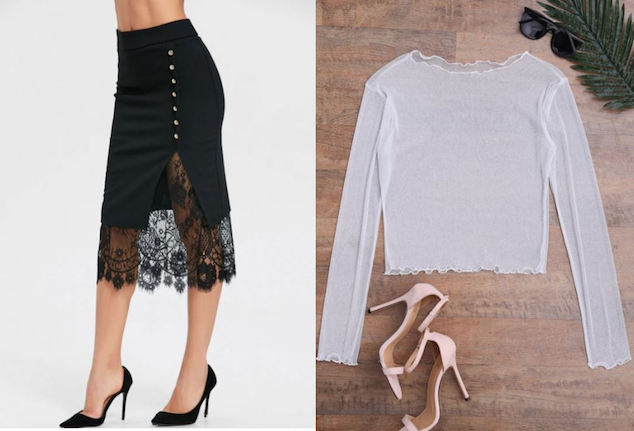 And for a little bit of a 'wow' factor, that's the perfect top to strategically place a pretty bralet underneath! Our favourite is this adorable Scalloped Caged Sheer Lace Bra – the most delicate and stunning underwear top.
Get shorty
Fancy changing it up a little from your usual Summer favourites of denim shorts? To embrace this underwear-as-outerwear trend, it's all about adding in that one racy piece to inject some cute yet daring style. Too pretty to keep in the bedroom, we're talking about white high-waisted shorts, with a delicate fringe of lace peeking out underneath.

Styles like the Tassel Drawstring Lace Shorts or the lace detail panelled Lace Panel Halter Top And Shorts Set are super wearable and fresh for Summer.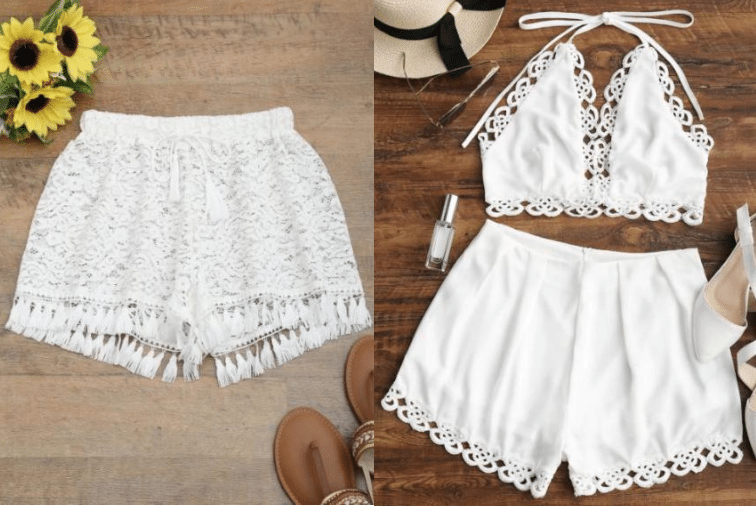 Avoid going too much into lingerie territory by adding a little cropped tee of sheer shirt with these shorts, to make sure you avoid the 'just-going-to-bed' look!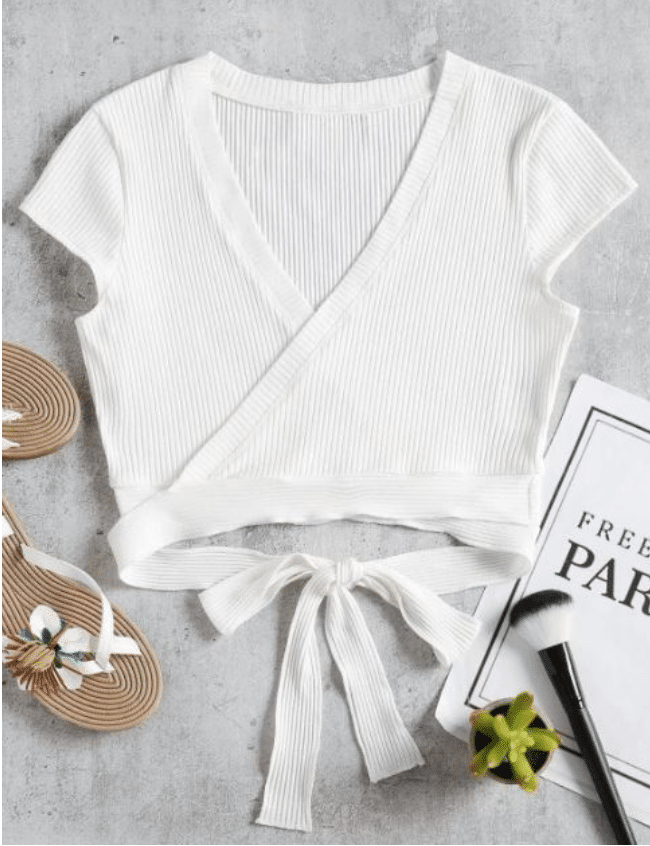 So there you go – three little ways to help you ease into the lingerie as outwear trend! However, you would rather keep these frilly, delicate lace and corset tie pieces to indoor wear only, you could just opt for the traditional route.

Wear them as night wear if you daren't wear outside of the house, after all, there are some gorgeous little pyjama sets like the Eyelash Lace Satin Cami Shorts Pyjama Set, and this black Cami Scallop Top also makes a great detailed bra to go underneath any sheer black tops…
How would you wear the lingerie trend? You can check for more chic lingeries at Zaful intimates collections. Feel free to let us know your ideas in the comments!