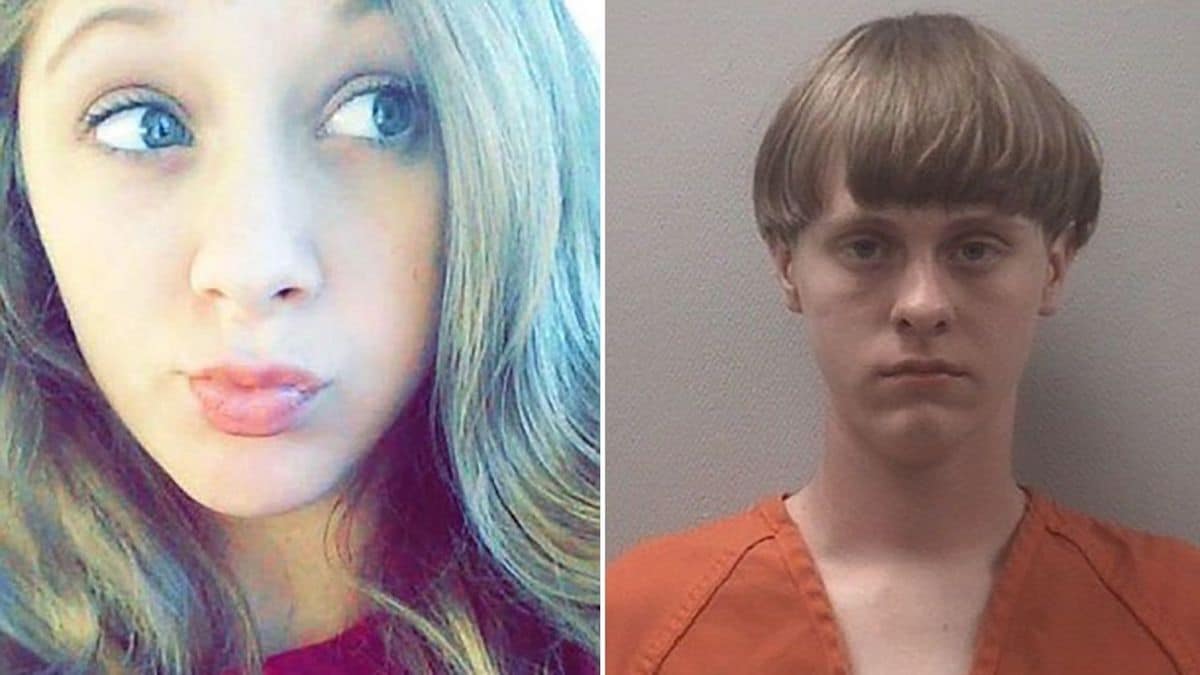 Morgan Roof Dylann Roof sister is arrested after found carrying knife, pepper spray and drugs to school following racist Snapchat post critiquing student gun violence walkout. 
Morgan Roof the 18 year old sister of Charleston, S.C., church shooter, Dylann Roof was arrested Wednesday for carrying pepper spray, a knife and marijuana in her high school, authorities said.
The South Carolina teen's arrest also follows Roof's sister posting on Snapchat a critique of Wednesday's National Student Walkout protest against gun violence, the Post and Courier of Charleston, S.C., reported.
'Your [sic] walking out for the allowed time of 17min, They are letting you do this, nothing is going to change what (the expletive) you think it's gonna do? I hope it's a trap and y'all get shot we know it's fixing to be nothing but black people walkin out anyway,' Roof posted, Fox 57 reported.
No students were harmed in connection with Morgan Roof's arrest. Students at Roof's school, AC Flora, were one of the many schools that participated in the national walkout.

Following her arrest, Roof was transported to the Alvin S. Glenn Detention Center. A $5,000 bond carried a judge's condition that Roof not return to A.C. Flora High School. 
It wasn't clear how or why the sister had arrived to school with a knife and a pepper spray.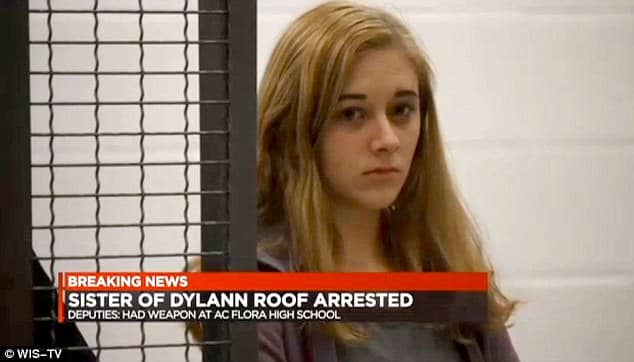 Morgan Roof tortured relationship with self avowed white supremacist killer brother:
The school issued a statement to parents on Wednesday to explain the situation and say that the comment was 'not a threat, but was extremely inappropriate.' 
'A student used social media to post a hateful message,' the letter to parents read.
'The posting was not a threat, but was extremely inappropriate. That student was dealt with in a swift and severe manner as the posting caused quite a disruption.' 
Wednesday's incident follows Roof's brother, Dylann Roof, a self-avowed white supremacist being convicted on federal charges in 2016, where the shooter pleaded guilty to state charges in 2017 in connection with the June 2015 murders of nine African-American churchgoers at Emanuel AME Church in Charleston.
During the trial videos of Morgan's visits to Dylann in jail were released, which show that he caused his sister and parents distress while behind bars.
In one video she is featured telling him he loves her as he refuses to say it back to her.
'Roof's teenage sister, Morgan, told him that she wanted to attend his execution, if it occurred,' The Post and Courier reported.
'I love you, Dylann, even if you don't love me back,' the sister told him.
He apparently responded: 'Ok.'
The 21-year-old is currently on death row in Indiana.