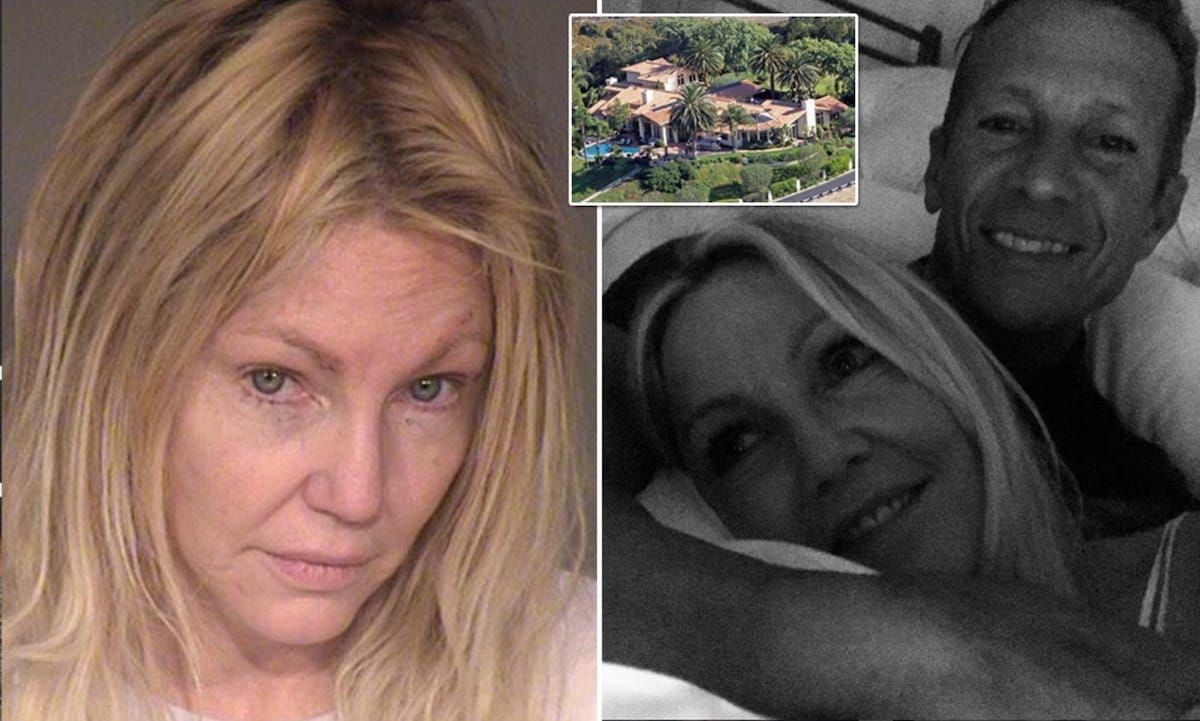 Chris Heisser beating: Heather Locklear domestic violence history reviewed. The ongoing run ins of a former TV star femme fatale addicted to drama, booze, prescription pills and bad boys. 
90's femme fatale and former Melrose Place star, Heather Locklear, 56 has been arrested after allegedly beating up her boyfriend, Chris Heisser, 56, along with a responding cop.
Notice of the delicious mayhem came after cops were called to Locklear's Thousand Oaks, California home Sunday night just before 10pm after her brother came home and found her fighting with her boyfriend, according to 911 audio obtained by TMZ.
Sources identified the boyfriend as Chris Heisser, Locklear's high school sweetheart. With the couple's latest public spat one in a series of ongoing toxic run ins.
Define toxic?
A police report noted Heisser allegedly having a visible mark on his body upon arriving at Locklear's residence. 
As cops tried to take our immortal femme fatale into custom, an arrest affidavit noted Locklear started flailing – kicking and striking three of the officers.   
From there, Locklear was taken to a hospital for evaluation, before being booked into jail circa 1am Monday (bingo !) on one count of felony domestic violence and three counts of misdemeanor battery on a peace officer. 
Locklear was released from Ventura County Jail after posting $20,000 bail circa 6am. Exhale….
Inmate records show Locklear's battered boyfriend also booked, but it's unclear on what charges. He was also released Monday morning.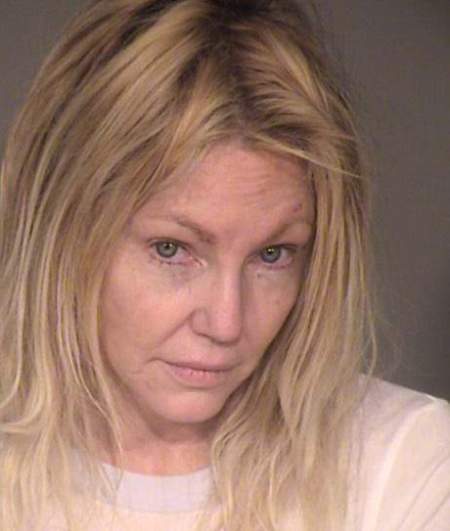 Heather Locklear a woman in love with drama: 
Told a Ventura County Sheriff's department statement via ET: 'Yesterday at about 10 p.m., our deputies responded to a domestic disturbance at a residence. When they arrived, Ms. Locklear was uncooperative with the deputies and actually battered three of our deputies. We initiated an investigation, which revealed that she had actually battered a boyfriend at the residence prior to our arrival. She was arrested for 1 count felony domestic violence and 3 counts misdemeanor battery on a police officer.
'[Locklear] had claimed that she was injured prior to our arrival, although we did not see any evidence of it. Out of an abundance for caution, she was transported to a local hospital where she was evaluated prior to being booked into jail. She posted $20,000 dollar bail and was released.'
The 'run in' follows Locklear having posted multiple photos of her new beau to Instagram in recent months..
Just two days ago, she also posted a picture of her flying to Boston with her dog.  
Heather Locklear and Chris Heisser love run ins and then some: 
A September 2017 report via radaronline told of Locklear getting into a fierce blow-out with Heisser before driving her Porsche into a ditch!
The incident led to the former Dynasty star breaking her collarbone along with claims of Locklear having battered her boyfriend in a hysterical outburst just weeks earlier.
Errratttic.
The post Labor Day 'mishap' led to friends and family begging Locklear to return to rehab and dump her ex-con boyfriend before her life further spiraled further out of control. Indeed.
Told an insider via radar at the time, 'This guy isn't good for Heather's sobriety'. 
Radar also reported in October Heisser proposing to Locklear, with the actress accepting his proposal, only for the actress to never publicly confirm the engagement.
Chris Heisser bona fide bad boy revealed: 
A report via heavy notes Chris Heisser having a previous career as a motorcross rider before becoming a contractor and home salesman. But that career led to legal problems for the California native.
According to the California Department of Consumer Affairs, Heisser lost his license after he was convicted of a crime. He also lost his contractor's license.
The California Contractors State License Board says that Heisser was sentenced to two years in prison in 2013 for fraud.
Locklear's love life troubles follow similar 'entanglements' with other former partners.
A report via the dailymail tells of Locklear having been married twice, first to Motley Crue drummer Tommy Lee from 1986 to 1993 and then to Bon Jovi guitarist Richie Sambora from 1994 to 2007.
She has one child, a 20-year-old daughter named Ava, who she had with Sambora.  
Locklear also had a long-term relationship with fellow Melrose Place alum Jack Wagner. The two got engaged in 2011, but called it quits less than a year later. 
The 56-year-old actress has a history of domestic violence calls, as well as abusing prescription drugs.  
In 2011, while dating Wager, LAPD officers were called to his home after the two allegedly got into a heated argument.
A law enforcement source told TMZ at the time: 'She lost it on him and he retaliated.'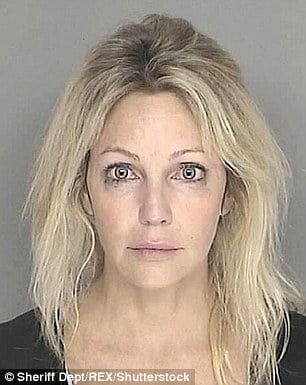 Heather Locklear: DUI, anxiety, depression, and rotating coterie of bad boys. 
Locklear was pulled over in September 2008 on suspicion of DUI after she was seen driving erratically. 
Define errrrrratic?
While a drug test found no alcohol or illegal narcotics in her system, our collective hero was charged with one misdemeanor count of DUI.
The Santa Barbara County Deputy District Attorney Lee Carter said he believed medication she was on for anxiety and depression 'could have impaired her ability to safely drive a motor vehicle'.
Locklear pleaded no contest to reckless driving and the DUI charge was dropped. She was sentenced to three years of informal probation, a DMV driver safety class and a $700 fine.
But there's more. Tighten your seatbelts kids….
In March of that year, paramedics and police officers rushed to Locklear's home when a man claiming to be her doctor called 911, saying he feared she was trying to commit suicide.
While Locklear appeared fine when cops showed up at her door, authorities say they believe the doctor's concern was legitimate since Locklear appeared to be suffering from anxiety and depression.
In June, Locklear checked herself into a medical treatment facility in Arizona for anxiety and depression and returned home about a month later.
In January 2012, authorities responded to Locklear's house again after her sister called 911, who feared her life was in danger after mixing prescription medication and alcohol. Locklear was taken to the hospital but was discharged the next day.
Locklear was most recently dating Dr. Marc Mani, a plastic surgeon, for three years before getting together with Heisser.
Locklear is most famous for her roles on TV in the 90s, such as Melrose Place and Spin City. More recently, she appeared on the TV shows Fresh Off The Boat and Too Close To Home.  
Locklear's first court appearance is scheduled for March 13.