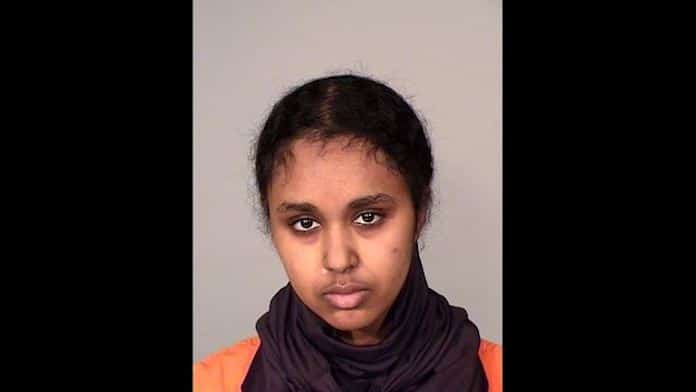 What led to Tnuza Jamal Hassan a former college student setting fires at Minnesota's, St. Paul's, St. Catherine's University? An act of terrorism? 
Tnuza Jamal Hassan a 19 year old Minneapolis woman has been arrested after setting fires at her former college at St. Paul's, St. Catherine's University to avenge Muslims killed in US bombings in the Middle East.
A criminal compliant told of the woman confessing to setting the fires, between six to eight, on Wednesday after reading about the US military destroying schools in Iraq or Afghanistan and felt she she should do the same thing.
'Hassan said this was the same thing that happened in the "Muslim land" and nobody cares if they get hurt, so why not do this?' the complaint stated.
The complaint, cited by Minneapolis Star Tribune, says Hassan told police her intent was to hurt people and to burn the Catholic university to the ground.
The teenager was also quoted as telling police and arson investigators: 'You guys are lucky that I don't know how to build a bomb because I would have done that.' 
Tnuza Jamal Hassan appears in court where she is charged with a single count of arson:
On Friday, Hassan, who had once been a student at the school in 2017, appeared in Ramsey County District Court and was charged with a single count of first-degree arson, reported Pioneer Press. She was then remanded back to the county jail. 
Officials say a sprinkler system prevented a dormitory fire from spreading to a day care center where 33 children and eight adults were present. 
Come Thursday the university released a press statement saying the fires were 'small and quickly contained, and no one was injured. There was damage to furnishings, but no structural damage to the impacted buildings.'
Police obtained surveillance video from the university, allowing them to track Hassan to Crandall Hall where she was taken into custody in a student lounge following a room-to-room search.
According to the college, the 19-year-old was last enrolled at St Catherine's in the fall of 2017.
Hassan reportedly dropped out because her family were planning to travel to Ethiopia.
The woman's family declined to publicly comment on Hassan's actions, with the family's lawyer, Patrick Nwaneri, relaying that the daughter's arrest came as a 'big shock', and that the family, 'were at loss.'
Officials said between 11.40pm and 2pm, Hassan torched a chair at St Mary's residence hall and burned a few smaller items, including books, toilet paper and sanitary napkins in women's bathrooms on campus.
Following her arrest, Hassan allegedly told police that she had written a letter to her roommates containing 'radical ideas about supporting Muslims and bringing back the caliphate,' the complaint said. 
The letter frightened the roommates, who handed it over to campus security.  
Tnuza Jamal Hassan ties to terror groups? 
Of note, Minnesotta holds one of the large preponderance of Ethiopian emigres, in the US.
Minnesota also has the nation's largest Somali community, many who fled the long civil war in their east African country with neighboring Ethiopia, who were drawn to the state's welcoming social programs.
A September, 2016 foxnews report noted Minnesota struggling with terrorist groups luring some of its young Somali men overseas.
Following Hassan's court appearance on Friday, Ramsey County prosecutor Margaret Galvin claimed Hassan having 'substantial ties' to the local community and added that authorities were investigating whether she had any international ties as well.
To date, authorities did not say what specific allegiances or connections the former student may have had, locally or overseas, and to what degree she sought to impart a political operative resistance to controversial overseas, US activities.
Hassan has no prior criminal record in Minnesota. She remained in custody Friday at the Ramsey County Jail, with bail set at $100,000. Her next court hearing is Feb. 28. She has not yet entered a plea.
It remains unclear if Hassan will now also face Federal charges….