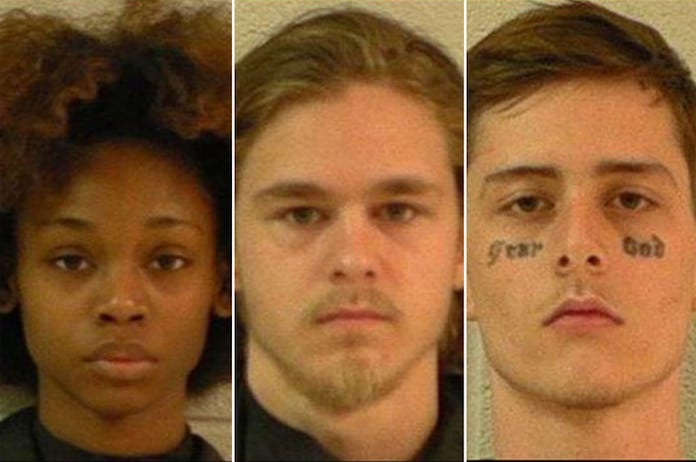 What led to Savanna Marie Jennings of murdering her grandfather. Georgia teen enlists two friends in cover up. Had initially reported man missing. 
Savanna Marie Jennings a 19 year old Elberton, Georgia teen has been arrested after allegedly shooting her grandfather dead 'in cold blood,' then dumping the man's body with the assistance of two friends in a bid to conceal the murder.
Come Wednesday, Jennings was charged with murder along with her pal William David Peterson, also 19, in the death of her 86-year-old man, Otha Perrin.
Onlineathens reported both Jennings and Peterson also being charged with felony murder, malice murder, possession of a firearm during the commission of a crime, aggravated assault and concealing a death.
Peterson was also charged with possession of a firearm by a convicted felon.
A third teen, Dakota Scott Street, 18, of Athens, was arrested and charged in connection to the ensuing cover-up.
Perrin's body was discovered Monday on private land in Elbert County, the Atlanta Journal-Constitution reports.
It was found in a pond, not far from the .22 caliber rifle that was allegedly used to kill him. A regard of the man's body led to police saying he died the result of 'multiple' gunshot wounds.
In the aftermath of Jennings arrest, cops told of the the teen having gone so far as to report her grandfather missing in a bid to conceal the man's murder.
However, the grand-daughter's plans were foiled by another family member who went to the local sheriff's office and told investigators that 'something isn't right' about Jennings' story.
The grand-daughter eventually relented, confessing to shooting Perrin — saying she got help from Peterson, according to officials.
They were each charged with murder, aggravated assault and concealing a death, while Street only faces a single charge of concealing the death of another.
Bond was denied for both Jennings and Peterson on Wednesday. Street's bond was set at $25,000.
Not necessarily clear is what led to the grand-daughter conspiring to murder her grandfather….