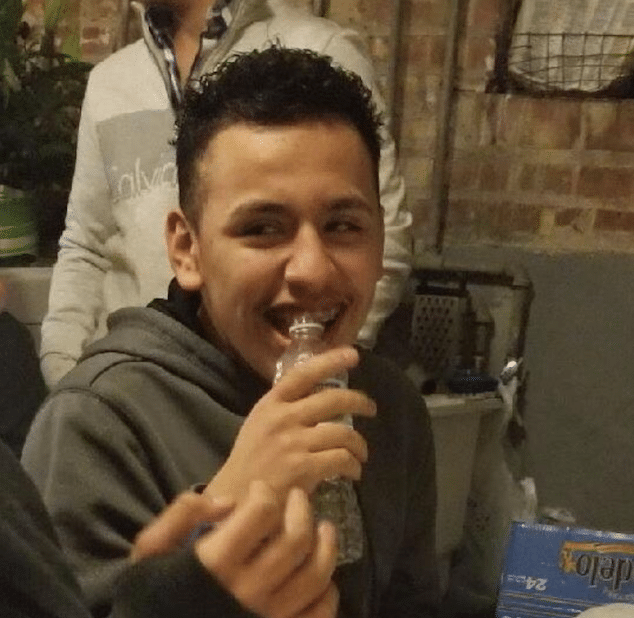 How did Brian Jasso a 15 year old Chicago teen boy come to be shot dead? Teen making newspaper delivery to save cash for sister's birthday gift shot dead.
Brian Jasso, a 15 year old Chicago boy has died after being fatally shot dead Sunday morning while helping his stepfather deliver newspapers along the city's Southwest Side. 
Authorities believe the boy's death may have been the result of mistaken identity.
Chicago police said the shooter was driving a white car that rear-ended the vehicle the boy's stepfather, Erik Campeano, 28, was driving. 
From there, the Chicago Tribune reported the shooter pulling up next to Campeano's Honda CR-V and shooting Brian in the head. The boy was sitting in the back seat. Officials pronounced the teen dead at 6.56am. 
Brian's mother, Carmen Manzano said her son had picked up the newspaper route to make money to buy his sister a birthday gift.
Police responded to the shooting around 6.45am in the LeClaire Courts neighborhood, an area that authorities said is known for gang violence. 
Rudy Monteagudo Tip: In Chicago, 'good kid' gunned down while delivering newspapers – Police said Brian Jasso was assisting his stepdad on his route so he could earn some cash to buy gifts. Investigators described Jasso as a "good kid."          https://t.co/D26jaGQogQ

— Rudy T Monteagudo (@RudyTMonteagudo) December 19, 2017
Gage Park family grieving after 15-year-old Brian Jasso was killed, shot in the head, while helping his stepdad deliver newspapers. Police investigating it as a posible case of mistaken identity @ABC7Chicago at 10pm pic.twitter.com/vmxCcE3PhE

— Michelle Gallardo (@GallardoABC7) December 18, 2017
Brian Jasso didn't have any enemies. Who wanted him shot?
Chicago police spokesman Anthony Guglielmi said investigators are now trying to determine if the boy's death was a case of mistaken identity. 
Police said a motive was not clear, but family members said Jasso 'did not have any enemies.'
Guglielmi said neither the teen nor his stepfather are part of a gang while the shooter may be. He said there's been a gang war in the area between two Hispanic gangs.  
Campeano is a longtime newspaper carrier for the Tribune's parent company Tronc. He told authorities that the white car first flashed its high beams at their SUV and started chasing them down. 
Campeano stopped and someone from inside the white car opened fire, he said. He then pulled into a BP gas station and told Brian to run, but it was too late.  
The stepfather works as an independent contractor and usually delivers the Chicago Tribune as well as other newspapers, including the Chicago Sun-Times and The New York Times, officials said.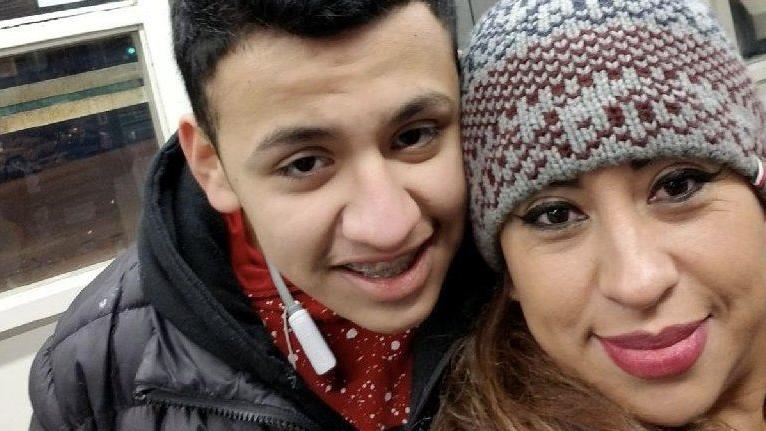 Brian Jasso and his family moved to a new neighborhood two months ago they believed to be safer:
Brian's mother said her son, the eldest of three children, was trying to make money to buy his sister buy her Skullcandy headphones for her upcoming birthday.
'I want to see the killer's face,' the mother told NBC. 
Ironically, the Manzano family moved out of the Back of the Yards neighborhood to an apartment in Chicago Lawn to escape gun violence.
The mother's boyfriend, 28, previously identified as his stepfather, offered to give the teen money so he could go back to sleep. Jasso wanted to work.
Chicago Tribune publisher and editor Bruce Dold says the newspaper is 'saddened and stunned by the news'. 
The Cook County medical examiner's office said an autopsy is scheduled for Monday.
Brian was a freshman at Chicago's Instituto del Progreso Latino.
Family members and friends took to social media to share heartfelt memories of their beloved friend and relative. 
Brian's death was one of six that occurred in Chicago over the weekend. Police are investigating whether or not the teen's death was related to an earlier incident that left three people shot, two of them fatally. 
More than 120 people 15 years old or younger have been shot, 22 fatally, in the city so far this year, according to data compiled by the Tribune.
Welcome to a brave new America….