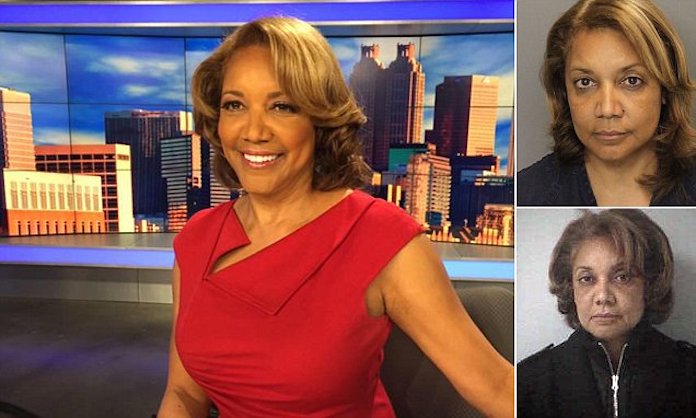 Amanda Davis CBS46 anchor has died of a heart attack while en route to father's funeral. Death follows a year after coming open about ravaging alcoholic addiction. 
Amanda Davis a veteran Atlanta CBS46 morning anchor has died after suffering a 'massive spontaneous stroke' while en route to her stepfather's funeral. The much beloved TV personality was 62.
Matters came to fore when Davis had a 'medical emergency' at Hartsfield-Jackson Atlanta International Airport, Tuesday morning. Despite being rushed to hospital, the news anchor died the following night.
AJC reported Davis  posting on Twitter last week that her 'pops' had died and his funeral was on Wednesday. It was while Davis was making her way to her father's hometown in Texas that she suffered the stroke.
Perhaps most ironically, Davis's last social media post, Christmas Eve, Sunday, included the CBS46 anchor posting about the difficulty of experiencing the first Christmas after losing a loved one, posting, 'Stay strong, keep praising the Lord.'
Davis was a news anchor in Atlanta for more than 30 years and previously worked at FOX5 Atlanta, where she helped launch 'Good Day Atlanta' in 1992. She became a main anchor five years later, according to FOX5, but retired from the station in 2013.
She was an Atlanta TV legend and one hell of a lady. Amanda Davis, a good friend who made it through bad times, rebuilt her life and career with a determination I've never seen. On the air, she said, "I am an alcoholic" — but she was so very much more. #amandadavis #cbs46 pic.twitter.com/EhHmH2dPgL

— NewsmanAtl (@newsmanatl) December 28, 2017
Wait a minute. Amanda Davis confessing she's an alcoholic

— CHAN (@_ulove_chan) May 19, 2016
Amanda Davis CBS46 anchor comes clean about her alcoholic addiction.
She opened up about her battle with alcohol addiction in 2016 and how treatment helped her.
'It felt good,' Davis told via AJC about her treatment program. 'I had learned a lot and gotten to the underlying issue for the drinking and my depression, which was the loss of that relationship. I was wallowing in that grief and drinking to feel better.'
At the time of her feature, Davis had been plagued by a series of DUI arrests, claiming difficulties with a past relationship saw her slowly transforming from a 'social drinker' to someone with a genuine disorder.
It wasn't immediately understood to what degree Davis' death may have been attributable to her drinking problem and what health woes her addiction may have caused. Also not clear is whether Davis may have at any point relapsed during her road to sobriety.
How ironic in the end an adulated media role model who'd achieved status and recognition in public had come to be living a double life for the cameras and a secret torturous one behind closed doors ….that may have ultimately claimed her.
Davis is survived by her mother and daughter, Hollywood writer Melora Rivera.
CBS46 morning news anchor Amanda Davis has suffered a massive spontaneous stroke. She was rushed to the hospital where she is undergoing treatment. We will keep Amanda's fans updated on her condition. https://t.co/1HgncVS5C5 pic.twitter.com/89dVD4Imv0

— CBS46 (@cbs46) December 27, 2017
Our hearts are heavy as we mourn the loss of our dear friend and colleague Amanda Davis. We celebrate her life and career today on @cbs46. pic.twitter.com/gCqkoEid5h

— Rebekka Schramm (@SchrammCBS46) December 28, 2017