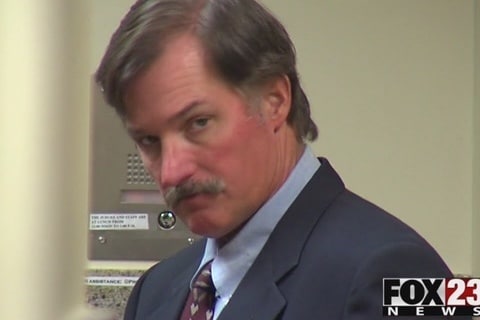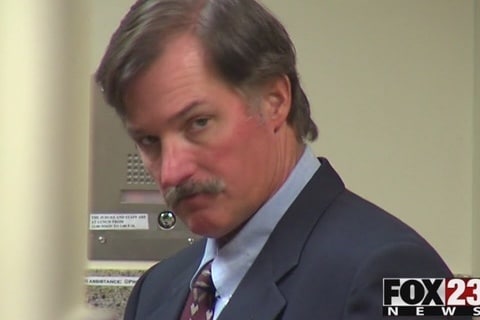 Shannon Kepler ex Tulsa, Oklahoma police officer is convicted in the murder of Jeremy Lake, his teen daughter's mixed boyfriend after three previous mistrials. 
Shannon Kepler a former Oklahoma police officer has been convicted of first degree manslaughter in the 2014 fatal shooting of his teen daughter's 'mixed' colored boyfriend, Jeremy Lake.
The conviction came after three previous mistrials.
Upon jurors deliberating for more than six hours, jurors reached the lesser verdict of manslaughter Wednesday night after the former cop had been facing first degree murder in previous trials.
The former white police officer was in turn recommended by the jury to be sentenced to 15 years jail reported to Tulsa World. Kepler's formal sentencing is scheduled for Nov. 20.
The verdict comes off the shooting death of Lake on August 5, 2014, who was shot dead by the off duty cop as the the then 19 year old teen was waking with Kepler's 18 year old teen daughter, Lisa Kepler.
During trial proceeding, attorneys for the cop argued Kepler firing at Lake in self defense in a bid 'to protect' his daughter. Defenders had argued the teen was armed with a semi-automatic weapon.
Investigators found no weapon on Lake or at the scene. 
During trial proceedings, the father said, 'it was either him or me.'
Lisa Kepler's boyfriend shot dead by her police parents cause they didn't like him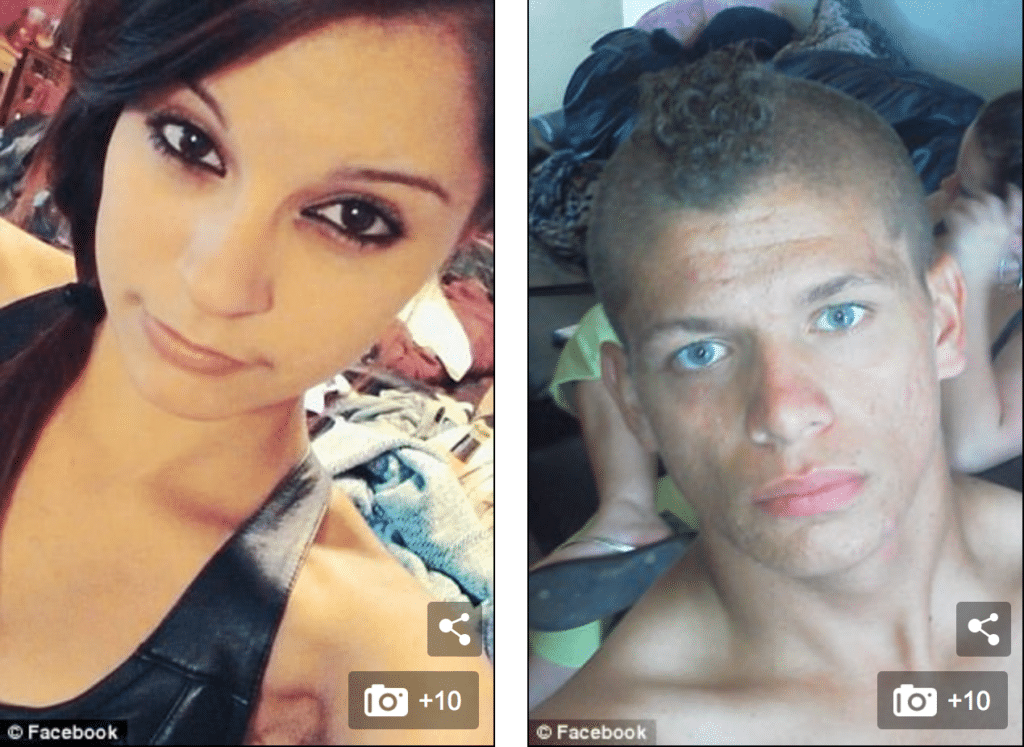 Shannon Kepler: Was he hunting his daughter's new mixed boyfriend or protecting her?
At the time, Lisa Kepler had been dating Lake, who identified as 'black,' after meeting the youth at a homeless shelter where she was staying.
The teen told the court her parents dropped her off at the shelter in July 2014 after she had been sneaking out at night and acting out.
Kepler's attorney said Lisa had run away from home after her father had prohibited her from bringing men to their house.
After a few weeks, Lake offered her a place to stay at the home he shared with his aunt, she testified.
She said on the day of the shooting, she and Lake were passing out water bottles to the homeless before walking back to his aunt's home. 
She testified that she noticed her father's SUV parked out front and that he started asking her questions. 
She said her father asked what she was doing in the neighborhood, but she couldn't remember how she responded, she testified.
Kepler in turn said he was trying to protect his daughter, because she was living in a crime-ridden neighborhood.
Lake's aunt said her nephew was reaching out to shake Kepler's hand to introduce himself when Kepler fired his weapon. 
Upon firing off his weapon, the former Tulsa police officer fled in his vehicle.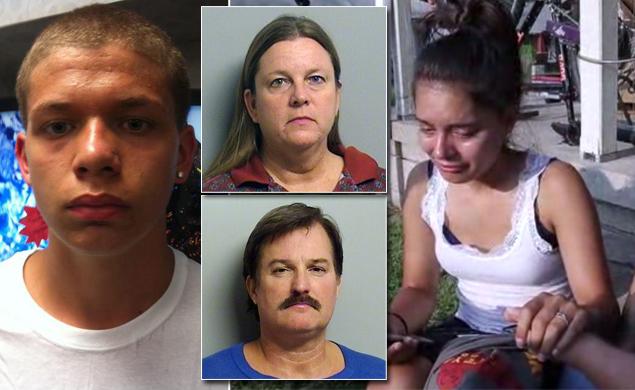 Shannon Kepler flees crime scene instead of calling 911.
Prosecutors in turn alleged Kepler wasn't looking for his daughter when he showed up outside Lake's home, instead he ha arrived planning to 'hunt' the girl's beau who he had found after reading his daughter's Facebook posts was now involved with the 'mixed' Lake.
The question of race as a motivating factor in the killing of Lake was denied by Kepler's defense, maintaining Kepler had turned up to 'protect his daughter'. This despite having relegated the girl to a homeless shelter.
The defense for Kepler rejected the idea that race had anything to do with the killing.
During the latest trial, Kepler said he was going to call 911 after having shot Lake only to call his wife, Gina Kepler, also a police officer with the Tulsa police force because 'he realized he was in a pickle.' 
Kepler formally turned himself in the next morning along with his wife. 
She was arrested with her husband on a complaint of being an accessory after the fact of murder, but was not charged because prosecutors said there wasn't evidence to support it.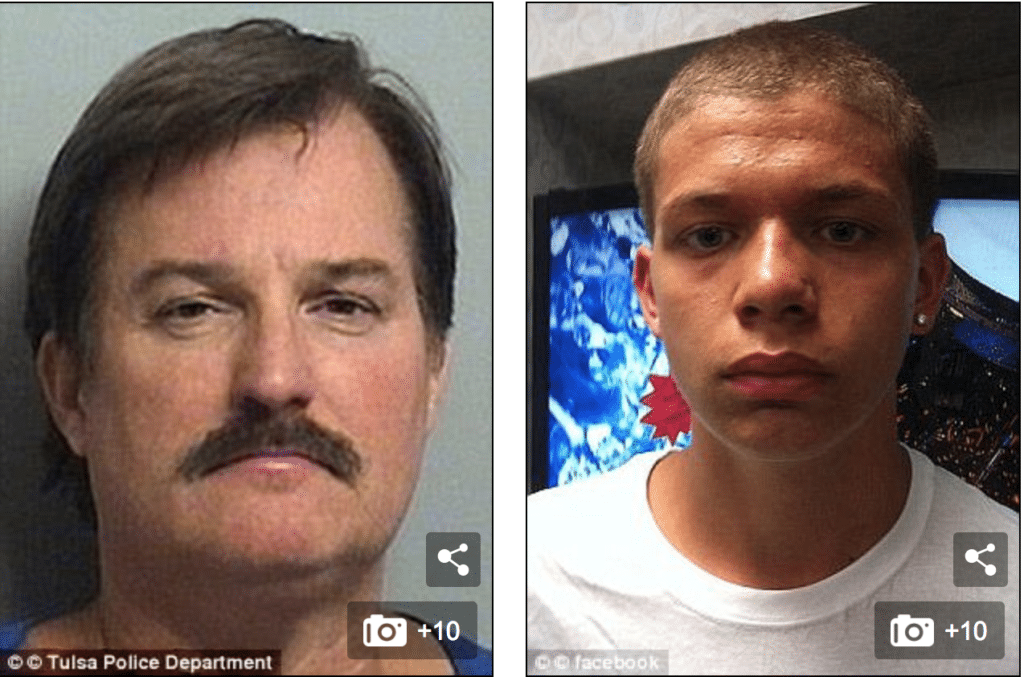 Shannon Kepler previous mistrials. Why?
Jurors in Kepler's previous three trials deadlocked 11-1, 10-2 and 6-6, forcing the judge to declare mistrials.
Although they couldn't decide on the murder charge, jurors in the first trial convicted Kepler of recklessly using his firearm. 
The lack of conviction in the previous mistrials led to criticism that the juries had a low number of black members.
Civil rights activists claimed Kepler's attorneys were actively trying to minimize the number of black people admitted to the jury in his previous three trials—only one black person sat on each of those juries—while Kepler himself maintained that his Native American heritage negated any accusations of racism.
While others wonder if a jury would have previously convicted Kepler save for the fact that he was a former police officer?
During this last trial, both the defense and prosecution focused their closing arguments on Lake's younger brother's testimony, with the then 13 year old teen witnessing the shooting.
The prosecution argued during this case that the teen, Michael Hamilton, knew specific details about the color of the gun used to kill Lake. He also knew what Kepler wore when he shot Lake and which direction the SUV drove towards after the incident. 
The teen confirmed Lisa's account of having watched Kepler get out of a black SUV, briefly follow Lake and Lisa as they walked near Lake's home, shooting the boyfriend and  getting back in the SUV and driving away.
But the defense argued that the details the teen provided could not be depended on due to his age and the extensive media coverage the case had received. 
Kepler's lawyers also argued that it was not likely he would murder someone after serving over two decades on the police force. 
Kepler retired from the police department after having been initially charged.