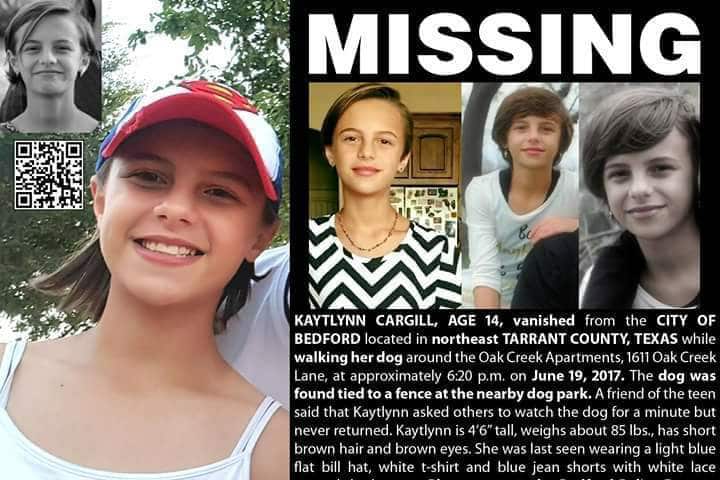 Kaytlynn Cargill murder: 16 year old Texas suspect is arrested in a drug deal gone wrong murder involving a Bedford 14 year old girl. Bludgeoned to death with hammer.
A 16 year old male acquaintance of a 14 year old Texas teen girl whose body was found at a garbage landfill has been arrested in connection with Kaytlynn Cargill's murder.
In an announcement Friday afternoon, Bedford Police said they arrested the un-identified teen boy in connection with the victim who disappeared while walking her dog in June. It wasn't until a few days later that Cargill's bludgeoned body was found at an Arlington landfill on June 22, ten miles from her Bedford family home. 
Police said upon the 16 year old suspect's arrest they were taken to the Tarrant County Juvenile Detention Center in Fort Worth. No additional details were given reported NBC 5 Dallas-Fort Worth.
'We want to take this opportunity to reassure our community that they are not at risk,' police said in a statement. 'As we have said from the beginning, to protect the integrity of the investigation, we cannot and will not discuss any specifics related to this case.'
An arrest affidavit indicated the 16 year old male arrested Friday morning at O.D. Wyatt High School in Fort Worth.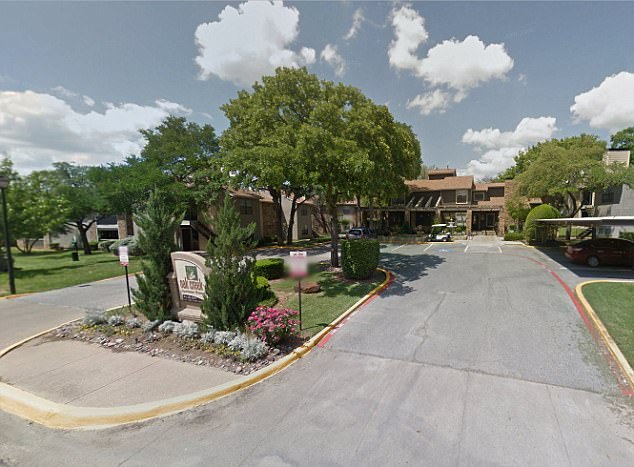 Kaytlynn Cargill missing: 
At the time of Cargill's disappearance, Kaytlynn's mother, Trisha West, told police she found her daughter's dog tied to a fence at a dog park while she searched for the teen.
'I went out looking for her after she didn't come back for like 30 minutes,' West told the Dallas Morning News in June.
According to the Fort Worth Star-Telegram, Cargill was reported missing the night of June 19 about two hours after going to walk her dog. She was last seen at a dog park at the apartment complex where she lived and had asked others to watch her dog for a moment.
Neighbors told reporters that they heard no disturbances at the time Cargill went missing.
'I didn't hear any yells and it happened right behind my balcony,' neighbor Zach McDaniel told via CrimeOnline. 'I heard no yells, no helps, no nothing.'
Police in Bedford initially said there was no indication Kaytlynn was abducted and treated her disappearance as a possible runaway case. Until that is Cargill's body turned up.
In August, her death was ruled the result of 'homicidal violence,' according to the medical examiner.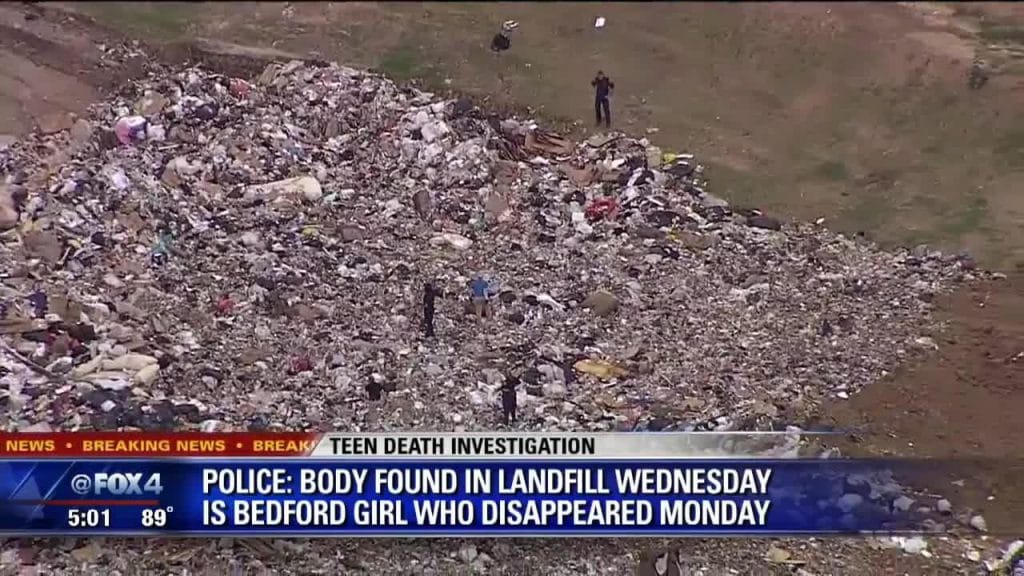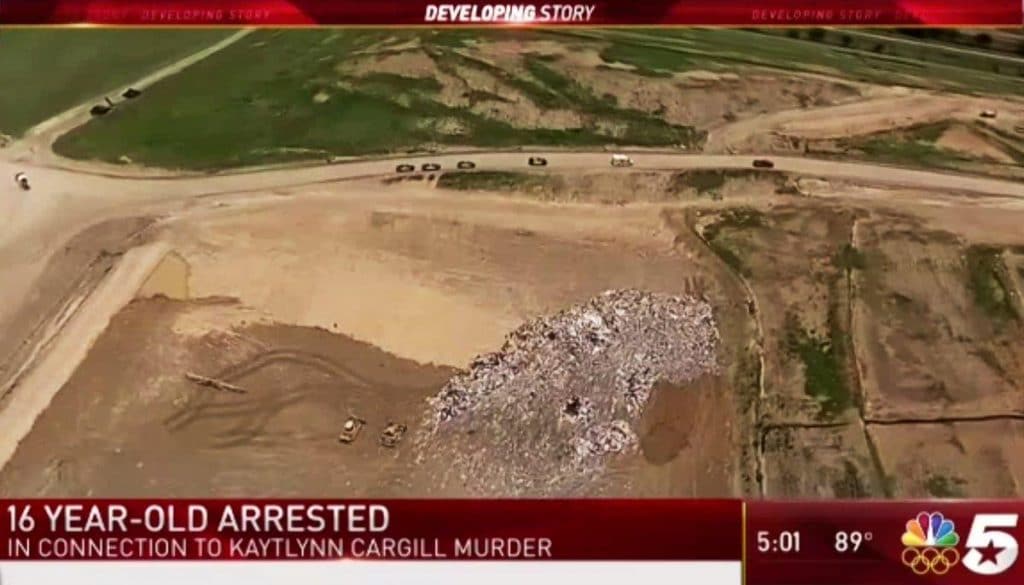 Kaytlynn Cargill drug deal gone wrong:
Police went on to say that Kaytlynn had been bludgeoned to death with a hammer during a drug deal gone wrong.
Text messages revealed she planned to go to the apartment complex swimming pool to meet the boy to obtain marijuana according to court documents.
The boy was living in a nearby apartment and that's where she was killed, the affidavit said. Blood spatters were found in several areas of the unit.
It wasn't immediately understood how the 14 year old girl came to be involved in a drug deal or other instances involving marijuana.
Court papers told of Cargill being involved in a deal to obtain marijuana to make dabs, or concentrated doses of cannabis, that she planned to sell for $300, according to the affidavit. It appears a disagreement over the purported sale and profit led to the girl's death.
Court papers also said detectives believe Cargill was killed with a hammer and that investigators found a hammer with blood on it in the suspect's apartment. Blood was also on a door frame, bath tub and patio ledge in the suspect's apartment,
The blood was later confirmed through DNA to be that of 14 year old Bedford girl, Kaytlynn Cargill.
'Our detectives, as they have done from the beginning, continue to work diligently on this case and will do so to its conclusion,' Bedford police said in a statement Friday.
The 16 year old teen boy remains in custody in lieu of $250,000 bond.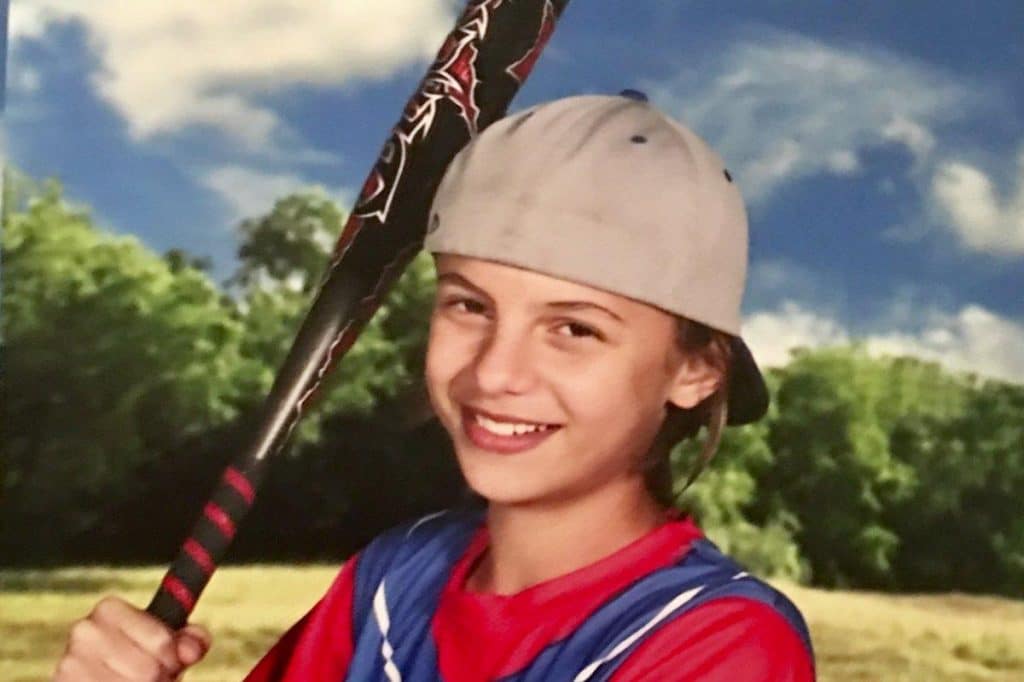 A wreath placed at entrance to landfill where body found..Bedford PD on scene..M.E. to determine if it's 14 yr old Kaytlynn Cargill @FOX4 pic.twitter.com/MDT6JDFZE8

— Brandon Todd (@BrandonToddFOX4) June 21, 2017