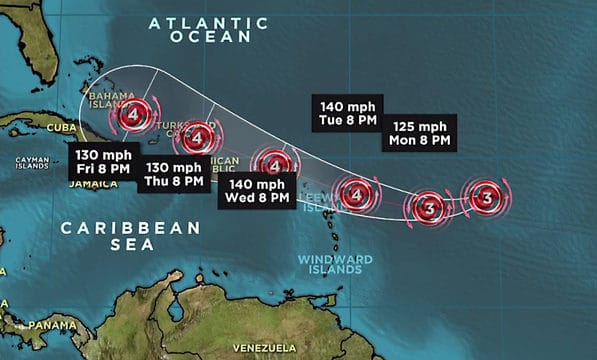 Hurricane Irma category 4 is making its way towards the US, with meteorologists struggling to determine where it will hit landfall first and where it goes from there?
Hurricane Irma now confirmed a looming threat! Weather prediction is a realm of uncertainty, so as we finish up Labor Day recreation and get ready for school, we may be wondering if Hurricane Harvey was enough. Apparently not, in the current upturn of tropical cyclone activity, this busy year.
Latest weather reports put Irma 450 miles (725 kilometers) east of the Leeward Islands and moving west at 13 mph (20 kph), buffering the region come Tuesday.
Irma's precise path remains unclear, but several projections have it passing over the Leeward Islands by Wednesday, the Dominican Republic, Haiti and Cuba before turning north toward Florida and then possibly swinging up the US East Coast. 
After more than a decade of relative silence, we are waking up to Mother Nature's wrathful side with all eyes and ears wondering where we expect Irma to break landfall in the US?
The Governor of the State of Florida has declared a state of emergency in preparation for Hurricane Irma, upgraded to a category 4. pic.twitter.com/uhuWZaA2In

— Kevin W. (@kwilli1046) September 5, 2017
The latest anticipations of calamity comes amidst the US enjoying a degree of topical weather calm, other than a few catastrophic hits, notably Hurricane Sandy in late October 2012. Many in the Northeast will remember it vividly.
In the aftermath of Sandy, the National Oceanic and Atmospheric Administration issued its assessment report, stating that, 'Sandy was a complex storm, resulting in 72 direct deaths across eight states and at least 75 indirect deaths, damages in excess of $50 billion, storm surge in excess of eight feet and up to three feet of snow in some places. At close to 1,000 miles in diameter, it was among the largest storms ever to strike the United States. The storm caused impacts in 24 states'.
That news cycle eventually dissipated before we were collectively awed by the destructive power of Hurricane Harvey on TV. Image after graphic images served to reinforce the brutality and randomness of mother nature and to imagine what it's like to lose everything as the victims on TV did.
'This will be a devastating disaster, probably the worst disaster the state's seen,' William "Brock" Long, administrator of the Federal Emergency Management Agency (FEMA), told The Washington Post on Sunday.
Adding, 'The recovery to this event is going to last many years to be able to help Texas and the people impacted by this event achieve a new normal.'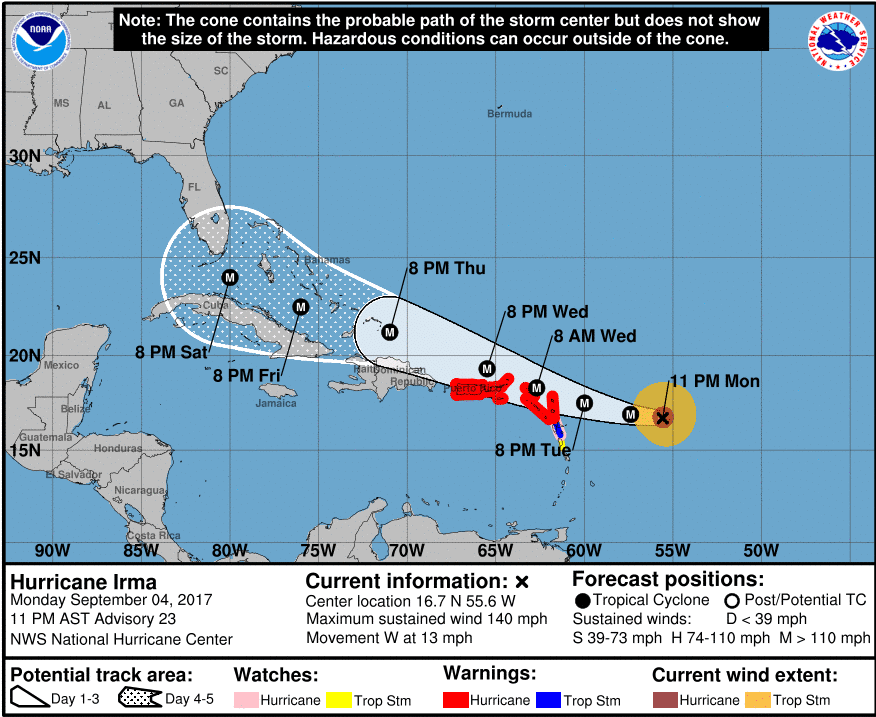 Hurricane Irma category 4: Political repercussions on the table:
Last week, it was the Gulf Coast, primarily in Texas and Louisiana, feeling the vengeance of a major storm landfall via Harvey. Next week, it may be the East Coast, from Florida northwards. If the storm continues to strengthen, it will also endanger the Mid-Atlantic and the NorthEast. This scenario is probable for the period of mid-September.
With winds of 130 mph, and fast approaching the northeast Caribbean, meteorologists believe Hurricane Irma could cause up to 10 inches of rain and generate 23-foot waves. Conditions which have led to some in the US anticipating havoc (and perhaps more havoc for not anticipating the havoc).
I have declared a state of emergency for every FL county to help state, federal and local governments work together as we prepare for #Irma.

— Rick Scott (@FLGovScott) September 4, 2017
Florida Governor Rick Scott is not taking any chances. He tweeted  2:57 PM – 4 Sep 2017, "I have declared a state of emergency for every FL county to help state, federal and local governments work together as we prepare for #Irma."
Florida authorities watching closely on TV what happens to state figures or politicians failing to get it right has erred on 'better to be safe than sorry'. 
Puerto Rico massively cash strapped took no chances either (has anyone being paying attention to the political fall out of not being prepared…), with Gov. Ricardo Rossell Do on Monday declaring a state of emergency and somehow managing to come up with $15m from depleted coffers.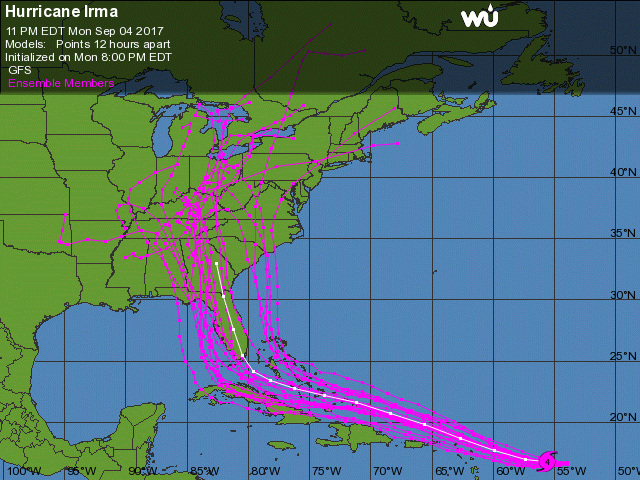 Hurricane Irma category 4 wild-card surprises: 
What about Georgia, South Carolina, and North Carolina? There is also a possible threat to Virginia and if the track would follow up the Chesapeake Bay, then the nation's Capitol is in for disaster.
According to existing models of prediction, Hurricane Irma will continue to track on a westwards course. It gains strength over the warmer waters and does not have any detriment from wind shearing; it already has successfully passed by the ridging air systems of the middle of the Atlantic Ocean. The scenario is that Irma will begin to turn northwards and may or may not skirt the coast.
A 3-D look tonight into the eye of Hurricane Irma. A strong Category 4 storm, very likely could be come a Category 5 soon. pic.twitter.com/0oXpopz3Ab

— Ryan Wichman (@Ryan_Wichman) September 5, 2017
If the Hurricane makes landfall early, it will be in Florida. It may cross the peninsula and jump into the Gulf coast. It may or may not gain strength again.
If it does not plow into land, it could hug the coast, at which point it retains its strength, saving it for the Carolinas or more northerly regions.
Let's talk about the scenario of Washington, D.C. taking a direct hit. It will be the opposite of the political slogan, "Drain the swamp"; we are talking about flooding the swamp.  Low-lying areas of D.C. would be inundated. The Potomac river system would be flooded. The Federal government would be shut down and all agencies would be evacuated. Washington would appear as Houston does today.
Hurricane watch warnings have now been issued for islands in the Caribbean, from Puerto Rico, Cuba, the Bahamas,  the Turks and Caicos, Leeward Islands, and to the U.S. and British Virgin Islands. Many who have made late summer plans to vacation in paradise are now having to change their itinerary, if they are wise. Nobody wants to be stuck out on an island during one of these huge storms, if they don't have to be.
As we approach the weekend of September 8, we are going to find out what happens in the islands off the coast of the U.S.A. After that, in the week of Sept.11-15, the East Coast may or may not have to deal with a major hurricane landfall.
Welcome to a brave new America ….
Here's why the #Hurricane #Irma forecast for the U.S. is still uncertain and difficult: https://t.co/HIeJsTDKKz pic.twitter.com/OjipRIeBHg

— The Weather Channel (@weatherchannel) September 5, 2017
Urgent: If you are not aware and up to date on Hurricane Irma, read up on it now. Folks this is potentially more dangerous than Harvey.

— Dan Rather (@DanRather) September 4, 2017