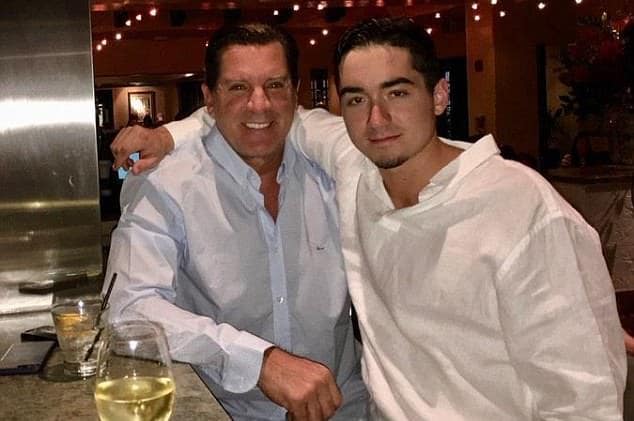 Eric Chase Bolling suicide overdose death: How the death of a Fox News reporter's son has pitted one conservative media outlet against a liberal progressive outlet. 
Three days after the son of embittered Fox News host Eric Bolling was found dead, investigators on Monday released a statement which told of the deceased 19 year old college student dying as the result of enduring 'emotional torture' over sexual harassment claims against his father. 
Found dead at his on campus bed, Friday afternoon, the University of Colorado Boulder, economic freshman student, Eric Chase Bolling, was determined to have died due to 'non suspicious' circumstances with the covers over him in a normal position.
The teen's death came hours after Bolling's father 'parted ways' with his employer following claims that the outspoken news host had perpetrated sexual harassment against two to three female workers.
Of note, Bolling Sr left his high profile role, 'in part' because his son, Eric Bolling Jr was having a 'hard time' coming to terms with the sexual harassment allegations against him. Other reports told of Bolling Sr being suspended, while other reports cited him being fired.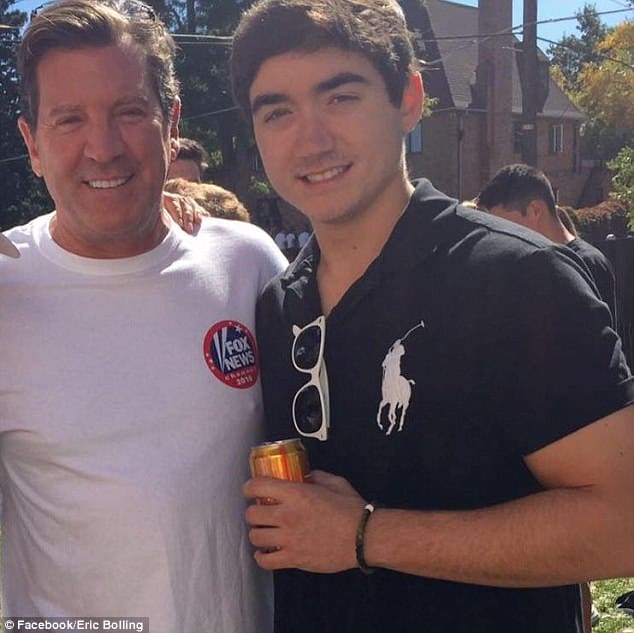 Damning report against Fox news reporter Eric Bolling is released: 
Allegations against Bolling Sr first arrived in August courtesy of a huffingtonpost report penned by Yashar Ali, who now finds himself staring at a $50m lawsuit (more on that below).
Ali cited anonymous three female sources claiming they had been the recipient of images of male genitalia 'via text' without their consent. 
According to the report, 'The women, who are Bolling's current and former Fox colleagues, concluded the message was from him because they recognized his number from previous work-related and informal interactions. The messages were sent several years ago, on separate occasions.'
Following an internal investigation, Fox and Bolling allegedly 'amicably' parted ways. The mutual departure follows recent high stakes firings departures of some of their news staff following accusations of sexual improprieties including former (recently deceased) Fox News Chairman, Roger Allies and veteran news figure, Bill O'Reilly. 
The departures served to expose what many claimed to be a 'boy's club of sexual predatory impropriety' aimed at fellow female staff, while taking the wind out of the normally staunch conservative media outlet.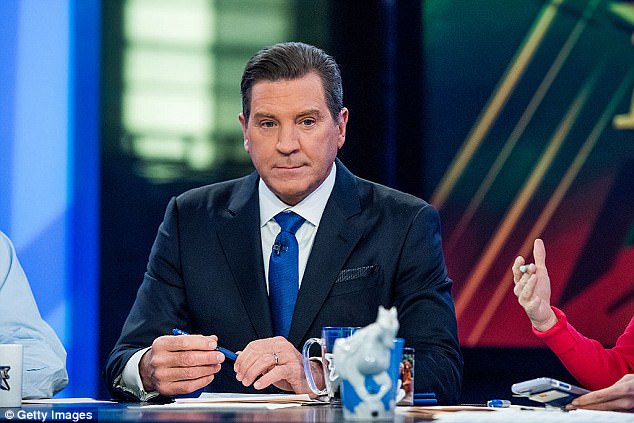 Eric Chase Bolling mystery death: full of contradictions: 
Further intriguing matters, TMZ on Monday, cited investigators saying that there was no suicide note, pill bottles or drug paraphernalia recovered at the scene where the body of Eric Chase Bolling was found dead.
That said, preliminary reports told of the son testing positive for narcotics with Bolling's death speculated to the result of a drug overdose.
Reported the blaze on Friday, 'Details and cause of death weren't immediately available.  Chase studied economics at the University of Colorado-Boulder. He was the only child of Bolling and his wife, Adrienne.'  That may be the facts, but this isn't adding up. 
Heavy.com had more facts to report: 'According to TMZ, he died of a drug overdose hours after his father was forced out of the network over sexual harassment claims.'  
However, 'TMZ initially reported that he committed suicide'.
Further contradicting statements, Eric Bolling urged, "Authorities have informed us there is no sign of self harm at this point. Autopsy will be next week. Please respect our grieving period."  If that is not suspicious, what is?
But let's get back to Yashar Ali: Writing under the tweeter handle, @yashar, Ali describes himself as freelance writer for New York Magazine/HuffPost Contributor, whose recent prominence comes after 'dredging up' the allegations against Bolling Sr. 
While Bolling's public persona has long been documented, including a 2014 incident of making misogynistic on-air remarks, Ali is relatively unknown. Might we learn something about him, to better comprehend this drama unfolding? After all, he is the intrepid investigative journalist who exposed this negativity. If you follow the narrative. 
Eric Bolling $50m lawsuit announced and Huffpo reporter retorts: 
Within days of Ali's article making the tapes, Bolling Sr followed up with a $50m suit against the freelancer, where he vowed to "clear his name."
In his suit, Bolling alleged that Ali had damaged his reputation through "the intentional and/or highly reckless publication of actionable false and misleading statements about the plaintiff's conduct and character."
Non plussed, the freelancer at the 'liberal left' huffpo retorted he would protect his sources and keep reporting.
Tweeted Ali: "It's important to note that Bolling's summons does not include HuffPost – he is coming after me personally," Along with the tweet, "I'm a big boy…but very telling."
Of course it's easy being a big boy when you have a mega bucks media outlet with clout standing behind you.
Reported BusinessInsider, "We stand by his reporting," HuffPost Editor-in-Chief Lydia Polgreen tweeted. HuffPost also said "it had no hesitation to financially stand by Ali, who is a paid freelancer under contract with the news organization."  Who exactly at HuffPost said that "it had no hesitation"?
Just received a summons. Eric Bolling is suing me for defamation – $50 million in damages. I stand by my reporting + will protect my sources

— Yashar Ali ? (@yashar) August 9, 2017
Not going to stop reporting on Eric Bolling or anyone else. I've had family members killed/jailed in Iran, a lawsuit isn't going to scare me https://t.co/nvludsIV87

— Yashar Ali ? (@yashar) August 9, 2017
While most reporters might be rankled by a forthcoming lawsuit, never mind a $50m lawsuit, Yashar Ali went on to state that he was't worried while reminding everyone he is from Iran, where one is well versed in such 'intimidation tactics'.  Tweeted Ali, "I've had family members killed/jailed in Iran, a lawsuit isn't going to scare me". 
Political intrigue as lawyers and media clout brace for showdown. 
Which brings us back to Bolling Sr.
Reported variety,  "Bolling is represented by Michael Bowe and Ronald Rossi of Kasowitz Benson Torres, LLP, the firm that represents President Trump in the Russia investigation."  That says a little something about attorneys, if you can figure it out. Are we to assume they are really neutral and play no political sides? 
Since being outed, Eric Bolling has categorically denied all accusations against him. He maintains he did nothing wrong or inappropriate. Unlike Ali, Fox News decided it wouldn't stand by their man, nevertheless he has been able to shore up some formidable legal muscle. Not that necessarily made much of a difference to Bolling Sr's son. 
Is this a political vendetta?  Is this family tragedy brought on by the vindictive attacks?  Is this what civility has descended to? What are all these coincidences?  Something isn't adding up. There's a deeper story here of what is really going on. It seems to this writer, the whole episode and the back and forth between Fox and Huffpo, two diametrically opposed political conduits are poised to make their case, at almost any cost, even if it means engaging the death of a nineteen year old teen….