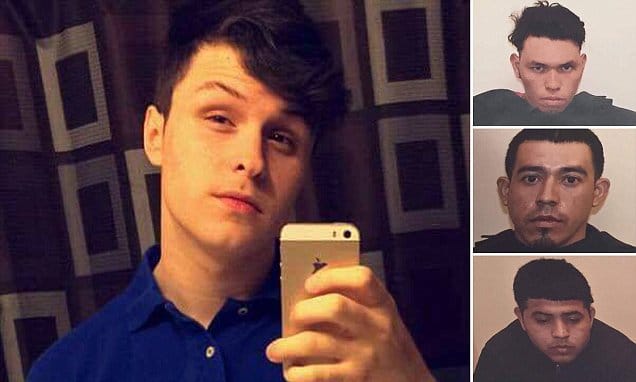 Raymond Wood murder: What led to three illegal aliens, identified as MS-13 gang members murdering a 17 year old Lynchburg, Virginia teen?
Three MS-13 gang members and known illegal aliens have been charged with the second degree murder of missing, Lynchburg,  Virginia teen, Raymond Wood.
The charges come after the body of the 17 year old boy was found lying in the middle of Roaring Run Road by a motorist in Bedford County, Virginia, Monday evening.
Detained and charged were undocumented immigrants, Victor Arnoldo Rodas, 19; Jose Coreas-Ventura, 21; and Lisandro Posada-Vazquez, 24 of Maryland, with second-degree murder of Wood. 
The men's arrest came after one of the men was observed fleeing the scene of discovery.
Bedford County Sheriff Mike Brown in a press release Friday afternoon that Wood's death was not a random act but narcotics-related.
According to authorities, the motorist who found Wood's body saw a Honda Accord with one occupant drive by at a high rate of speed towards Rte 221.
A responding deputy met the Honda near Virginia Memorial Park on Rte 221 and the driver of the Honda identified himself as Rodas.
While talking with Rodas, the deputy learned that he was an illegal alien. Rodas was then detained and taken to the Sheriff's Office.
Deputies contacted US Immigration and Customs Enforcement (ICE) Tuesday morning.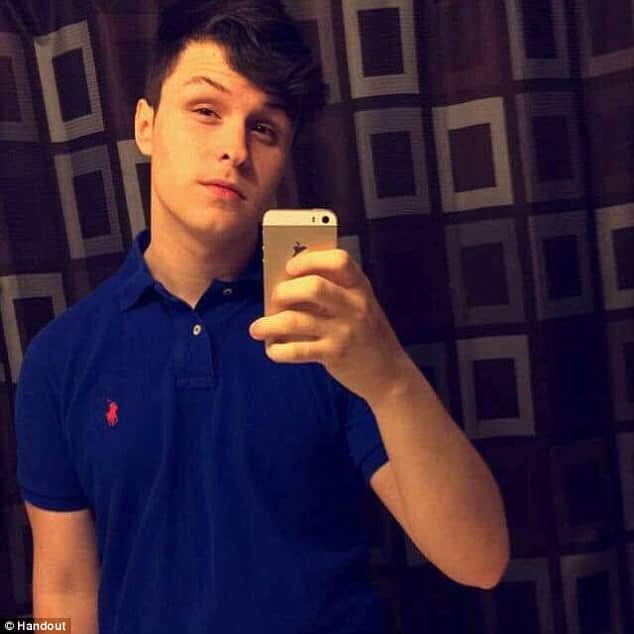 Shortly after contacting ICE, the Sheriff's Office learned that there was a report of a missing 17-year-old teenager from Lynchburg, who was later identified as Raymond Wood. 
At the time, circa 7.30pm the youth had told his father that he was he was going to be 'gone for a few minutes to visit a friend down the road', according to ABC13. The son never returned.
Raymond Wood's parents later that evening put out a missing report for their son. The body of their son was found laying in the middle of Roaring Run Road just on 9.30pm by a passing motorist.
On Tuesday afternoon, the Medical Examiner identified the body found as Wood. The youth told authorities did not leave Lynchburg voluntarily. Notice of how the youth died was not made public pending the outcome of an autopsy. 
Come Tuesday morning a Bedford County resident circa 8am called police to report that two Hispanic males approached him and asked him to make a call for them with his cell phone.
A small sports car, driven by a Hispanic male, showed up and picked the two males up, according to the resident before speeding off. 
Upon putting out a description of the car, deputies were able to locate the vehicle along Route 221 which was occupied by three Hispanic males. 
Two of the three occupants in the car, including Corea-Ventura, who is wanted for a murder in Maryland, were determined to be illegal aliens, police said. 
ICE arrived at Bedford County and detained Rodas and Vasquez and transported them to Roanoke City Jail noted the dailymail.
Corea-Ventura was taken to Blue Ridge Regional Jail and held on the Maryland murder charge. The driver of the vehicle was not detained. 
Not necessarily understood is what led to Raymond Wood's murder and why second-degree murder charges were obtained over first-degree? Also of question is if whether Wood had known any three members prior to his death and whether he had specifically gone to meet one of the men on the evening of his death? And if so, how?
MS-13 along with having underground presence in the United States, Mexico, and Canada, are also firmly rooted in their home of El Salvador, Guatemala, Honduras, and Nicaragua.
According to a report via ktla, MS-13 appears to have an active base in Long Island, NY, specifically Brentwood. Eleven gang killings in Suffolk County last year alone were attributed to MS-13. 
A motorist spotted the deceased person off of Roaring Run Rd in Goode and called 911. The body is @ the medical examiner's office @ABC13News pic.twitter.com/QXEaMrNWA1

— Priscilla Kaiser (@PrisKnews) March 28, 2017
Road is sectioned off and we just got moved up the hill as investigators begin to go door to door on Coronado Ln to find answers @ABC13News pic.twitter.com/GhwobSx2eG

— Katie Brooke (@KatieB_ABC13) March 28, 2017