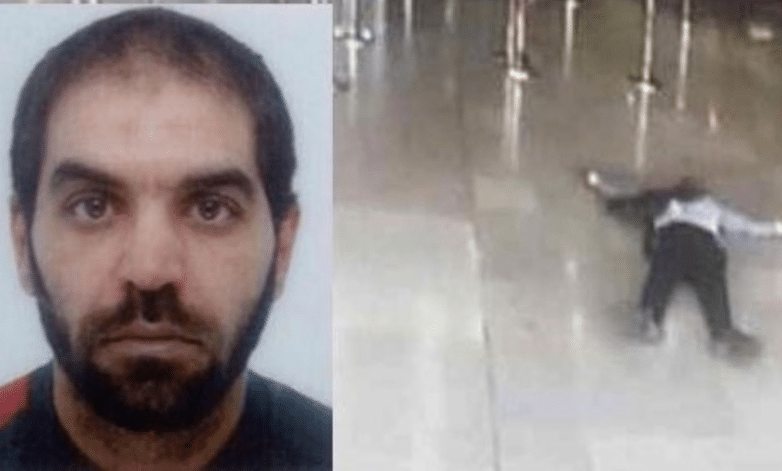 Did Ziyed Ben Belgacem plan Paris Orly airport attack terror plot? Was a known radical Muslim links planning terrorism? Search of airport nets zero evidence.
Ziyed Ben Belgacem a 39 year old French national was Saturday morning shot dead at Paris' Orly airport after the man tried to steal a female soldier's rifle.
The deadly 9am local time shooting came two hours after Belgacem allegedly shot at a police officer during a traffic stop along Paris' northern outskirts earlier Saturday morning.
AP described the man who had earlier been known as Zied B or Ziyed B prior to his outing as a 'radicalized Muslim' known to French police and intelligence services.
Local media said the man was born in Paris, whose family was of Tunisian origin and lived in Paris suburb having more than 40 offenses on his record.
Local media described Belgacem as a career criminal who'd been convicted for armed robbery, drug possession/dealing and had been investigated for possible links to radical Islam along with being placed on France's terror watch list.
Belgacem had been banned from leaving France and was under a 'J' card, meaning he was a wanted person.
A report via reuters told of French authorities searching the man's home in 2015 in possible radical Islam links, but found nothing incriminating. By then the man had come up on intelligent services's radar as a 'radicalised Muslim'.
#Orly le domicile de Ziyed B. perquisitionné à Garges-lès-Gonesse https://t.co/oPwc6HYCEN pic.twitter.com/U2jxKzMw4J

— Le Parisien (@le_Parisien) March 18, 2017
man identified by security official as Ziyed Ben Belgacem was killed hours after he shot&injured a policeman north of #Paris pic.twitter.com/OSMvuXffr0

— Tamer Yazar (@tameryazar) March 18, 2017
Audio : Qui est Ziyed Ben Belgacem, l'assaillant tué à Orly ? pic.twitter.com/vpQ9vqIJ8Y

— Ouchynoix (@ahmednguira1) March 18, 2017
French Interior Minister Bruno Le Roux confirmed Belgacem was known to police and intelligence officers, with a spokesperson saying terror may have been a 'possible' motive in Saturday's chain of events. 
A report via Europe1 told of Belgacem being released from Fresnes prison last November and spending 15 years in prison for various crimes.
Speaking to the outlet, Belgacem's father said he doubted his son had ties to terrorism, describing him as a drug user and 'psychologically fragile'.
Security forces shot dead a man who tried to seize a gun from a soldier at Paris' #Orly airport pic.twitter.com/PnczQqbT4z

— dwnews (@dwnews) March 18, 2017
The mayhem began just on 7am earlier Saturday morning when Belgacem allegedly shot a female police officer in the capital's northern outskirts during a traffic stop at about 7am.
She was shot in the face as officers checked the man's identification in Stains, in Paris' northern outskirts, but her injuries were not life-threatening.
After fleeing and ditching his car, the suspect then carjacked a woman at gunpoint and drove to Orly airport, where he tried to wrestle a gun out of the female soldier's hands.
Belgacem failed to snatch the soldier's automatic assault rifle and was killed.
The attacker approached three patrol members of the French Air Force and wrestled the female soldier to the floor as he tried to seize her weapon.
She held on and the other two soldiers opened fire.
Gunshot firing led to the airport being evacuated and shut down for hours as police searched for potential accomplices and explosives. No explosives were found and there was no evidence that anyone else was involved.
Of note, during Saturday morning's 7am incident, Belgacem had sent a text message to family members reading: 'I've screwed up, I've shot a policeman'.
His brother and father went to a police station and were placed in custody, although it was considered 'standard procedure' and they had not been charged, French media reported.
Police also raided the man's home in the northern Paris suburb of Garges-les-Gonesse.
Saturday morning's joint effort from authorities comes as France remains on edge from a series of terrorist attacks iover the past year, with reuters noting 'over 230 people having died in the past two years at the hands of attackers allied to the militant Islamist group Islamic State.'
#France #Orly
Le parcours de #ZiyedBenBelgacem@InfosFrancaises pic.twitter.com/0QLxFfWBDD

— KDK News (@NewsKdk) March 18, 2017