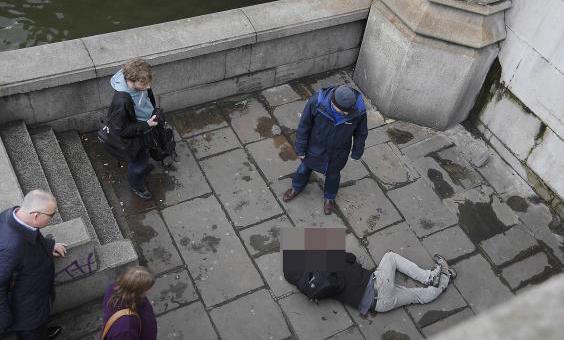 London Westminster Parliament terrorist attack: What led to an individual driving a vehicle through bystanders and then stabbing a police officer?
London authorities have yet to say what led to an apparent terrorist attack at the foots of Parliament House as a man sought to gain entrance into the Palace of Westminster.
Ploughing into a crowd of pedestrians along Westminster Bridge, the individual described as a heavy set middle aged Asian man then alighted from his vehicle, running towards police officers guarding parliament and proceeded to fatally stab an officer before being shot dead.
A report via the UK's sun told of the man wielding an eight inch knife during the attack, while driving a four wheel drive.
The incident which left upwards of 20 individuals 'catastrophically' injured happened just on 2.45pm local time. A report via skynews told of a woman later dying of her injuries. 
Police fired three gunshots, with witnesses saying they saw two people lying on the ground, including the un-known intruder.
Offered witness, Rick Longley: 'A guy came past my right shoulder with a big knife and just started plunging it into the policeman,'
'I have never seen anything like that. I just can't believe what I just saw.'
The incident led to Parliament been placed on lockdown with MPs locked inside and armed police carrying shields protecting the building.
Scotland Yard said they were treating the attack as a 'terrorist incident'.
Why? Abu Izzadeen i'd as Westminster terror suspect, British hate preacher
This is what we know so far about the Westminster terrorist attack. pic.twitter.com/hE2iFvGKLh

— BBC Newsbeat (@BBCNewsbeat) March 22, 2017
Graphic illustrates where #Westminster attack is taking place pic.twitter.com/anrNCHgKfT

— Crisis Solutions (@Crisisolutions) March 22, 2017
The attack follows reports of 'increased jihadi chatter' after the UK adopted an electronics ban aboard flights from certain Muslim-majority countries, following the US's lead earlier this week.
To date no group has claimed responsibility for the attack. That said the incident follows ongoing friction and a series of terror style incidents in Paris and Brussels in recent weeks and months at the hands of radical Islamic groups.
Eyewitnesses report hearing a loud bang, then screaming and shooting.
Told Quentin Letts via the BBC: 'I saw a thick-set man in black clothes come through the gates into New Palace Yard, just below Big Ben,"
'He had something in his hand, it looked like a stick of some sort, and he was challenged by a couple of policemen in yellow jackets'.
'And one of the yellow-jacketed policemen fell down and we could see the man in black moving his arm in a way that suggested he was stabbing or striking the yellow-jacketed policeman.'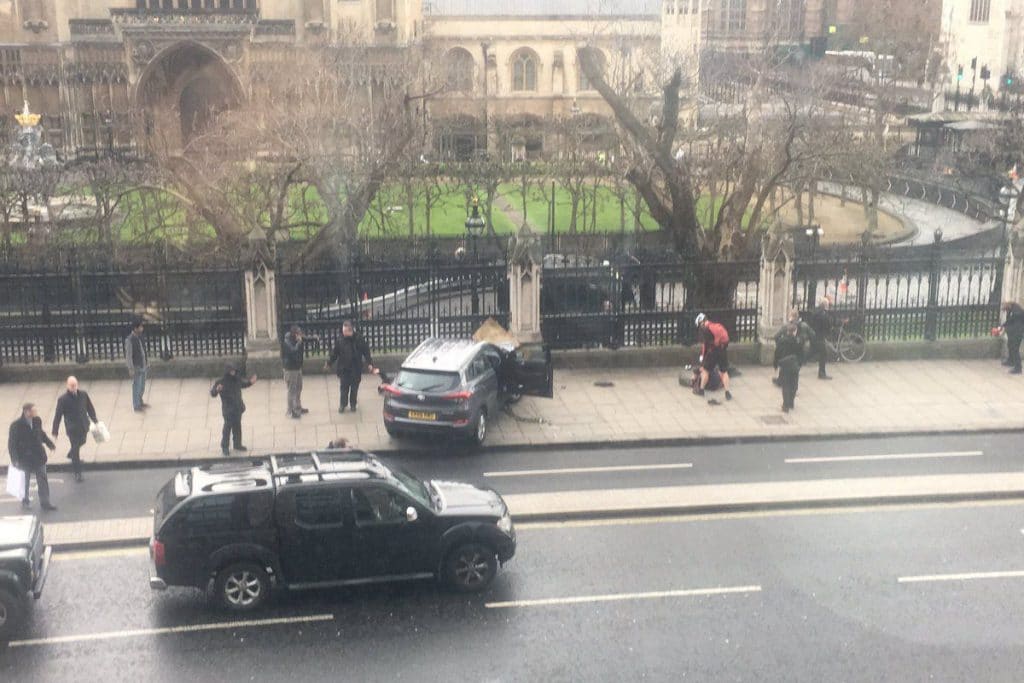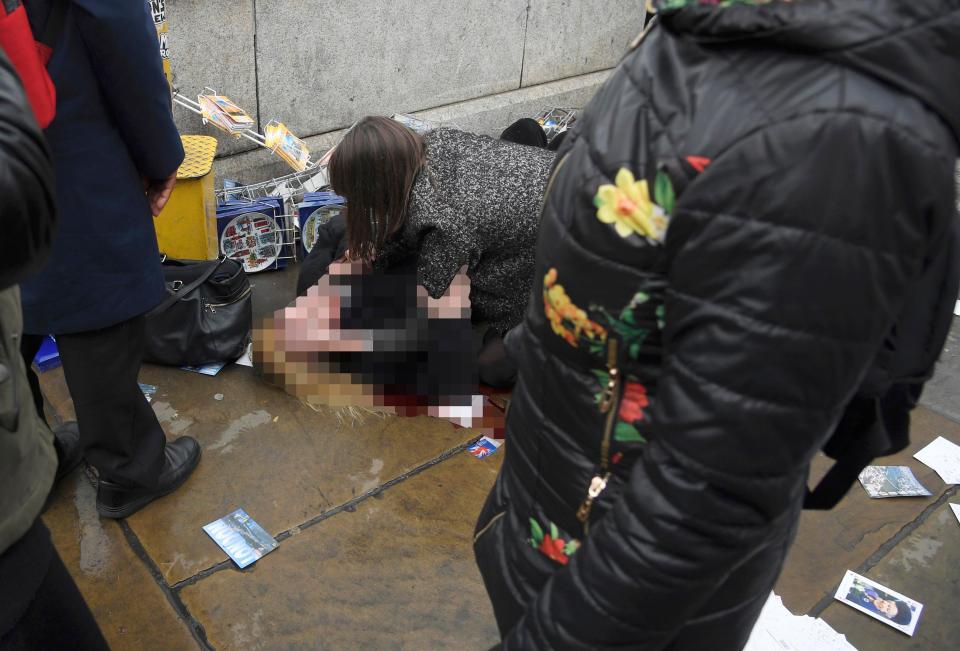 Parliament terror attack suspect is wheeled into ambulance after being shot by police in Westminster https://t.co/WiQ5YFzVR9 pic.twitter.com/STx5bMmQm6

— Daily Mirror (@DailyMirror) March 22, 2017
Here's a photo of the suspect that was shot. Photo courtesy of @TheSun via @FoxNews #Parliament #Westminster #PrayForLondon #ISIS #Vetting pic.twitter.com/USPbPKTdwc

— Estonna Garrett (@stonna78) March 22, 2017
Following the attack, an air ambulance landed in Parliament Square and a regular ambulance came in through the front gates as medics rushed to help the injured people.
A Downing Street source declined to say where Prime Minister Theresa May was during the attack, but said she had not been involved.
MPs were being evacuated from Parliament in groups of four.
This photo shows what's wrong with humanity. Absolutely disgraceful. People like him make me feel sick! #Westminster pic.twitter.com/BPXGyOENOC

— emma♥⚽ (@_emmactidxo) March 22, 2017
A car on Westminster Bridge has just mowed down at least 5 people. pic.twitter.com/tdCR9I0NgJ

— Radosław Sikorski (@sikorskiradek) March 22, 2017