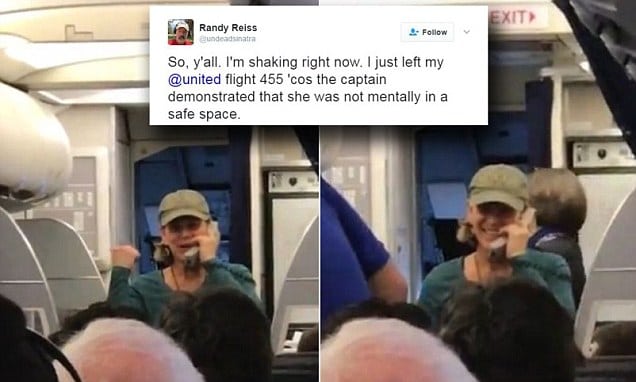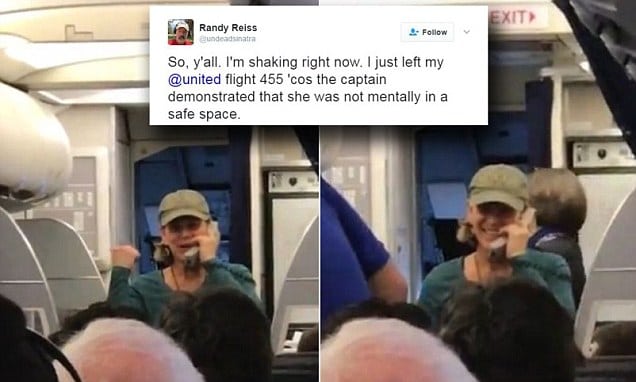 Ranting United Airlines pilot removed from flight: How a disjointed airlines pilot led to passengers fleeing a plane that she was scheduled to command. 
A female United Airlines pilot was removed from flying a plane after giving a long, bizarre speech prior to take-off.
The incident, perhaps not surprisingly, led to passengers fleeing the plane upon the realization that the woman dressed in civilian clothes was in fact slated to commandeering their plane.
The drama began when the United Airlines pilot boarded Saturday's afternoon flight at Austin-Bergstrom International Airport behind schedule. At the time the pilot who was initially confused as a first class customer having a prima donna fit,  boarded wearing a baseball cap and casual clothes.
Upon entering the plane, the woman appeared to get into an argument with crew members.
Unbeknownst to unsuspecting passengers, the woman who was being reprimanded was scheduled to fly their aircraft.
Told one passenger, Chris Moore via the washingtonpost: 'I thought she was a first-class passenger, complaining,'
'Then she grabs the mic.'
Another passenger said the pilot asked for a vote on 'whether we should have her change into her uniform.'
At first many found the pilot endearing, but passenger sentiment soon changed.
It was from there that the as of yet un-identified pilot began to say, 'Sorry, I'm late. I'm going through a divorce.'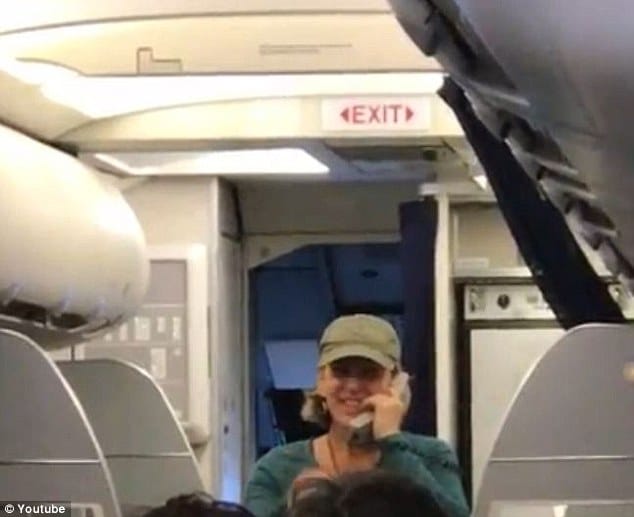 Standing in front of the cockpit, the pilot kept talking over the intercom, with frequent flier passenger, Randy Reiss telling via KVUE the pilot by now had veered into a string of non-sequiturs.
Yes kids, we all know where this is going, don't we?
From there our collective heroine pointed out two passengers, noting their race — one black, one white — for reasons that were clear to no one.
That's when Reiss began to tweet.
Then she identified an interracial couple in first class, I think in an effort to say "yay unity" but it was was awkward.

— Randy Reiss (@undeadsinatra) February 11, 2017
The pilot touched on recent politics.
'She's like 'I don't care if you voted for Trump or Clinton. They're both [expletive],' Reiss wrote.
When she changed the subject to the plane's imminent takeoff, that's when Reiss told of beginning to shake (can you imagine?).
Told our collective heroine, 'So I'll stop, and we'll fly the airplane,'
'Don't worry. I'm going to let my co-pilot fly it. He's a man.'
The pilot acknowledged that some people on the plane appeared to be nervous in a video taken by a passenger.
'Okay, if you don't feel safe get off the plane, but otherwise we can go'.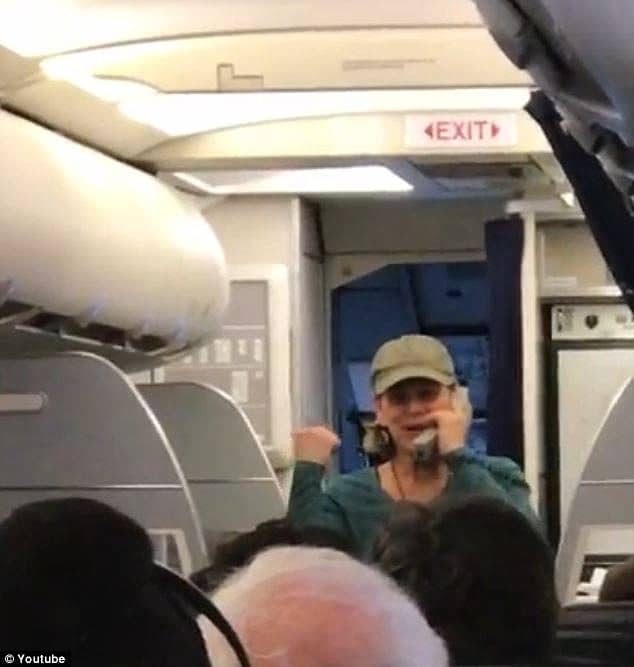 It was then that Reiss was the first to evacuate. He got out of his seat, collected his bag and asked the flight crew to let him off. Others soon began to follow the man. 
Reflected Reiss: 'Being a pilot is a tough and stressful job, she was just not equipped today to do it',
'She seemed in an emotionally tough space, so I hope she finds the help she probably needs'.  
And then there was this statement from United Airlines following Saturday's melt-down:
'We hold our employees to the highest standards and replaced this pilot with a new one to operate the flight, which we expect will depart shortly. 
'We apologize to our customers for the inconvenience'.
So, y'all. I'm shaking right now. I just left my @united flight 455 'cos the captain demonstrated that she was not mentally in a safe space.

— Randy Reiss (@undeadsinatra) February 11, 2017