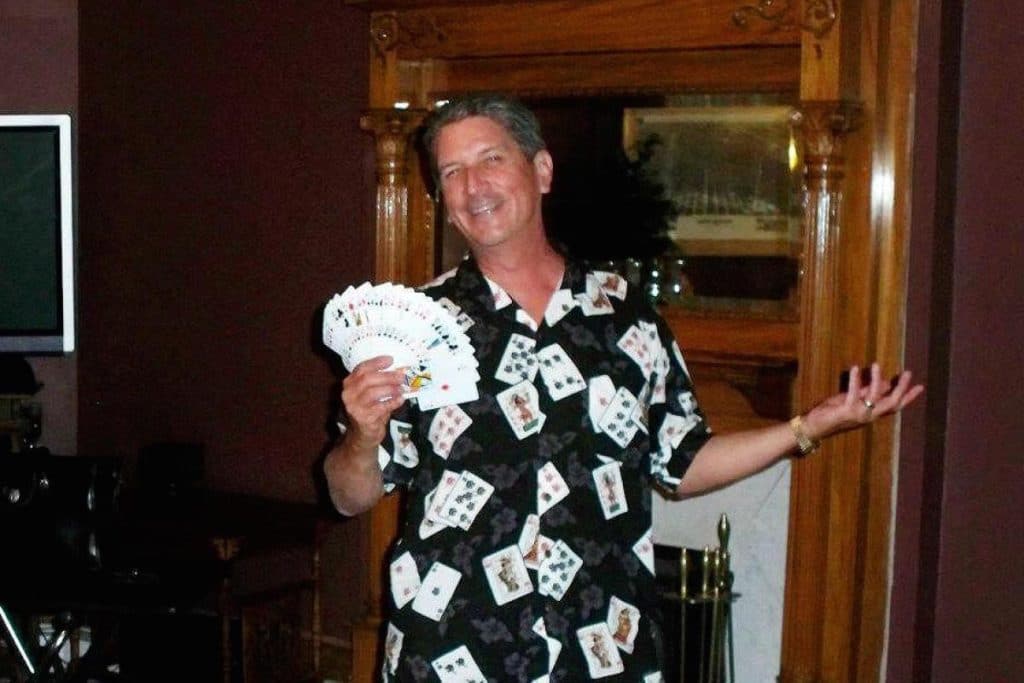 Daryl Easton magician suicide death. A famed magician takes his life moments before a Friday night appearance at the Magic Castle after suffering years from depression.
Daryl Easton a much beloved magician has died after hanging himself moments before he was set to take the stage Friday night at private Hollywood club, the Magic Castle.
The 61 year old magician's death comes after a friend told via the Hollywood Life the magician had been suffering from depression for years.
The source said Easton had 'felt he hadn't achieved any of the goals he had set for himself' as he was 'getting on in age'.
According to a police report, Easton was found hanged in a dressing room closet prior to being scheduled to perform, his death since ruled a suicide.
There had been speculation that the hanging was an 'accident' after an illusion went awry. A notion which was discounted by Vicki Greenleaf, a spokeswoman for the Academy of Magical Arts noted Reuters.
The venue maintained the magician was found deceased fully clothed while a report via the foxnews told of multiple Los Angeles police sources saying Easton was found in his underwear with a bag over his head.
Easton's death comes after having performed at the venue Thursday night and having been scheduled to appear there again on Friday and Saturday.
Part of Easton's claim to fame was his reputation as being known as the magician's magician among industry colleagues.
A veteran headliner at Caesars Palace in Las Vegas, Easton was legendary for inventing card tricks called the 'Hot Shot Cut' and the 'Ultimate Ambition'. Other famed card games included, 'Jumping Knot of Pakistan,' 'Presto Printo' and 'Cardboard Chameleons.'
Easton specialized in card tricks, close-up and parlor magic.
In addition to his legendary card tricks, Easton had performed internationally in 25 countries and had been invited to perform at the inauguration celebration of President George W. Bush in 2001.
His wife, Alison Easton, is also a magician and was the first woman to be inducted into the prestigious Magic Circle, according to Easton's biography page.
Told a source close to the dead man's wife, Alison Easton: 'Alison is beyond shocked and heartbroken over his death, this has hit her harder than anything you could possibly imagine — it has rocked her world. 
'Daryl had been suffering quite a lot recently. Daryl has always suffered from depression, but she never thought he would take his own life, especially in this manner.'   
The Magic Castle, a famous restaurant and private club which also serves as the headquarters for the Academy of Magical Arts, was closed to the public on Friday.
The venue, which Easton was a frequent visitor, released a statement that said: 'A beloved illusionist, who was performing at the Magic Castle this week, was found dead on the club's premises. 
'The magic community mourns the loss of one of our most beloved and talented performers.' 
An employee discovered Easton's body in a closet and the Los Angeles Fire Department arrived at the exclusive club on West Franklin Avenue around 7.25pm.
A ruling on Easton's cause of death is still pending, according to Lt. David Smith of the Los Angeles County department of coroner.