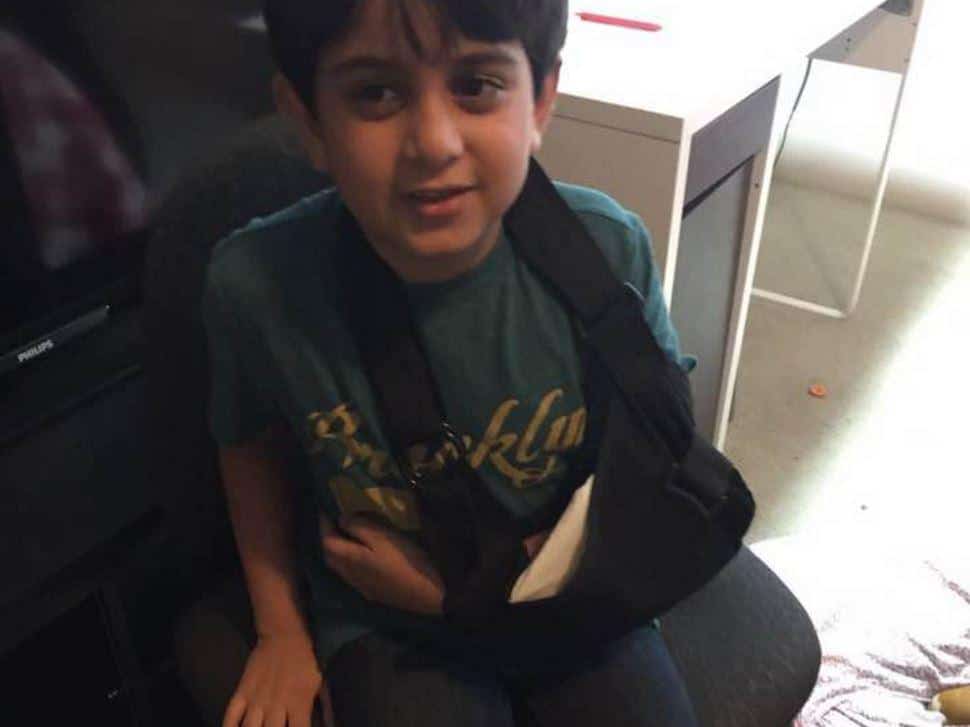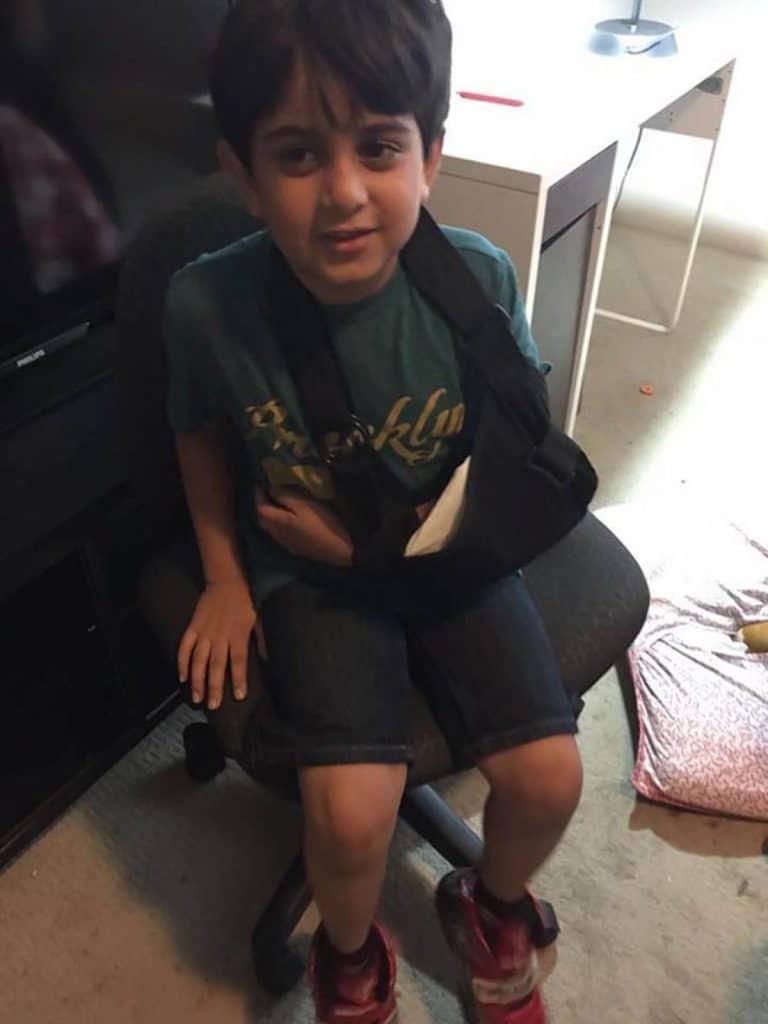 7 year old Pakistani boy beaten for being Muslim: A father alleges his son was beaten because of his faith, while school administrators deny the claims.
A Pakistan born father has blamed Republican Presidential contender, Donald Trump for the savage beating of his seven year old son on a North Carolina bus.
The beating tells the boy's father, Zeeshan-ul-hassan Usmani comes at the hands of his son's fellow classmates, who have taken exception to their 'Muslim' classmate. Exception which the father claims has been instigated by Trump's unrelenting Islamophobic rhetoric.
Posted the father, a data scientist who first came to the US to study in 2004 on Facebook underneath a photo of his beaten son, Abdul in an arm sling: 'Welcome to the United States of America of Donald Trump,'
'He is in grade 1, bullied and beaten by his own classmates in school bus for being a Muslim.'
According to the nydailynews, the father told of at least two Weatherstone Elementary School students calling his son racial slurs and challenged him to a fight once they got on the bus after school last Friday. 
'Once Abdul firmly said, 'Leave me alone' they start pounding him, kicking, punching, slapping and twisted his arm,' Usmani said, adding his son suffered a sprained arm as well as bruises and bumps on his head. 
The father's allegations were first reported by BuzzFeed News Tuesday, which in turn led to Weatherstone Elementary principal Timothy Chadwick telling parents in a letter that school officials launching an investigation.
To date the school hasn't been able to substantiate any of his claims. 
Told the principal: 'At this time, the information from the investigation does not support an altercation,'
'No students who were interviewed witnessed an altercation. The bus driver did not witness an altercation. The child did not report the bus driver any injury.'
But Usmani says this was just the latest in a long string of harassment incidents that he and his family members have been subjected to because of their faith.
The father says several neighbors in their small hometown of Cary have discriminated against them because of their Muslim heritage. One of his other sons was once attacked by classmates who tried to force feed him after they found out he only ate halal food, which is prepared and slaughtered according to Islamic law.
After Abdul came home from school and told his father of the bus attack, Usmani decided that he had had enough and booked plane tickets for him, his wife and their three sons to go back to their native Pakistan. Usmani says the family now plan to stay at least until the election is over.
'It's not the America we always thought of and believed in,' Usmani said. 'If Trump wins, America will be great again, but a great that nobody will care about.'
Reiterated the father via the independent: 'Since we arrived in the US [in 2014], we started having problems with islamophobia and anti-immigration statements,'
'Before 2010, we didn't have these incidents. But we don't feel safe in the US any more.'
Ironically, the alleged beating and harassment comes as Usmani works as a chief technology officer for a Silicon Valley company that designs and produces software to combat terrorism across the Middle East. For one project, the company worked together with the United Nations to develop safe schools in Pakistan.
Usmani tied the escalation in discrimination against his family to an increasingly toxic political landscape.
'We clearly see a rise in incidents like this since Trump has joined the election trail,' he said.
Of note, a report via the Council on American-Islamic relations in 2015, 'Mislabeled' school bullying of Muslims has risen dramatically in the last few years — as high as to twice the national average.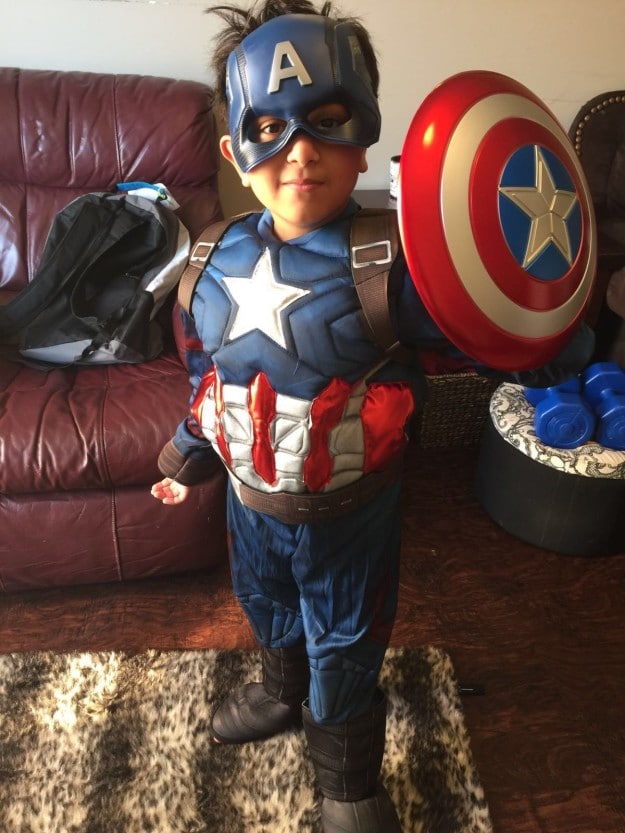 Then there were these reactions on the web that made me wonder, see what you think?
While this incident if it happened is bad I do not think kids will beat anyone for political reasons. Abdul must have antagonized a kid who beat him up. From what I have read it seems it did not happen. Seems to me Usmani is incorrect in saying his son was beaten up. Furthermore if Usmani does not like what is happening in the US then he can remain in Pakistan.
In Pakistan he would have been beaten for being the wrong kind of Muslim. In India you will be beaten for being lower caste Hindu.
So the principal interviewed the 7 kids bullying Usmani's son and the kids said they didn't witness the altercations. Did the principal really expected the bullies to declare that they beat-up the victim, kicking and punching him.