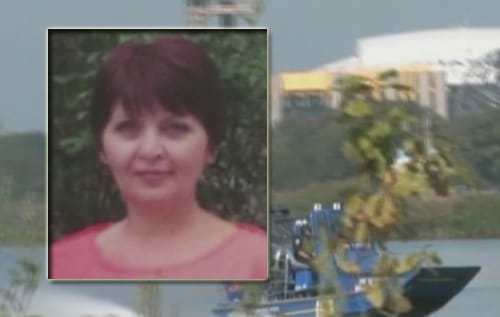 Lyubov Gorbunova's son, Roman Gorbunova admits murdering the missing woman after an argument at home and dumping her body at a Queens park.
Roman Gorbunova a 21 year old Queens man has confessed to murdering his mother, 58 year old Rego Park woman, Lyubov Gorbunova after she told him, 'she wished he was never born.'
The son's arrest comes after police suspected him of dumping the woman's body in Flushing Meadows-Corona Park.
A report via the nydailynews tells of police sources saying that the son was arrested in Bensonhurst, Brooklyn just after midnight Friday, about 20 miles from the park where cops believe he dumped his mother's body — after he made a credit card purchase.
A clerk recognized Gorbunova's name as the man wanted for questioning in his mother's disappearance and called police.
Gorbunova told cops he and his mother were arguing when she told him she wished he was never born.
In turn the son confessed to losing his cool and beating his mother with a piece of furniture.
A report via pix11 notes the son saying at the time, mother and son had been drinking.
Having murdered his mother, the son then set about disposing of her body, which led to Roman Gorbunova wrapping the dead woman in a body bag he purchased on Amazon.com.
Since his arrest, the son is cooperating with detectives and has taken investigators to Meadow Lake in Flushing Meadows Park, where he says he dumped her body, which has not been found.
'We are trying to see if he can lead us to the body,' a police source said.
Charges against Roman Gorbunova were pending.
Matters first came to the fore after the man's mother, Lyubov Gorbunova, a home health aide was reported missing on Tuesday by a family friend, sparking a manhunt for the son.
The last time the mother was seen alive was Sept. 27, when surveillance cameras captured the Uzbekistan native walking across the lobby of her building on 62nd Drive in Rego Park at 6:30 p.m. alongside her son.
Over the next two days, security footage shows, Roman Gorbunova left the lobby several times carrying duffel bags — but his mother never reappeared.
The son was captured on camera dragging a garbage can through the lobby on Sept. 29 and hauling it across the street to a waiting Uber driver, sources said.
The hired car brought him and his garbage can to Flushing Meadows-Corona Park. After letting him out, the driver notes the nypost, was suspicious enough to call 911 before he left. Cops later tracked the driver down to interview him.
The next day, on Sept. 30, Roman Gorbunova was caught on video stealing a surveillance monitor from the security desk in his building's vestibule. He was arrested, but since his mom hadn't been reported missing yet he was later released.
Come late Friday afternoon, nearly 100 cops were still searching the brush and swamps of Flushing Meadows-Corona Park Friday for the body of Lyubova Gorbunova.