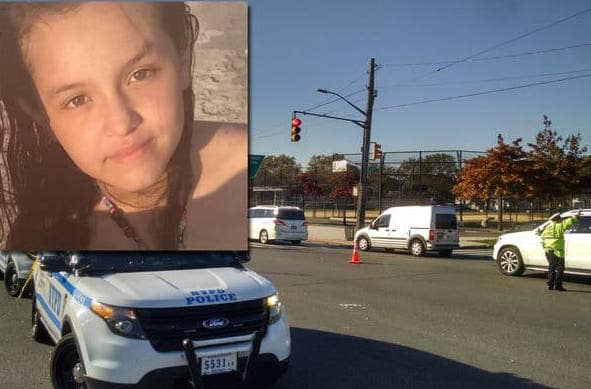 Who bears culpability in the death of Jazmine Marin, a Queens 13 year old teen as she and her school friend attempted to cross a busy through fare?
A Queens family is reeling after 13 year old teen, Jazmine Marin along with another thirteen year old school friend were hit while walking along Cross Bay boulevard. The incident led to Marin being fatally struck with her friend listed in 'stable' condition.
The teens were making their way to school, when a vehicle slammed into the girls circa 6.45 am, Monday morning.
Of note, a report via the nydailynews tells of the fatality happening along a stretch of road dubbed by NYC officials as a priority corridor under Vision Zero.
Tellingly Mayor Bill de Blasio's office had earmarked the stretch of road as an imperative repair after a string of pedestrian tragedies in recent years.
City stats cited by the tabloid describe four pedestrians dying and six other suffering injuries along the 2.5 mile stretch from Woodhaven Blvd. to the nearby Joseph P. Addabbo Bridge between 2009 and 2013.
Why or how the project had yet to be rendered given the severity of previous incidents is yet to be necessarily understood….
Despite the proximity to the middle school, residents told NBC New York that 'in the 40 years they've lived in the area, they've never seen a crossing guard.'
The car that struck and killed 13yr old Jazmine Marin of #queens on Crossbay Blvd., just blocks from her school. Her friend was injured pic.twitter.com/ycipdyCwjK

— Janelle Burrell (@BurrellTV) October 24, 2016
Ironically the accident happened after the girl's father and widower, Geo Marin normally drove the girl to school every morning and picking her up.
At the time of the tragedy, the sedan that struck Jazmine Marin and her friend was traveling south on Cross Bay Blvd.
The girls were struck whilst attempting to cross the street near 149th Ave, two blocks from their school, Robert J. Goddard middle school in Ozone Park according to officials.
Cross Bay Boulevard at 149th Avenue is a wide street designed to facilitate fast driving.
Emergency responders rushed both girls to Jamaica Hospital, where Jazmine, who suffered serious head trauma, died from her injuries. The other victim is in stable condition with a leg injury.
The 55-year-old driver of the sedan remained at the scene.
Police sources said the light was green at the time of the crash and the girls were outside of the crosswalk.
NYDailyNews: This is Jazmine Marin, the 13-year-old who was fatally struck by a car in Queens … pic.twitter.com/TUUdUjuQUD

— Amanda Lenon (@LenonAmanda) October 24, 2016
Told NYPD's Chief of Transportation Thomas Chan: 'We are in the process of looking at video. Interviewing witnesses at this time. And it's currently being investigated.'
Offered witness, Andrew Lewis, 30: 'I saw the girl on the ground. There was a woman that was checking to see if she had a pulse or anything … She wasn't finding a pulse.'
Reacting to the tragedy, Jazmine's grandmother, Luz Marin, told reporters the teenager had dreams of becoming an artist.
Told the relative: 'She was my love. She was the apple of my eye. That girl was everything to me.'
'She wanted to be an artist. She loved to draw.'
Added Luis Colon, 66 who lives next to Jazmine's Queens home:
'She was smart, always happy, always got a book, always plays with my granddaughters.'
A report via dnainfo tells of Jazmine Marin losing her mom to cancer when only a child.
The family from Colombia told of Jazmine being born in Queens.
Relatives told of the dead girl and her father sharing a 'special bond.'
Reiterated Luis Colon: 'He took her everywhere he went. Her father is very good. Very close with her father,'
Adding: 'Her mother died about six, seven years ago,'
'That's the only child he got.'
Offered  Schools Chancellor Carmen Fariña in a statement: 'I am deeply saddened by this tragic loss, and my heartfelt condolences are with the student's family and the entire school community during this very difficult time.'
Education Department officials said the agency would dispatch grief counselors to the school.
The last pedestrian fatality at Cross Bay Blvd. and 149th St. took place in 2012.
Francisco Camacho, 59, died when a man driving a 2008 BMW struck him on the westbound side of Cross Bay Blvd. That incident happened just blocks of the man's family home.
Police are believed not to move forward in pressing charges. Anonymous police sources told WNBC 'no criminality is suspected.'
To date Mayor de Blasio's office has yet to respond to the tragedy….