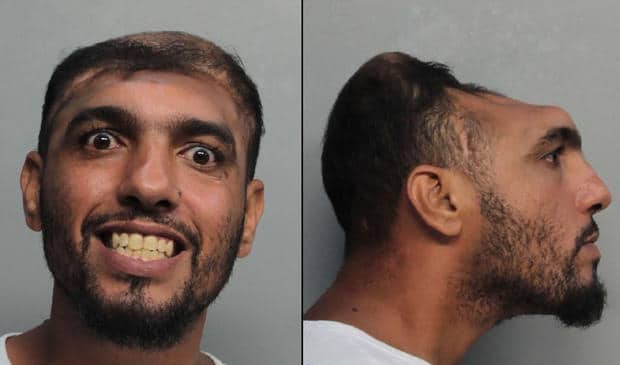 Carlos Rodriguez half headed Florida man is arrested on charges of arson and attempted murder. How a familiar face managed to once again mark his presence. 
Returning to the tabloid sweepstakes is Florida man, Carlos Rodriguez, otherwise known as 'Halfy' to his friends after Miami police arrested the man on charges of arson and attempted murder.
According to a report via WSVN Miami our collective hero was in his home when he decided to light his mattress on fire Monday afternoon.
Not immediately clear was why 'Halfy' set his mattress on fire. Police told of two individuals living next door in a duplex.
By Tuesday lunchtime, the visage of the smiling Rodriguez as he appeared in police booking photos were starting to gain traction as social media commentators marveled at the man's skull deformity.
In the event 'Halfy' bears an uncannily familiarity to bygone nightmares, Rodriguez has previously stared as a tabloid sensation when in 2010 he was arrested in Miami-Dade for allegedly soliciting a working girl and causing an accident in which he suffered egregious head injuries and once again in 2012 when the Miami based resident starred in a youtube video in which he explained how he lost half his skull.
Told our collective hero at the time: 'I was barred out on drugs and I was driving and I hit a pole.'
Adding while smoking the good shit, 'I flew out the front window and landed on my head.'
In the video Rodriguez urged children not to follow his footsteps and to avoid drinking and driving.
Remonstrated the man, ' No good kids. No good.'
Since his arrest on Monday, our collective hero appeared in court on Tuesday where he was remanded on a $20 000 bond. Indeed.