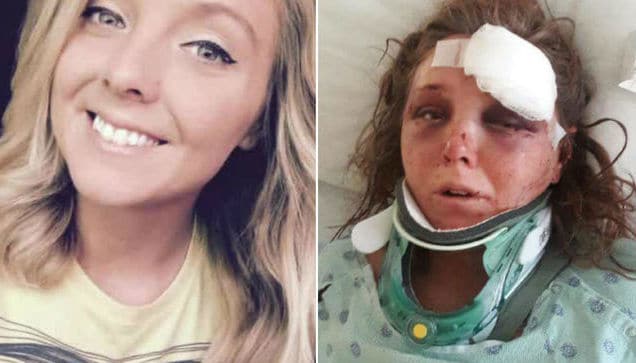 How Carleigh Hager an Indianapolis woman found herself the victim of domestic violence from the one man she couldn't never imagine harming her.
Carleigh Hager a 25 year old Indiana woman has told of her harrowing experience of domestic violence after injuries she sustained at her ex boyfriend's hands put her in intensive care.
Sidelined in the hospital since Sunday, the battered girlfriend underwent emergency surgery on Tuesday to reattach her tongue in her throat after her ex boyfriend, Ryan Cameron attacked her.
According to USA Today matters came to a head between the former live in couple Saturday evening, leading to Indianapolis Metropolitan police responding to a domestic dispute.
A police report told of Cameron, 26, strangling and throwing Carleigh Hager into a doorframe, causing serious lacerations to the woman.
Other injuries included Hager incurring more than 20 bite marks, including a gaping hole in her forehead.
Hager was in intensive care before the emergency surgery but is now in stable condition.
Since his arrest, a report via the Indianapolis Star tells of Cameron being held at Marion County Jail facing charges of battery and strangulation where he was scheduled on Wednesday to appear in court.
Offered Hager's mother, Amy Ballard: "It's going to be a long road to recovery, but she is a strong woman from strong stock and we will overcome.'
Speaking from her hospital bed, her speech slurred after the surgery, Carleigh Hager said she never imagined that she would become the victim of domestic violence at the hands of a man she had called her 'Prince Charming.'
A GoFundMe account has been created to help cover the family's medical costs. As of early Wednesday evening, the fund had raised over $15 000.