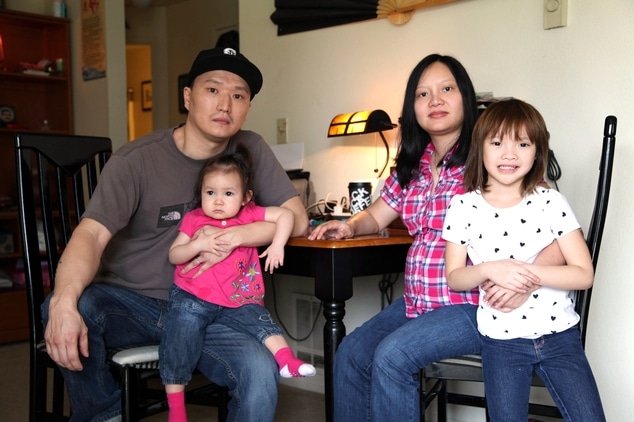 Adam Crapser deportation: Should a 40 year old South Korean man who was adopted aged 3 in the US be forced back to his place of birth after criminal records complicated his application for naturalization? 
Adam Crapser a South Korean born man who was adopted by an American couple at the age of three is set to be deported and separated from his wife and children because his parents failed to apply for US citizenship for him.
Arriving in the US at age 3, the now 40 year old man has been ordered to return to his place of birth, a country he knows little about.
The man's case has commanded media attention after Crapser spent the last nine months confined in an immigration detention center with an immigration judge now deciding that the man must be repatriated at his place of birth.
The Washington based father who built a life in his native new country, a country that the man has ostensibly known for all but his entire life now faces the dilemma of leaving behind his wife, Anh Nguyen and their three children who are US citizens.
A report via foxnews tells of the man saying he was physically abused by his adopted parents, having been separated in the care system from his older sister. 
Responding to the decision to deport Crapser, Dae Joong Yoon, executive director of the National Korean American Service & Education Consortium, expressed misgivings over the decision.
Told the man: 'It's heartbreaking news. I'm sure he doesn't have any idea what he can do in Korea.' 
Told Lori Walls, from the Washington Immigration Defense Group, via NBC: 'Adam and his family are heartbroken at the outcome. 
'He was eligible for a discretionary form of relief called "cancellation of removal", and the immigration judge decided he did not deserve this relief.' 
She said Crapser had waived an appeal because he is desperate to get out of detention.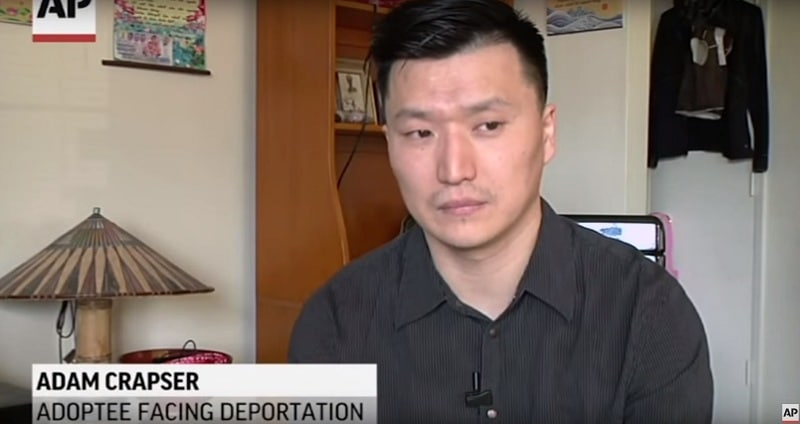 Becky Belcore, who was adopted at the age of one and brought to the United States from South Korea, said she was with Crapser in the courtroom.
She said: 'He has been in detention for almost nine months. He's been separated from his children. It is really hard for him.'
The woman said it was 'wrong and inhumane' to send Crapser back to South Korea.
Adding: 'Without knowing the language and the culture, it will be so difficult to survive.'
Belcore said the immigration center seems worse than jail because visitors are not allowed to touch or hug detainees, and must talk on a telephone.
Belcore added that Judge John C. O'Dell appeared very matter-of-fact when he told Crapser he will be deported.
Seven years after he and his older sister were adopted, Crapser's first US parents abandoned them, and the siblings were separated in the care system.
He moved between foster and group homes before moving in with Thomas and Dolly Crapser. 
In 1991, the couple was arrested on charges of physical child abuse, sexual abuse and rape. They denied the charges. 
Thomas Crapser's sentence included 90 days in jail, and Dolly Crasper's included three years of probation.
Adam Crapser found himself getting involved on the wrong side of the law when he broke into his parents' home. He claimed he was trying to retrieve the Korean Bible and rubber shoes that came with him from the orphanage.
He was later in more trouble for stealing cars and assaulting a roommate.
Federal immigration officials say they became aware of Crapser after he applied for a green card. His criminal convictions made him deportable.
The National Korean American Service & Education Consortium says an estimated 35,000 inter-country adoptees do not have US citizenship, and has called for legislation to address this.
Notes nbc: For others in Crapser's situation, there may be hope: A bill currently being considered by Congress, the Adoptee Citizenship Act of 2015, would close a loophole in the Child Citizenship Act of 2000, which automatically grants U.S. citizenship to children adopted by U.S. citizens. However, the 2000 law did not grant citizenship to adoptees who were already over the age of 18 when it passed, as Crapser was.
What do you think? Did the judge make the right decision to deport Adam Crapser and to what degree ought the man himself blame himself for not having tended to his legal status all these years?