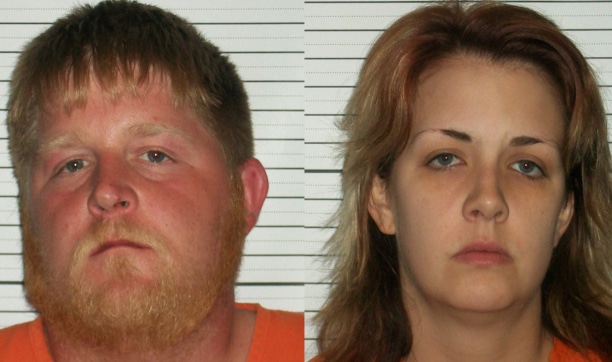 Alan and Kassandra Kearns: How did Ohio parent's toddler daughter come to overdose on painkillers, twice in one week? 
Alan and Kassandra Kearns an Ohio couple have been arrested after their toddler daughter overdosed on painkillers, Percocet, twice in one week.
The husband and wife, aged 33 and 32 respectively were charged with felony child endangerment when their 18 month old child had to be airlifted to hospital after involuntarily ingesting the painkiller two times over five days.
Told police spokesperson Maj. Jay McDonald via WBNS-TV: 'Quite frankly in my 23 year police career, I've never seen anything like it,'
'The second time in such a short time frame necessitated a police response.'
Doctors needed to give the girl a naloxone (Narcan) shot in order save the girl's life, also used to treat heroin overdoses.
'Percocet's a strong opiate designed for serious pain and any baby that can get unfettered access to something like that would be in very serious danger,' McDonald told the Marion Star.
In both cases on July 19 and Sunday, the young girl was able to find and swallow Percocet pills. 
The toddler's mother called the July 19 overdose an accident. Nevertheless neither parent said how it happened a second time.
Told a neighbor: 'You have to make sure stuff like that is locked up where they can't get to it,'
'Hopefully this would be an eye opener for them as parents, you know.'
Adding: 'It really just blows my mind,'
'They just look like the all American family, so it's just, it's sad that the little one got a hold of this stuff. I'm still trying to process it.'
Cases where small children accidentally take medication once usually aren't treated as criminal matters, told McDonald. 
While failing to find any signs of any drugs while searched the house, police told of discovered a gun and small amounts of marijuana. Whether the gun was legally licensed to either parent has yet to be established.
In the aftermath of the couple's overdose, local child services have come on board to assist police.
Of note, the couple also has a son who is staying with relatives. What actions child services plan to take has yet to be divulged.
Not necessarily understood are to what degree Alan and Kassandra Kearns have been abusing the pain killers, how often and what preempted them to maintain their presumed addiction in front of their children?
Records show a $100,000 bond was issued for Kassandra Kearns. Bond information for Alan Kearns was not available.