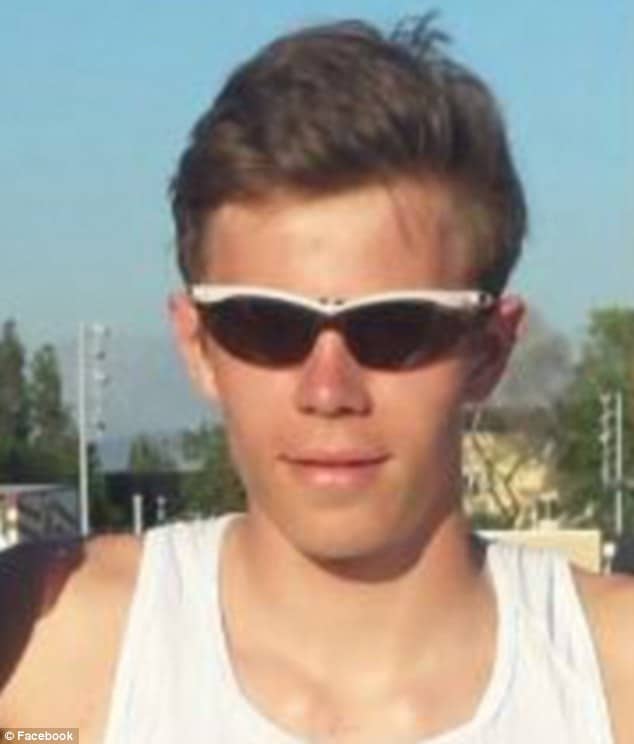 Parker Kennedy Oregon track star impales eye: How one rising star's career may have been potentially thwarted by a freak accident as he fights for recovery.
Parker Kennedy an 18 year old Oregon track and field star is in stable condition after accidentally piercing his eye with a javelin after tripping and impaling himself onto the spear during a Friday meet.
A report via KGW-TV quoted Hood River Valley track and field coach Donnie Herneisen telling the injury happening as the protege athlete was competing at the USA Track and Field Oregon Championship at Portland's Jesuit High school when he fell face first into the javelin.
Told the coach via Buzzfeed News: 'He was warming up and had just thrown a javelin and was walking out to retrieve it,'
'It was kind of sticking up at a 45-degree angle and he literally tripped and fell. 
'His spikes caught in the grass and it was the wrong angle and the javelin pierced his eye.
'As I understand it, from the folks who were there, it went at a downward angle towards his mouth, not towards his brain.' 
The javelin was removed by a team staff member before firefighters arrived according to Fire department spokeswoman Cassandra Ulven.
Stabilized at the scene of the horrific accident, Patrick Kennedy was airlifted to Oregon Health Sciences University Hospital, where he was listed in serious condition, with medics upgrading the teen's condition to stable by Saturday.
Offered the teen's coach who at the time wasn't present when Kennedy impaled himself:  'The last thing I heard was that he was able to see out of the eye and see colors.' 
The injury to Patrick Kennedy comes off the back of the Oregon track and field star having won the 5A pole vault at the state championship in the spring, after having competed as a member of the team that won the school's first state title. 
Herneisen said that Kennedy had just graduated from Hood River Valley on June 10.  
He said that the star athlete who was a leader on team has been signed to compete for the University of Washington.  
'He has been around track and field for a long time, very knowledgeable about the sport,' the coach told KATU.
'I've known him since eighth grade. He is very well-versed in a lot of events, so he was able to help a lot of our younger kids.'  
Kennedy will likely need reconstructive surgery yet will probably, yet improbably retain sight in his right eye.
Reiterated the coach: 'His momma said the damage is not critical, but it's up in the air.'
Responding to Friday's impaling accident, the Hood River Valley High School track and field team uploaded photos of Kennedy in competition to its Facebook page.
Read one uploaded post: 'So this just came in the mail today. Be strong for Parker! Time to support a fallen teammate!'
Responded one supporter: 'Praying everything will turn out OK for you, Parker,'
'Hugs to your family.'
Time will tell if Parker Kennedy will make a full recovery and resuming his track and athletics aspirations.