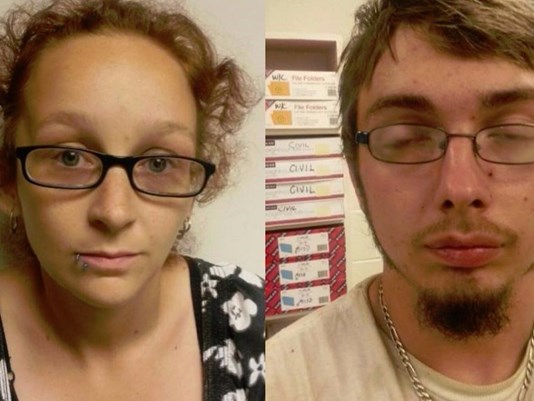 What led to Ashley Harmon and her fiance Jonathan Flint attempting to sell the woman's 3 month old baby? Rampant drug abuse suspected.
West Virginia couple, Jonathan Flint and Ashley Harmon have been arrested after the pair sought to sell the woman's three month old baby to feed their drug addiction.
The couple's arrest came after the pair from Layland, West Virginia sought to sell the infant for $1000 before reducing the price to $500 according to a report via WSAZ-TV.
At the time of their arrest, investigators told they believed Ashley Harmon and her fiancé were going to use the money to buy drugs.
Reacting to the arrest, Fayette County Sheriff Steve Kessler told in a press release that the case was 'shocking.'
Told the policeman: 'Law enforcement officers frequently deal with some pretty strange situations,'
'A situation like this is really out of the ordinary, though.'
The couple who were arrested Friday, are accused of offering to sell the baby to neighbor Carolyn Redden after going to her home May 28. Redden knew Flint since he was a child but not Harmon.
After attempting to sell the baby, first for $1000, then $500 the couple relented after Redden declined.
Redden told the couple she didn't want the baby, who appeared sick. She said they then left the baby with her to 'momentarily' baby-sit to go to the store, only to never come back.
Told Redden via wvah: 'I ran out and got diapers and more bottles for her,'
'She was shaking, clinching her fists, crying and screaming.'
She said she eventually called 911 because the baby would not stop crying and was shaking. She said an EMS worker who showed up told her the infant may be suffering from drug withdrawal.
The couple eventually returned the following day, where by then Redden had already called child welfare workers the day before, who by then had taken custody of the abandoned child.
Offered Captain Jim Sizemore with the Fayette County Sheriff's Office: 'You try very hard to separate your professional life from your personal life. But, when there's a child being abused, you can't help but think there but for the grace of God is my child. I have a daughter that I love more than anything on this earth, and I would gladly give my life to keep her safe.'
Deputies say the child's biological father had no knowledge of the scheme to sell his daughter.
Jonathan Flint and Ashley Harmon are facing charges of selling or attempting to sell a child and child neglect.
They were behind bars after their bail was set at $100,000 each.