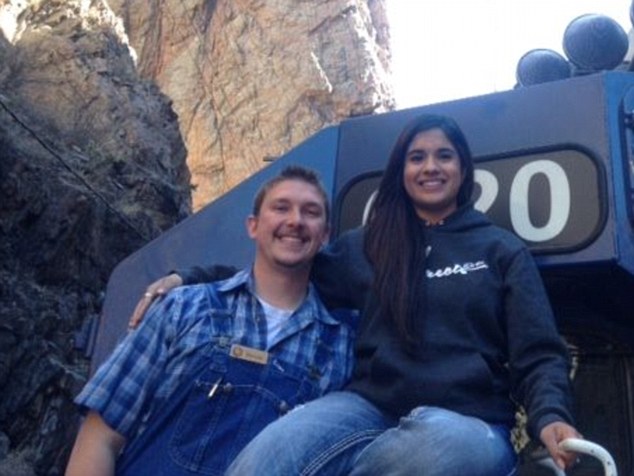 Tragedy as Leslie Cacy a female conductor falls to her death along a train route she was working on and minutes from the end of her shift.
Leslie Cacy a 28 year old female conductor working on the Royal Gorge Route train has died after falling from the moving train she was working on minutes from the end of her shift on Saturday.
At the time, just on 5.30 pm, the train was passing over the Arkansas River en route back to Canon City near Colorado Spring where Cacy was based when she fell and was instantly killed when the moving train ran over her. 
Not necessarily understood is how Cacy came to fall from the train.
Ironically, the woman's death came just seven months after marrying the love of her life on the same vehicle.
The incident would leave close to 200 people stranded on the train for four hours near Colorado, according to a report via KOAA.
Leslie Cacy's death led to friends and loved ones paying homage to the conductor, with tributes calling her 'truly one of a kind person,' who 'lit up a room with her unwavering smile.'
The Fremont County Sheriff's office told of the woman standing in a door opening at the back of the train as it backed into the next upcoming station when she fell. It had been previously reported the woman had plummeted more than 1000 ft into a gorge.
Told passenger Cynthia Brier upon seeing the train's engineer in a state of shock shortly after the tragedy via KKTV News: 'We saw the engineer of the train, he was in the grass next to the train holding his head screaming. 
'There were people running over to him and assisting him, helping him stand up. Then it became apparent something really bad had happened.'
A report via the Caller Times  told of the Ray High School graduate marrying Devon Cacy in October – eight years after meeting him on the very train she died on.
Up to Leslie Cacy's death, the couple had been happily married, living together in Canon City, Colorado.
Upon her death, the deceased woman's family along with that of Devon's started a memorial fund in her honor. To date has more than $7,200 has been raised on a gofundme page.
In a joint statement on the website, they wrote: 'Leslie is one of those people who always lit up a room with her unwavering smile and never shied away from lending a helping hand to anyone.
'The kind of person who loved incredibly deeply and saw the very best in everyone. She is truly a one-of-a-kind person.' 
Offered, Leslie Cacy's friend of 15 years, Aubrey Villarreal-Ortiz: 'She was beautiful inside and out.
'She could always put a smile on my face in the worst times and make me laugh.'
The Royal Gorge Route train is an attraction in Canon City and it takes passengers under the Royal Gorge Bridge.
It has been running for 13 years, offering passengers sprawling views of the mountainous landscape.
The incident has since led to questions of how train routes and safety conditions will be implemented going forward.
Told Lieutenant Detective Robert Dodd of the Fremont County Sheriff's Office via KOAA: 'We're going to maintain control of it until our investigation is done.
'But I can't say if the federal authorities will want to extend that shut down or not.'
A former colleague posted on the Sheriff's Office Facebook page paying tribute to Cacy.
Told a Royal Gorge Route post on facebook: 'We are absolutely devastated by the loss of our team member who died yesterday in an accident on the train. We have been working around the clock with authorities to figure out exactly what happened.'
'Right now, our focus is on helping the Fremont County Sheriff's office do its job, and taking care of our team. We will not be running the train for the next few days, and anyone with reservations will be refunded or may reschedule.'
'We are a family run business, and our team members are like family to us. Our hearts are broken. We will share more information as soon as we have it.'
The Fremont County coroner said an autopsy will take place next week.