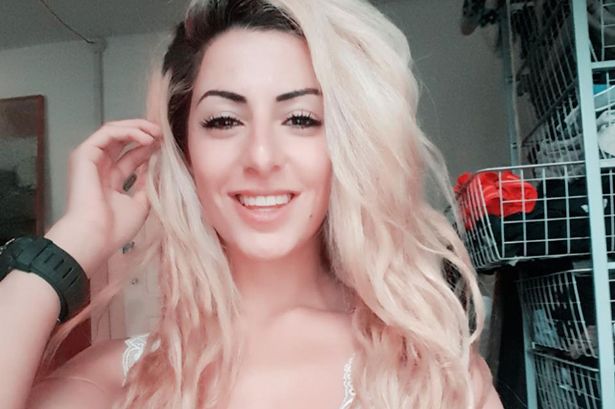 How Joanna Palani turned ideology, family history and her student studies as a mechanism to fight for human truth along the Kurdish/Syrian front. 
Joanna Palani a Danish politics and philosophy student of Kurdish heritage has told of her decision to 'flee' to Syria to fight ISIS jihadis on the frontline.
In a tell all expose, the then 22 year old college student told how she gave up her life in Denmark on November 14, 2014 to fight alongside Kurdish fighters, face to face against the Islamic militant group, in a conflict that has to date inspired more than 27,000 foreign fighters from 81 different countries, the vast majority of whom now fight with ISIS.
Of one of the some 750 young European women embarking on adventures to Syria and Iraq, and with only a handful having managed to return home safely, Palani told of her determination to fight along the front.
With her knowledge of how to shoot a gun, Joanna Palani said she spent a year battling on the Kurdish front line, teaching other girls how to fight, along with witnessing the horrors of the war, while all the while claiming that the 'ISIS thugs' were 'very easy to kill.'
Other observations include Palani remarking on what she deemed the 'striking differences' between the Islamic State and Syrian President Assad's 'superior' killing machines,' along with the reality of child sex slaves, along with watching first hand one comrade being shot dead next to her. 
Explains Joanna Palani via Vice: 'ISIS fighters are very easy to kill,'
'ISIS fighters are very good at sacrificing their own lives, but Assad's soldiers are very well-trained and they are specialist killing machines.'
Asked what prompted her to leave university, the political science student, the daughter and grand-daughter of Peshmerga fighters, answers to 'fight for human rights for all people'.
While her peers may have been dealing with getting through exams, dating and the tranquil life of Nordic life, Palani instead describes the adventure of first traveling to Iraq before moving on to Rojova in Syria, where she finally took arms.
Yay! Happy to be named finalist in this years Visual Storytelling Award by @lensculture pic.twitter.com/IHIfoUOnAk

— Asger Ladefoged (@AsgerLadefoged) December 15, 2015
Fighting alongside with the People's Protection Unit (the YPG) for six months, Palani then went on to join the Peshmerga for a further six months.
On her first night on the front line, Joana Palani witnessed her comrade being shot dead by a sniper who had noticed his cigarette smoke. During that incident, she told of being forced to 'helplessly watch' her Swedish comrade fighter die, his 'blood drenching her new uniform.'
In subsequent months, Joanna discovered she had a talent for shooting and keeping quiet at the right time, especially when faced with Assad's well-armed forces.
Having learned to fire a gun aged just nine, she also started training young Kurdish fighters, many of whom stunned her with their bravery in the face of possible death.
But soon she would be tormented with the receipt of letters from girls in captivity, describing how they had been brutally raped by fighters and were desperate to escape.
'Even though I am a fighter it is difficult for me to read about how a ten-year-old girl is going to die because she is bleeding from a rape,' she told Vice.
One shocking discovery, at the beginning of 2015, involved Palani coming across a 'holding house' in a village near Mosul, Iraq, where young girls were sexually abused and loaned out to fighters.
She told of how one victim, aged just 11, was pregnant with twins – something that deeply affected her.
Then 23, the freedom fighter yearned to return to her homeland while on leave.
It was while having been back for only three days, Palani received an email from Danish police, where she was informed her passport was no longer valid and that if she returned to Syria or Iraq, she could be imprisoned for up to six years under new laws.
The laws are intended to stop ISIS fanatics from joining the terror group in conflict zones. At the time Palani was put on house arrest for six months following her return.
Since returning to Copenhangen where Joanna Palani has returned to studying politics and philosophy, the young woman tells she can't help but feeling like she has let down the trainee fighters and child abuse victims she left behind.
Reflects the freedom fighter: 'I am a European Kurdish girl. Most of my beliefs and morals are European. I couldn't live in Kurdistan for more than one or two years—it is not very comfortable there as a woman for me. I would rather choose public justice than personal happiness. I would give my life for Europe, for democracy, for freedom and for women's rights. I feel like I have been betrayed by those who I was ready to sacrifice my life for.'