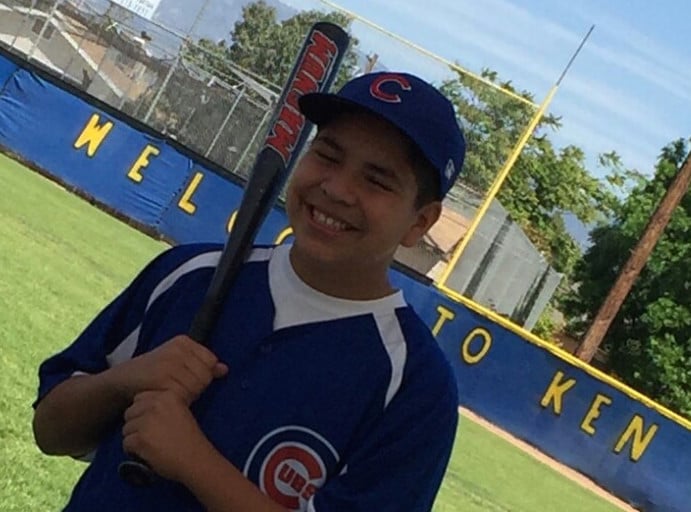 Dominick Gallegos a 12 year old, sixth grade boy has died with police saying there was no evidence of an assault or physical injury but fellow students say otherwise.
Dominick Gallegos a 12 year old Southern Californian student has tied after a bully stomped on his chest during a gym class game of soccer on Tuesday.
Colton Elementary school officials told of the pupil losing consciousness and dying after being transported to hospital after 'running into' another pupil.
Yet that's not the way other students necessarily saw things go down Tuesday afternoon on the field at Ulysses S. Grant Elementary School.
A report via KTLA-TV told of other students telling that the sixth grader slipping and falling down picking up a soccer ball, while a boy known for being a bully knocked down Dominick Gallegos with two stomps to his chest.
Told Bryant Coria, a student at the school, after witnessing someone stomping on Dominick's chest after he collapsed, 'When he collapsed, like a kid came and like stomped on him twice and he was unconscious.'
That's when according to Bryant other students ran to tell teachers that Dominick needed help.
'They just went to tell the teacher that he was laying down and that something had happened to him,' Bryant explained.
Offered the Dominick's father, Joel Gallegos: 'It was PE. Somebody should have been watching those kids play,'
'That kid wouldn't have had the nerve to stomp on my kid's chest if he knew there was a teacher watching. Someone should have been watching those kids.'
Added the father, 'This kid did it on purpose.'
The father said he asked his son's friends if Dominick had a problem with the other boy prior to the incident, but the friends said, 'No, that's just the way that kid is.'
In the aftermath of Dominick Gallegos' death, fellow students and attended a vigil for the killed child Tuesday night at Ulysses S. Grant Elementary School, about 60 miles east of Los Angeles in San Bernardino County.
Officials with the Colton Joint Unified School District didn't immediately respond to requests for comment Wednesday. 
A statement released from the coroner's division of the San Bernardino County Sheriff's Department noted Dominick had 'suddenly collapsed' on the soccer field around 2:15 on Tuesday. He was pronounced dead at Arrowhead Regional Medical Center at 3:14 p.m.
An autopsy is now scheduled in order to determine Dominick Gallegos' cause of death as detectives continue to investigate how the boy died.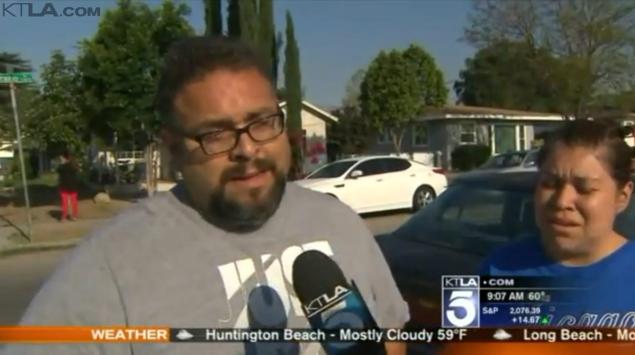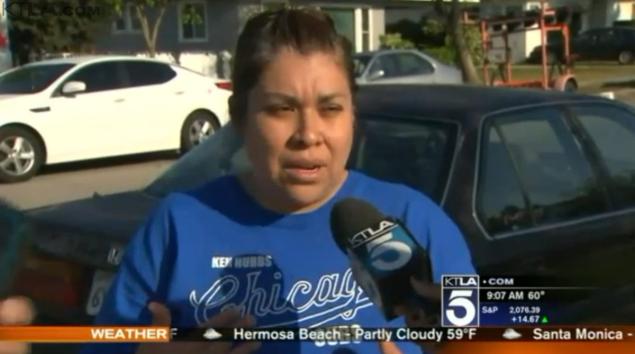 Of question if whether the school is complicit in the Dominick's death and whether the child's death could have been avoided. Also of question is whether the 'known bully' has since been called to account?
Told district spokeswoman Katie Orloff in a statement: 'Anytime we have something bad or tragic happen with anyone at one of our schools, we bring out a crisis team,'
'And it's counselors from throughout the district who work at different schools and departments, and they're pulled from their regular duties to come here, or wherever the need is, and talk to kids and staff and do what they can to help them work through their feelings and their stress and anxiety about what it is that happened.'
Dominick's parents have since reiterated they're looking for answers.
'He just got done finishing basketball, and never once did he have like a heart problem or faint or anything,' his mother, Charmaine Gallegos said, 'I mean, even though there's no showing around his — that there's some kind of trauma, there was something that happened to him.'
A gofundme page has since raised (at time of publishing) $8444 out of $10, 000 towards burial costs.
Hundreds gather to remember 12 y.o. Dominick Gallegos. The coroner hasn't determined how he died. The story at 11pm. pic.twitter.com/cqyjyfVlSi

— Melissa MacBride (@abc7melissa) April 14, 2016
A vigil for Dominick Gallegos. The 12 y.o. died on a soccer field. An autopsy will determine what caused his death. pic.twitter.com/9TwIClt5YG

— Melissa MacBride (@abc7melissa) April 14, 2016