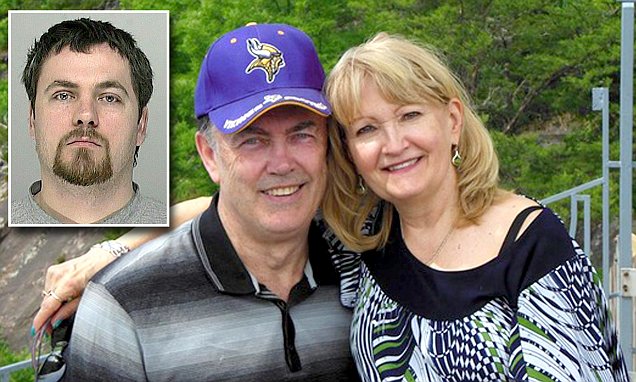 What led to Adam Troy Weimer viciously beating his father to death along with his fiance before fatally shooting himself? A history of violence, crime and asking for handouts from his murdered father.
Adam Troy Weimer a 40 year old Minnesota man on Tuesday shot himself to death during a standoff with police after fatally beating to death his father and stepmother over the weekend.
Killed was the man's father, Terry Weimer and his finance, Renee Ahrens, 67, who were found dead inside their home Monday midnight in the Twin Cities suburb of Shakopee according to a report via the  Star-Tribune.
Discovery of the couple's dead bodies came after relatives of Renee Ahrens requested a welfare check Monday night after not having heard from the woman
Further reports told of the couple having been 'beaten pretty badly.'
Reacting to the heinous beating, Shakopee Police chief Geoff Tate told, 'Brutal is probably a good word to describe the scene our officers found,'
Adding: 'You could imagine the type of anger and rage it takes, where someone needs to be with their mindset to do something like that.'
With no signs of forced entry or burglary, the investigation soon focused on Adam Weimer. Family members reported being 'worried' about him, Tate said.
After tracing the woman's car back to the town of Waseca, an hour's ride south, police came across the unoccupied vehicle outside the home of Terry Weimer's son, Adam Troy Weimer.
Declining police overtures, authorities tried until noon to coax the son to come out whom by now had barricaded himself inside before Adam Weimer died of an apparent self inflicted gunshot wound.
Police told that Adam Troy Weimer had a 'criminal history' who'd been previously convicted for theft, drunk driving and assault.
According to family and neighbors the murdered couple were both retired substitute teachers who were planning to get married.  
'She was an unbelievable person, so full of life,' said Glenn Ahrens, a former brother-in-law of the dead woman. 'She was just someone that everybody liked.'
Offered Robbins Elementary school principal, Andrew Thiel, at the school, Ahrens taught at: 'She was a remarkable teacher, colleague and giver. She was highly respected by parents and staff and absolutely adored by her students.'
A neighbor told the elder Weimer had 'one troubled boy that would come over for money,' leading him to feel 'something was going on.' 
In the aftermath of the murders, Chief Tate worries said that with the suicide, they may never learn the motive for the double-homicide.