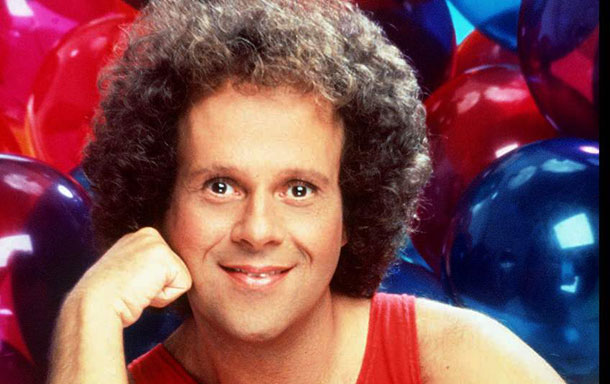 Richard Simmons missing: What led to a pop icon going into seclusion? 
America has spent the weekend wondering where pop cult icon Richard Simmons, 67, has been hiding ever since the exercise showman/fitness guru took leave from the mainstream and went into recluse.
Others on the other hand have wondered if Simmons ran into foul play or worse came to be kidnapped by his live in  Hollywood Hills maid, housekeeper, of three decades, Teresa Reveles, who is alleged to have used witchcraft to control the fitness guru.
Yes kids this is America, and the help (past and present) will not even hesitate to sleep or mutilate their celebrity masters. Or at the very least ask for a six figure tell all hand out.
Can you spot Richard Simmons doing the mambo?
That said there might be some respite as a report from the nydailynews late Sunday night tells of the omnipresent fitness guru agreeing to be interviewed (by phone mind you…) Monday morning on NBC's Today show.
Presumably Richard Simmons will address how or why his maid came to kidnap him (one current theory, the other being a spell she cast on him…) and other sordid details as to how and why the previously over zealous fun action fitness man has taken a leave of absence from our living rooms these last two years.
Responded America's collective heart throb over the weekend on Facebook: 'I can't believe I was trending on Facebook!'
'After some questions about my health and whereabouts, I'll be calling in to Today Show tomorrow morning. If you're wondering what I've been up to, I hope you'll tune in!'
Since news of Simmons appearing on the Today Show, friends have expressed relief that the re connect may be the impetus the former fitness guru needs to reclaim his life as those closest to him fear the cult icon having regressed the last two years.
Offered Mauro Oliveira, Richard Simmons' former personal assistant and masseur who hasn't heard from her former close attache in 2 years:  'I only hope that this attention the case is getting helps Richard Simmons to break the spell and finally take full control of his life,'
'And at last tell everyone that he is OK, and that he just wants to be alone and forgotten, if those are his wishes.'
Confessed the Brazilian 'gym rat' who had feared the worse: 'I feel that Richard is now being controlled by the very people that he controlled his whole life,'
'Controlled in the sense that they are taking advantage of his weak mental state. Controlled in the sense that they are controlling his mail, controlling his everything. His brother, the manager and Teresa. Those three people.'
Of course what America really wants to know is whether Richard Simmons was indeed kidnapped or mind controlled by his housemaid?
Told Simmons' rep Tom Estey via people over the weekend: 'As I have stated in the past, these claims are untrue and preposterous,'
'Richard, after 40 years of being in the spotlight, is now simply taking a break from the public eye and working behind the scenes to continue to help those millions of people worldwide in need of his assistance and on several projects to be announced soon.'
Which raises the question, how did America come to get so dizzy when one of its pop cult heroes chose to take a measure of absence? Is that to wonder that some cult heroes are allowed to fall by the wayside whilst others are forever mandated on our collective tv screens, once again donning their fushia pink leggings and frizzy headband, compelling us and reminding us of a kinder yesteryear?