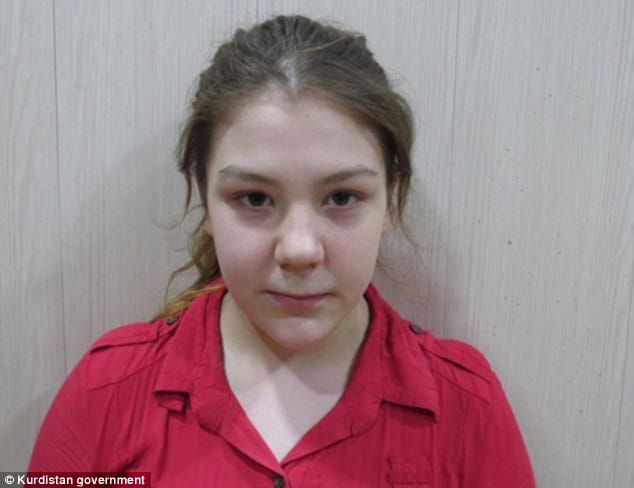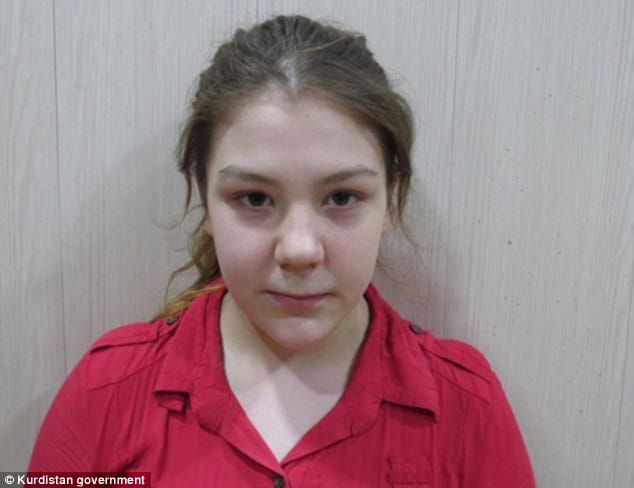 Was 16 year old Swede, Marlin Stivani Nivarlain simply just misled into docile servitude to her boyfriend or did she take part in the terrorist group's activities?
16 year old Swedish teen, Marlin Stivani Nivarlain has been rescued from ISIS after having run away with her boyfriend to join the Islamic extremist group (for a second time) in Mosul, Iraq.
The rescue of the teen at the hands of Kurdish special forces last week came after the teen from Boras, western Sweden left her home country with her 19 year old ISIS supporter boyfriend in May of last year. At the time of her disappearance, the teen was pregnant with her boyfriend's baby.
Initially rescued from ISIS by Kurdish supporters in late October, the teen escaped once again in a bid to return to her partner and give birth to a son days later according to local Swedish media.
The teen's disappearance first made headlines last June when her biological parents reported her missing after telling them she was going to Stockholm for a few days.
Reports told the teen had been last seen at a train station on May 31, along with her boyfriend after her foster family whom she had been living with since February dropped them off.
According to a report via Aftonbladet, the couple traveled via Denmark and Bulgaria, before entering Syria via Turkey, and joined an ISIS-linked group on arrival.
The first attempt to free Marlin Stivani Nivarlain was carried out at the end of October, when she was heavily pregnant, but the teenager somehow managed to return to her boyfriend near Mosul.
At the time of her initial disappearance, the girl's mother said her daughter had started dressing and behaving differently, whilst  her brother told of finding a mobile phone hidden under her pillow on which she had downloaded Isis propaganda videos and instructions on how to support jihadists.
Chillingly, the teen is reported to have sent text messages after the Paris terror attacks of November 13th, saying how 'happy' she felt about them.
At the time of her incarceration in Vienna last December, defense lawyer Wolfgang Blaschitz told the Kurier newspaper that his client 'doesn't understand the world any more. All she wanted to do was get away from her parents, and now she finds herself in prison.'
In a new twist, the 16 year old Swede has now claimed that she was 'misled' into running away a second time by her boyfriend, an ISIS jihadist fighter who has since reportedly been killed in a Russian air strike.
The teenager was rescued in a raid by Kurdish special forces last week, the autonomous region's security council said in a statement on Tuesday.
The 16-year-old travelled from Sweden to Syria last year and then crossed the border into Iraq, where she was rescued near the Islamic State stronghold of Mosul on Feb. 17 by forces from the Kurdish counterterrorism department, the statement added.
The Kurdish security council identified the rescued teenager as coming from the town of Boras and said she had been misled into making the journey to Syria by an Islamic State member in Sweden.
Read an issued statement: 'The Kurdistan Region Security Council was called upon by Swedish authorities and members of her family to assist in locating and rescuing her from ISIS.'
The teenager is currently in the Kurdistan region and will be handed over to Swedish authorities so she can return home once necessary arrangements are put place, it added.   
At present it is not necessarily understood if Marlin Stivani Nivarlain will face any disciplinary sanctions and to what degree if any she may have been involved in terrorist inspired vocation?
Of note, in November 2015, Swedish police chief Ulf Bostrom said that the Swedish city of Gothenburg was 'per capita, the European city from which most people have joined Islamic extremist groups.'
It is understood Marlin Stivani Nivarlain lived a mere 40 miles from Gothenburg.
And then there were these comments on the web that caught my eye, see what you think?
There's no helping some people. Leave her to get on with it, she'll soon realise what ISIS think of women then will beg to come back.
hold on a minute, she was rescued a SECOND time, then escaped her rescuers to return. She has put other lives at risk TWICE….correct me if I'm wrong, she may have been misled the first time but the second she knew what she was going back to…………..
She claims she was 'misled'. So, was the ISIS-supporting boyfriend also 'misled'? What does this young woman want to happen NOW? Re-located back to Sweden with her ISIS-supporting boyfriend, perhaps?