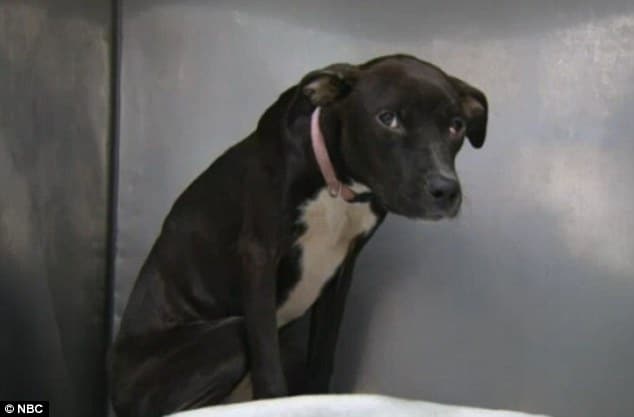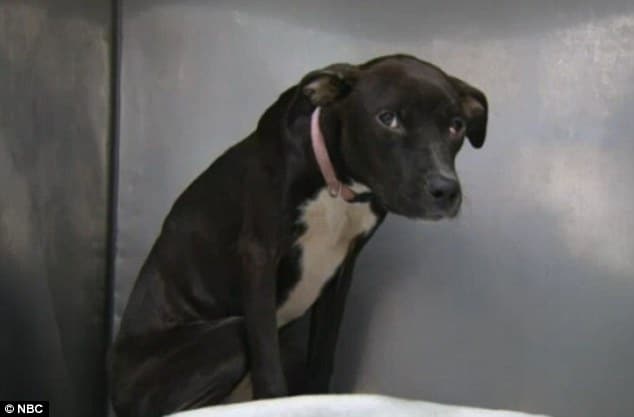 An abandoned Brooklyn dog was discovered Friday morning literally frozen to the ground after local dog walker, Jennifer Williams came across the distressed animal as she took out her own pet along Prospect Park.
The abandon's puppy's discovery came after Williams' own pet dog broke free of its harness leading the woman to the shivering malnourished animal whose paws had frozen to the ground as record low weathers take over the north east United States coast.
Unable to move, and hunched over, the lab-pit mix which had been left out in the cold overnight was rescued as Williams picked up the dog, noting the animal had blood along its paws, with its paws swollen and torn.
Told Williams via NBC4: 'She wouldn't stand up for me so I just wrapped the coat around her and picked her up.'
From there, Williams took the dog to Sean Casey Animal Shelter, where the dog was taken to a veterinarian to have its paws treated. 
'The bottom of her paws were pretty bloody,'
'Jennifer carried the dog home and ultimately saved the dog's life,' Sean Casey said.
Vets are also trying to treat other problems including the abandoned pup vomiting chunks of rubber. They are not sure if it will make a full recovery.
Told Casey: 'Any dog can suffer from the cold. 
'Some can tolerate it a little bit better than others but no dog, animal or person should be left out in that weather.'
Of question is who left the dog outdoors and to what extent had the dog been exposed to ongoing abuse and mistreatment and why for that matter hadn't the dog owner simply chosen to leave the dog at a shelter as opposed to leaving it to a cruel fate?
Anyone interested in helping should reach out to Sean Casey Animal Rescue at (718) 436-5163 or nyanimalrescue.org.