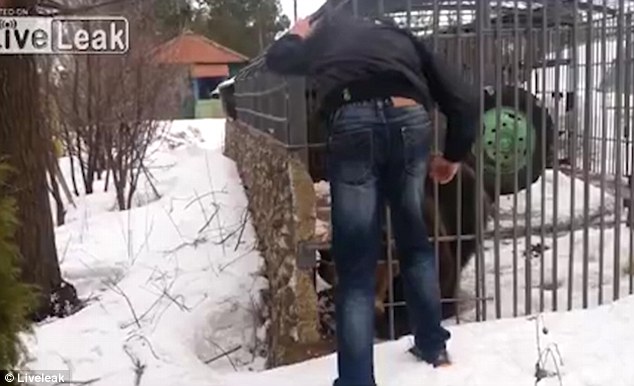 An unidentified Russian man has had his hand ripped off by a caged bear after ignoring his friends' warning not to reach inside and stroke the animal.
The incredible scene was caught on the friends' cellphone (see below) as he continued to implore his mate in the woods of Murmanskaya Oblast, in the country's far north west.
The video scene starts off with the camera catching a wide angle view of what appears to be a seemingly docile calm brown bear sitting in its cage.
Just another cuddly bear, in need of some love and affection. What could go wrong?
In the background the sound of two grown men can be heard talking, as one of tells the other of his intent that he wants to go up to the bear.
The friend, sensing the inevitable, pleads with the other man to step back as the man now motions to put his hand through the cage in a bid to stoke the 'friendly' bear.
Cries out the friend in disbelief, 'you f***ing idiot, don't do it!'
That though does little to dissuade the man who in the next frame is heard screaming with primal pain after literally having his hand ripped off by the bear after sticking it in the cage.
Yes kids, toy bears, cuddly bears are one thing. Locked up bears in the country side, are an all together different matter.
The screaming goes on and on, the friend filming the unfolding incident completely discombobulated as he rushes to assist his doomed friend, the camera a series of ongoing blurs. The brown bear having taken a hold of its hapless victim's arm, incessantly yanking it as it now stands on its hind legs for a better grip.
In the background comes the sound of a woman, who it appears may be laughing at the doomed man groaning in pain as he eventually frees himself and comes to the horrid understanding of what he has just done to himself.
According to a report via the dailymail, the man is thought to have lost his forearm up to his elbow in the attack – but did not die despite suffering from horrific injuries.
Because not all bears, especially wild brown bears are cute and friendly and fuzzy and want to be hugged…