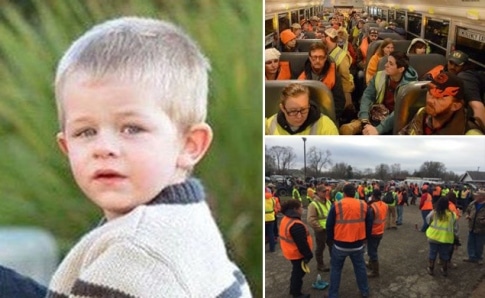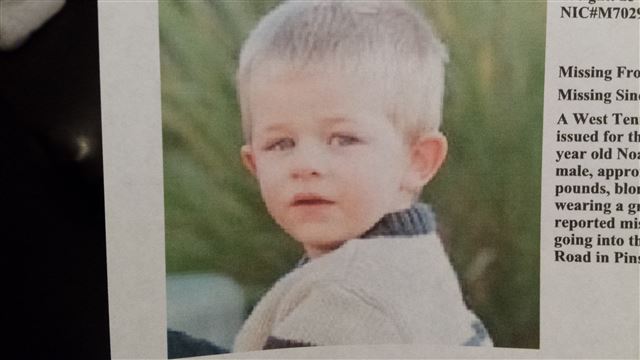 The search for missing 2 year old Tennessee boy Noah Chamberlin has come to a tragic end after investigators found the toddler's body a week after he first went missing after going on a hike with his grandmother.
Ironically the boy's body was found just 1.5 miles away from his grandmother's house in Chester County on Thursday after a rampant search was undertaken.
Prior to coming across the boy's body in a clearing, investigators had adamantly insisted the toddler was still alive after coming across 'crucial evidence' in woods near where he had last been seen.
What that crucial evidence was is yet to necessarily be understood.
A report via WBBJ told of Noah's remains being found just outside a grid searchers had spent days scouring. Of question is how long the boy had been dead, raising the question the toddler may have survived the first initial days of his disappearance.
Responding to the discovery, Chester County Sheriff Blair Weaver and Madison County Sheriff John Mehr told  in a press release that they believe that Noah Chamberlin's death was an accident.
Offered Sheriff Weaver: 'Just like grandma said, she turned her head for a minute and he was gone. There were trails everywhere,' 
'Everybody we talked to talked about how he ran all the time, jumped over tables, ran, just nonstop,' 
Adding: 'He loved to hide. We had people tell us that even adults would run after him, and they couldn't catch him.'
How the boy came to exactly die has yet to be determined as authorities seek to now conduct an autopsy.
Leading into the tot's discovery, law enforcement had covered roughly 1,000 acres of land, having expanded their efforts every day in a bid to track him down. Low nighttime temperatures, rain and rough terrain made finding the toddler quickly imperative.
WMC Action News 5 – Memphis, Tennessee
Noah Chamberlin's disappearance had led to conspiracy theorists speculating that the boy's parents, Jacob and Destiny Chamberlin, were behind the disappearance.
Skeptics have been calling on officers to raid the family's home, with wild accusations claiming the child was covered in wet concrete or buried under an outhouse on the family property.
Suggestions and claims that authorities sternly rebuffed.
Reiterated Sheriff Weaver: 'We have interviewed the entire family multiple times. We can find no reason, none whatsoever, to discredit them,' 
Added Madison County Sheriff John Mehr: 'The family has been cooperative and supportive. The FBI and TBI have been doing background and support (operations) for us. A behavioral science unit has been called in to assist.'
Noah was reported missing at 1.19pm last Thursday after he disappeared while on a walk in the woods behind his grandparents' Pinson home, law enforcement officials said.
His grandmother had taken him and his four-year-old sister on a nature hike when she said she lost sight of him.
Authorities said the trio had sat down to talk while in the woods and when the grandmother turned around, he was gone.
'They sat down to talk and she was paying attention to the granddaughter, and when she turned around he was gone,' Madison County Sheriff's Office spokesman Tom Mapes said. 'She immediately went to look for him.'