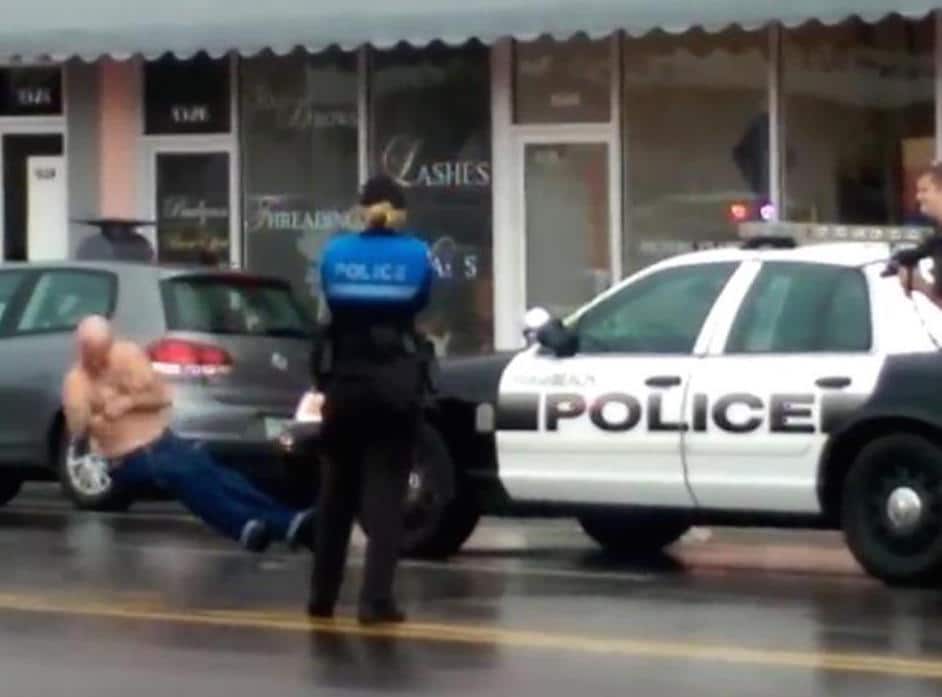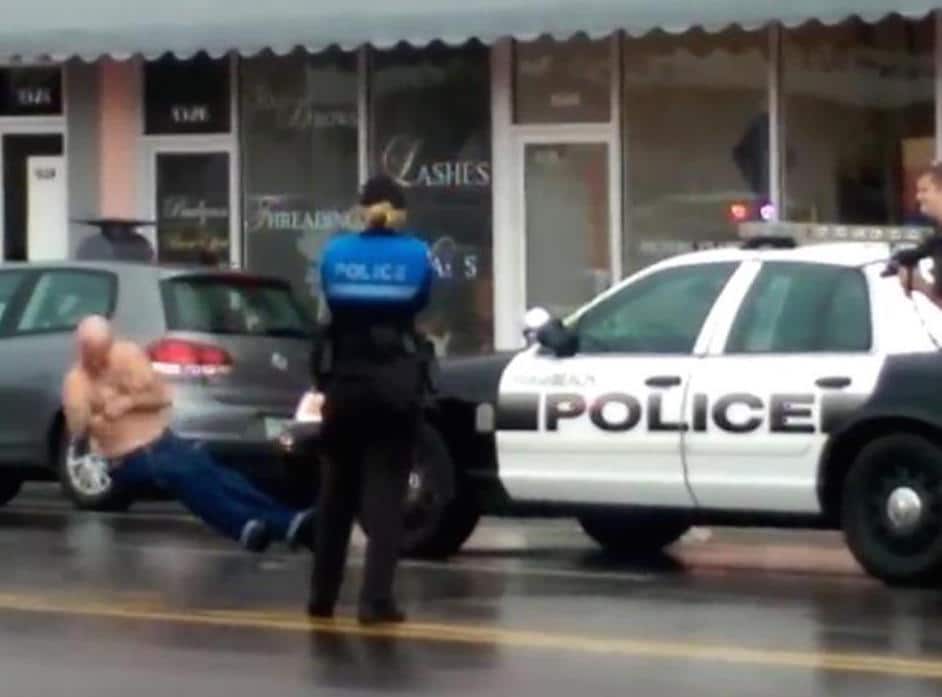 Making the Saturday evening rounds is a video of a Miami bank robber who was matter of factly killed in cold blood after a 'tense' confrontation in which a confused shirtless man stood cornered by cops on Miami Beach Rd wondering how he arrived at this moment in his life before cops put him out of his misery and shot him to death.
The man's death comes after having earlier Saturday morning held up a Bank of America according to a report via NBC Miami.
At the time the man told a bank teller he had a bomb (not a good move) before an employee called 911.
From there the suspect, fled the bank bare hand when he ran into a nearby barbershop, where he grabbed a straightedge razor and ran into the street, where he was surrounded by officers.
Remonstrated to give himself up, the man was caught on video taking a single step toward cops and placing his hand on a squad car. In an instant the man is shot at, clutching his bare chest as he falls to the ground, dead.
DISTURBING VIDEO: Man killed by @MiamiBeachPD at Alton Rd and 15th today during #ArtBasel https://t.co/09cimUuzvC pic.twitter.com/PzNX00zcv0

— Billy Corben (@BillyCorben) December 5, 2015
Wrote Marcellus Johnson, who posted the clip he had captured to Instagram: 'Miami Beach Police Officers tried to talk him down, but he just wouldn't cooperate. Early morning shenanigans on Miami Beach. I just want my coffee with 3 creams and 3 sugars.'
The incident has since led to debate as to why cops simply didn't shoot the man in the leg, or use rubber bullets, whilst others swallowed the load and came to the painful understanding, 'in a brave new horrible world, not following the law to the t (and especially daring to steal from the establishment) may and will often lead to your impending and immediate death.'
Below is the 'weapon' that authorities sought to ward themselves against ….
Miami Beach police say this was in hands of attempted bank robber who was shot and killed on Alton. @wsvn pic.twitter.com/ii4x4Ixzp8

— Ann Keil (@ann_keil) December 5, 2015