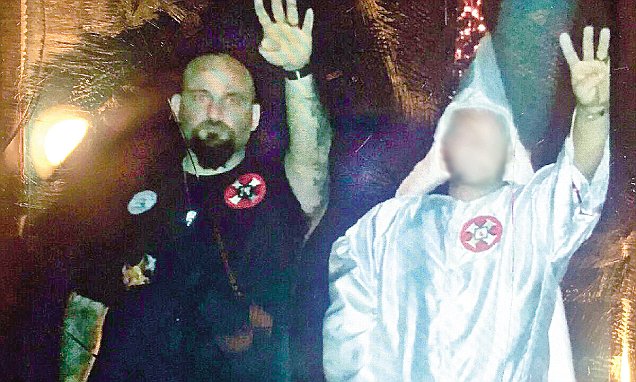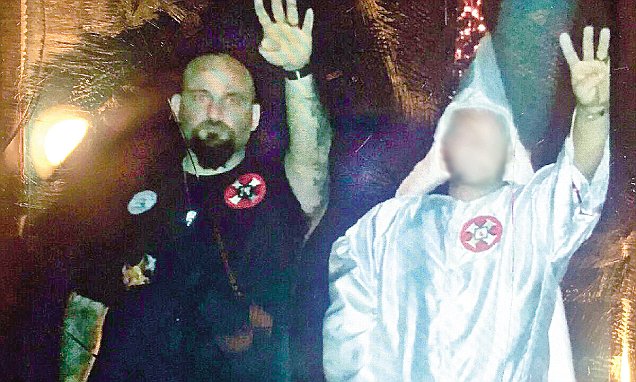 Raymond Mott a Louisiana cop has been fired after a photo of the police man turned up yesterday showing him attending a KKK rally and giving a Nazi salute.
The photo, taken over a year ago in turn led to the Lake Arthur Town council unanimously voting to fire the cop seen wearing the KKK crest at anti immigration rally.
Offered Ace Beverly of the Better Lake Arthur foundation via KATC: 'Nowadays, all over the United States cops are getting killed and cops are killing others,'
'Me, myself, personally, I don't want that to happen right here in my own hometown.'
The cops dismissal according to Police Chief Ray Marcantel came after Mott refused to tender his resignation at the police chief's request.
Mott initially claimed he went to the rally in Troy, N.C. in August 2014 working undercover for the FBI but later admitted he'd been lying.
'I have been baptized — after the events and have the documents to prove that — and a short while after my baptism, I have become an ordained minister and started a charity-based ministry in Lake Arthur,' Mott said.
Leading up to his firing, Mott threatened to sue the town, claiming termination guidelines weren't followed properly. Mott has also argued that although the man in the photo is him, the photo was taken out of context and that he has since retained a lawyer to fight his dismissal. 
Since Mott's firing, questions have been raised as to how and why Mott, who goes by the name Christian Knight on Facebook came to be hired in the first place?
Police Chief Marcantel said Mott passed 'thorough' background checks, including with three other police departments where Mott worked.
Ironically Mott went on to become the officer with the most arrests in the Lake Arthur department.
Nevertheless Mott's high arrest rate would also be matched with complaints regarding the former cops conduct within 30 days of his start date, District Attorney Michael Cassidy said.
Cassidy's office is reviewing all of those cases. Charges will likely be dropped in cases where the only evidence is Mott's narrative.
Offered Cassidy via the nydailynews: 'In order to prove a case beyond a reasonable doubt, I'd need evidence to corroborate anything he saw or said.'
To date it is not necessarily understood to what degree Mott's high arrest rate may have been informed by his affinity towards white supremacy and whom the cop may have been consciously been targeting during investigations. Also not understood is how the photo of Mott came to the attention of authorities, a year after it was taken and why for that matter, now?