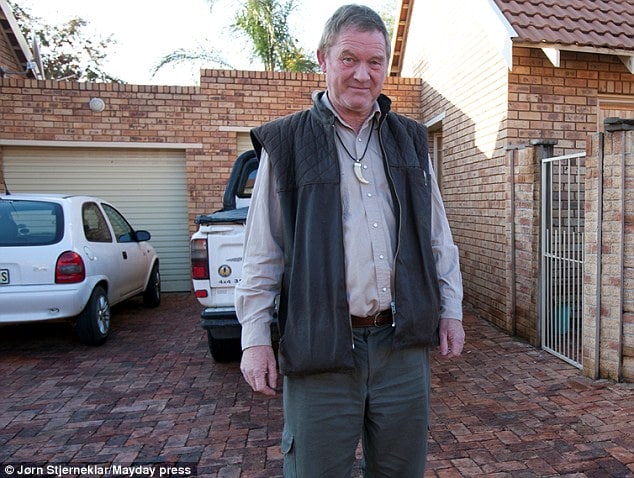 Peter Frederiksen a 63 year old Danish man living in South Africa has been arrested after police found 21 pieces of female genitalia stashed inside his freezer.
The man's  arrest comes after his wife, from Lesotho, told police he drugged her and cut off her genitalia while incapacitated.
Frederiksen's arrest comes after Danish newspaper BT revealed the man had openly discussed practicing female genital mutilation with a journalist in the past.
Told Hangwani Mulaudzi, a South African police spokesman: 'We have found 21 genitals from 21 women.
'The man's wife is one of the women. We are now investigating who the other 20 are.'
In addition to the body parts, police also confiscated surgical equipment, anaesthetic and a large collection of photographs.
Forensic experts are now investigating if the body parts were taken from his alleged victims while the women were dead or alive, The Local reported.
In interviews with journalist Jorn Starry, Frederiksen had once admitted to performing genital mutilation and claimed to have been taught by controversial doctor Jorn Ege, BT reported.
Frederiksen claimed: 'I met him [Ege] at Skodsborg Strandvej for a dinner.
'And I say, "I might have a customer for you. I know a girl in Copenhagen and she'd love to have made a cosmetic intervention, but she would want me to make it".'
It was then he was shown how to carry out the procedure by Dr Ege before going on to target a series of women. What led to Frederiksen in seeking to carry out female circumcision has yet to be necessarily understood. 
Reiterated Frederiksen via a google translate: 'And it began in Denmark 20 years ago when I came inside something called SMIL, if it says something. And there I met a woman priest, and she was totally obsessed with the things she believed in Satanism. I met her and took with her home. I never thought this kind of thing in my whole life. But she got so me to interest me for it. And then she said to me one day if I could not cut the foreskin away at her.'
Masilela Langa, a police spokesman, said he had kept a record of every body part, who it belonged to and when it was removed. Police said his first alleged victim was in 2010.
Langa told Netwerk24: 'It is now important that we get from the man's victims. At this stage we do not know how many women there are, as there are many, many photos.
'We are engaged in research and to question the man. It is as if he knew his victims and knew where to look for them.'
Since the man's arrest, police told they were uncertain if the gruesome attacks were carried out while the women were alive or dead. The man's arrest comes having originally fled Denmark to South Africa after receiving a prison sentence for arms trafficking in Denmark.
Frederiksen, who owns a gun shop in Bloemfontein, is due to make an appearance in a Free State Province court tomorrow.