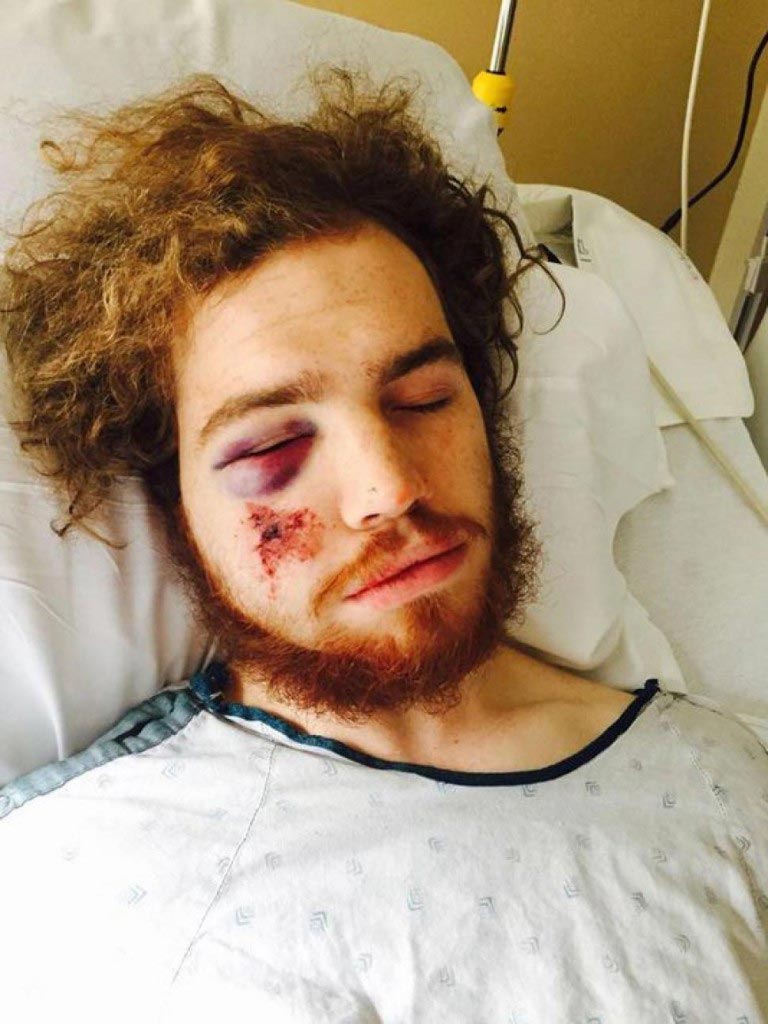 Mackenzie Jensen, a 20 year old Minnesota cyclist  is struggling to process why or how he came to be targeted by an individual who threw random concrete bricks at his face while riding his bike to work Friday afternoon.
To date, cops have yet to apprehend the man after reports that for cyclists were targeted over the weekend.
The most serious incident was that of Jensen who was left with 5 fractures to his face along with having to have his jaw wired shut and his cheekbones re constructed in upcoming surgery. That operation will require the insertion of metal plates where the man's cheekbones used to be.
Offered the youth's mother, Kristin Jensen via CBS Minnesota: 'It came flying at him out of nowhere and just cracked him in the face.'
Added the mother: 'How could somebody do this to another human being? How could they live with themselves?'
Minneapolis Police spokesman John Elder said two other bicyclists reported having cement bricks thrown at them in the area, but neither was hit. Another bicyclist was struck by a cement brick and suffered minor injuries.
Fellow cyclist Christopher Van Holmes witnessed the attack and said the white vehicle,  believed to be a Ford Bronco,  was driving erratically as it came toward them in the opposite lane.
Told Holmes via Kare11 News: 'His hand was out the window. He had a glove on and his hand went back inside the window and he drove by me and I saw the biker in front of me was gone,'
'I noticed he was off to the other side of the street, just kind of slumped over his bike.'
Unable to speak, the victim was able to write a message to his family saying of all that has befallen him, 'Wow, this is a lot to process.'
Jensen's family has set up a GoFundMe page to seek help with medical expenses and to cover costs while he's out of work, with the fund reaching $19,000 by early Tuesday.
Jensen's mother said the love and support her son has received is helping the family.
'It is really outweighing the bad right now and it really is restoring my faith in humanity.'
'It really is showing was the City of Minneapolis is capable of and the biking community, too.'