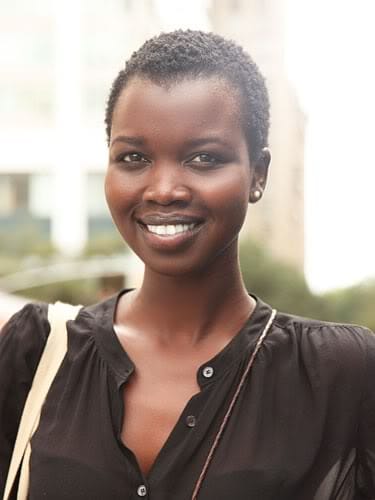 Rising Sudanese model, Nykhor Paul, 25 has stirred the fashion industry after taking to instagram to draw attention on the lapses and attitudes within the industry with respect to black models.
In her stirring post, the Ford model takes umbrage with make up artists for their lack of preparedness when it comes to black skin tones. Which is to suggest black models might be an afterthought in the industry and not something that ought to be seriously contemplated because white models are the 'preferred' choice of fashion places.
To date the Sudanese model has strutted the catwalk for the likes of Vivienne Westwood, Balenciaga and Rick Owens along with winning models.com Humanitarian Award this spring for her foundation We Are Nilotic (which works to bring awareness to the crisis in South Sudan).
Wrote the model who forces consideration as to why the fashion industry remains lopsided homogenous:
"Dear white people in the fashion world! Please don't take this the wrong way but it's time you people get your shit right when it comes to our complexion! Why do I have to bring my own makeup to a professional show when all the other white girls don't have to do anything but show up wtf! Don't try to make me feel bad because I am blue black its 2015 go to Mac, Bobbi Brown, Makeup forever, Iman cosmetic, black opal, even Lancôme and Clinique carried them plus so much more. there's so much options our there for dark skin tones today. A good makeup artist would come prepare and do there research before coming to work because often time you know what to expect especially at a show! Stop apologizing it's insulting and disrespectful to me and my race it doesn't help, seriously! Make an effort at least! That goes for NYC, London, Milan, Paris and Cape Town plus everywhere else that have issues with black skin tones.
Just because you only book a few of us doesn't mean you have the right to make us look ratchet. I'm tired of complaining about not getting book as a black model and I'm definitely super tired of apologizing for my blackness!!!! Fashion is art, art is never racist it should be inclusive of all not only white people, shit we started fashion in Africa and you modernize and copy it! Why can't we be part of fashion fully and equally?"
As jezebel notes: As Paul underlines in her post, until designers, photographers, booking agents, and makeup artists begin to see physical difference as an asset rather than an inconvenience, they will struggle to attain anything resembling genuine artistry.
And then there were these comments on the web that caught my attention too, see what you think?
It seems like this is the general state of things—there's money to be made, but the beauty industry is too racist to take advantage of it. Just like with larger women (many of whom would pay good money to wear gorgeous clothes) and the clothing industry.
Get a more inclusive education and don't make me feel as a black model like I've disappointed you by not showing up to a shoot as a white girl.
I for one think that her comments are rude and offensive. If this were a white woman saying, "Dear Black people," they would be persecuted. I am tired of the double standard! Make your complaints directly to the people who are in charge of hiring the makeup artists and begin with them without lumping all the "white people" in the fashion industry together.
Too many makeup artists are racist assholes and it's not cool.
Her bad attitude makes her downright ugly! Glad she posted her rant on social media so the modeling industry knows never to use her. This obnoxious woman is obviously way more trouble than she's worth.