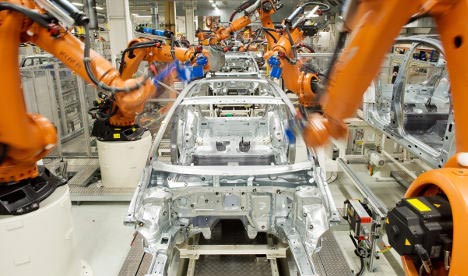 A robot has killed a 22 year old German man at a Volkswagen plant after picking up the man and crushing him against a metal plate.
According to AP, the incident happened at a VW plant in Baunatal, 62 miles north of Frankfurt.
The man was part of a team setting up the stationary robot when it grabbed and crushed him against metal plating said company spokesman Heiko Hillwig.
The spokesperson said initial conclusions indicated that human error was to blame, rather than a problem with the robot, which can be programmed to perform various tasks in the assembly process. 
Hillwig said all contractors are required to adhere to VW's workplace safety regulations.
He added that it normally operates within a confined area at the plant, grabbing auto parts and manipulating them.
Another contractor was present when the incident occurred, but wasn't harmed offered the VW spokesperson. 
Hillwig declined to give further details, citing an ongoing investigation, except to say the man succumbed to his injuries after being rushed to emergency.
German newspaper HNA reported the robot in question is used to build electric engines and was not one of the new generation of lightweight collaborative robots that work side-by-side with workers on the production line and forgo safety cages.
The outlet noted fatalities are rare as robots are generally kept behind safety gates to prevent contact with humans, however it is believed the worker was reportedly inside the safety cage when he was injured.
The outlet would note the robot suffered no damage in the accident.
The incident has since led to prosecutors contemplating whether to bring charges, and if so, against whom.
A spokeswoman from Volkswagen told The Independent: 'Earlier this week a contractor was injured while installing some machinery in the Kassel factory.
'He died later in hospital from his injuries and our thoughts are with his family.
'We are of course carrying out a thorough investigation into the incident and cannot comment further at this time.'
Photo: DPA.