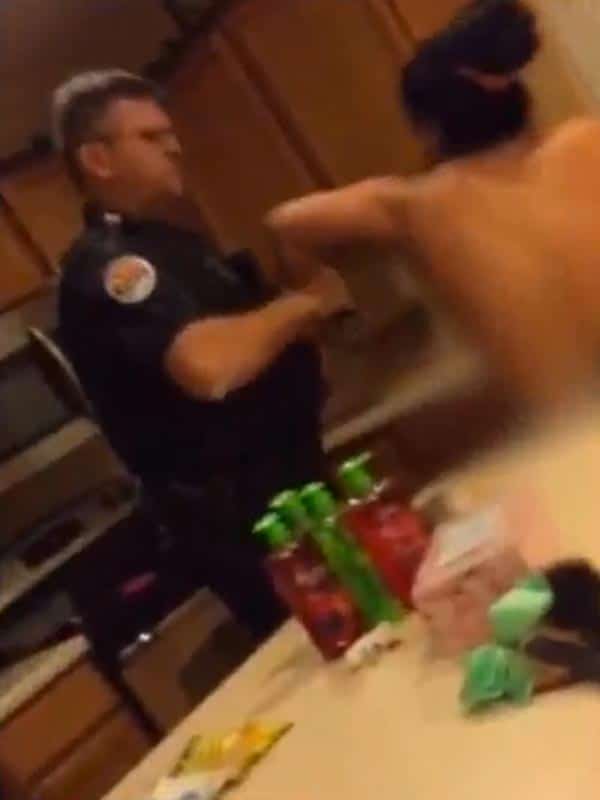 Esmeralda Rossi an Arizona mother has told of the moment a cop 'illegally' entered her home and arrested her whilst she not wearing any clothes.
At the time the woman was in the shower when veteran officer and former Marine Doug Rose and his partner barged upon the woman's Chandler home.
The incident has since left the woman telling she felt 'violated' and 'molested,' via ABC 15 and now planning a lawsuit.
Cops arrived after receiving a 911 call after Rossi had an argument with her estranged husband at his home.
Rossi's daughter came into the bathroom and told two cops were in the house, leading to the mother confronting the cops.
From there the mother claims Rose who had been on the force for 20 years became very aggressive after telling the cop to wait at the door so she could go get a cell phone (in order to record the exchange).
Body camera footage as worn by Officer David Selvidge who had accompanied Rose shows (see below) the mother screaming 'don't touch me' when Rose puts handcuffs on her, while only wearing just a towel. In the background Rossi's daughter is also heard protesting.
Rose then asks her: 'You have no clothes on at all,' to which Rossi's daughter says: 'She was in the shower. What are you doing?' 
Responds Rose: 'When a cop shows up… you're not the one in charge. I don't care if this is your house. Do you understand me?'
After 20 minutes, Rose then allegedly made Rossi's daughter take the handcuffs off.
She told the station: 'I felt helpless. I felt violated. And honestly, I felt molested.
'It made me very uncomfortable. So I closed the door. I turn to go into my living room, and I probably get about five steps in; and all of a sudden, I just hear boots running in after me, telling me stop or I'll arrest you.'
While admitted taking an attitude with the cop, Rossi's attorney says anyone would be agitated in her situation. 
After looking over the footage, Chandler police determined Rose, who owns his own company performing background checks called DFA solutions, had entered the home illegally and without probable cause. She was never charged with a crime.
The investigation also determined that Rose didn't document arresting or un-arresting the woman or the fact that she was without clothes. Why isn't necessarily understood.
Since the episode and ensuing investigation, Rose has retired.
The second officer, Officer David Selvidge who contacted their superior to report Rose's disturbing actions, has been cleared of any wrongdoing.
Told Marc Victor, Rossi's attorney: 'This was not the proper treatment of a citizen. This was disgusting. This was barbaric.
'Any one of us would be upset if a police officer barged into our homes without permission. She had a right to be upset.'