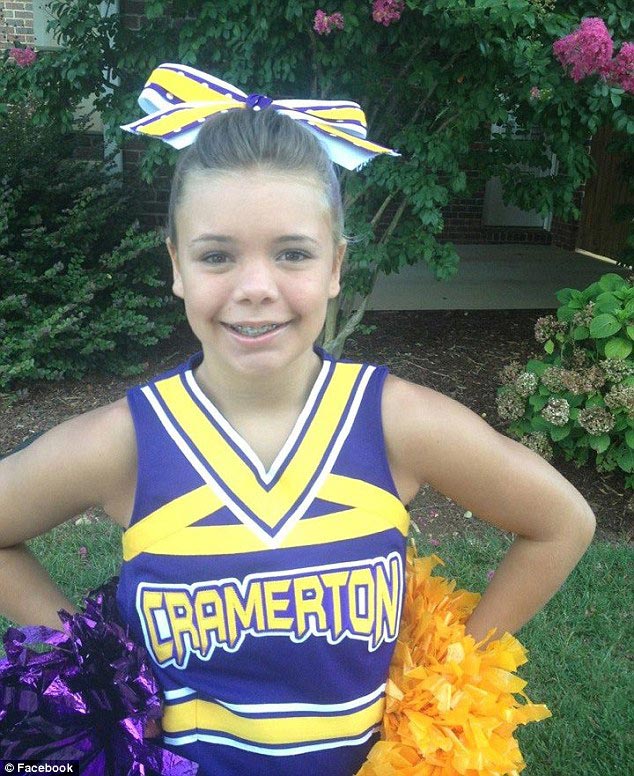 Destiny Stafford a 15 year old North Carolina highschool girl has died after being kicked in the head by her father's horse over the weekend.
At the time of the incident, the cheerleader captain was riding her dad's horse at her aunt's home in Gastonia on Saturday when the teen equestrian was thrown off the horse, which in turn kicked the girl in the head when she tried to get up.
Destiny was reportedly labeled brain dead at 1:17am Monday morning, leading to the girl's family deciding to take her off life support and donate her organs 'to let her give someone else life'.
Wrote Destiny's mother, Kelly Stafford: 'We know the God still answers prayers because thousands are praying somewhere else for their child to get her organs and they are receiving them,'
'She would love this and we don't want anyone else to ever feel this pain.'
Destiny's injuries were so bad that she had to be airlifted to Levine Children's Hospital in Charlotte where she was put on life support.
Upon learning of the misfortune that had befallen their classmate, hundreds of students at Stuart Cramer High School gathered for a prayer vigil Sunday. 
Some 2,000 people followed Destiny's tragic tale on a Facebook page called "Prayer chain for Destiny Stafford."
Destiny was a rising 10th grader at the school, where she was a co-captain of the junior varsity cheerleading squad.
Offered Audrey Devine, the principal of the school: 'Our hearts are heavy as we want our sweet Destiny to recover and return to our storm family,'
'The power is in prayer. Our sweet Destiny needs us to be on our knees every day.'
'I first met her at cheer tryouts,' Desera Rajnes, Destiny's co-captain, told the Charlotte Observer. 
Adding: 'She made me feel at home right away. I'd always go over to her house to make our posters.'
Ashley Cloninger, teacher at Stuart Cramer and a family friend, told WBTV that Destiny was a 'precious girl, full of life and love. Always smiling loved to cheer and ride horses.'