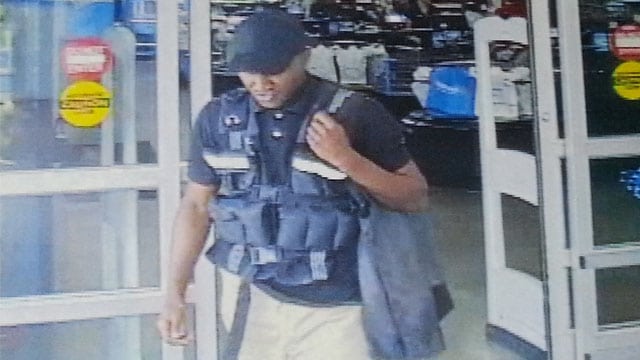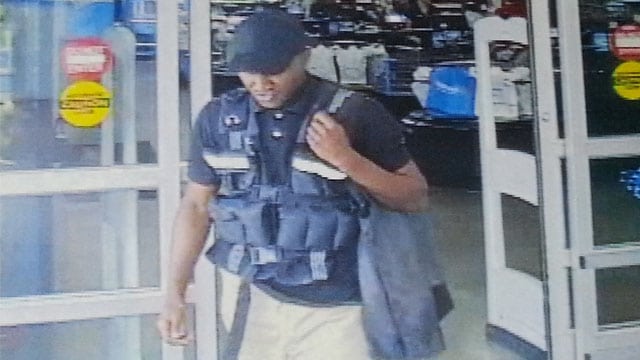 A mystery man has managed to pull a fast one on Bristow, Oklahoa Walmart store after pretending to an armored truck driver for a scheduled pick up before making off with more than $75 000.
Donned with a gun and a company bulletproof vest the man was able to convince store employees he was there for a cash pick up for Loomis Armored on Saturday afternoon report newson6.
Yet it wouldn't be until when the real Loomis truck came to make the scheduled pick 30 minutes later that the employees realized that they had been conned.
Cops said the man did not use the gun or threaten employees, only to say he worked for Loomis and was there for the scheduled cash pick up.
Although the man was thought to be dressed in a Loomis uniform, a further regard of surveillance video has revealed that the man's uniform was bereft of the Loomis logo.
How or why that detail came to be overlooked by employees is also not understood.
Also of concern is how the man was able to take the cash without having to necessarily produce identification signaling him to be a legitimate employee who was specifically mandated to be at the pick up spot.
Surveillance video has also thrown into question whether the mystery man's bullet proof vest happened to be legitimate or not.
Investigators have since told that they are looking for the man who was last seen getting away in a newer model Chevrolet Malibu that was all black, including the wheels.
How or why the man was not approached after he was noted leaving in the automobile as opposed to an armored plate vehicle also remains of mystery said Bristow Police Detective Kevin Webster.
Federal authorities have moved in on the investigation due to the size of the theft, police said. They are looking at the possibility that the man is a former Loomis or Walmart employee.