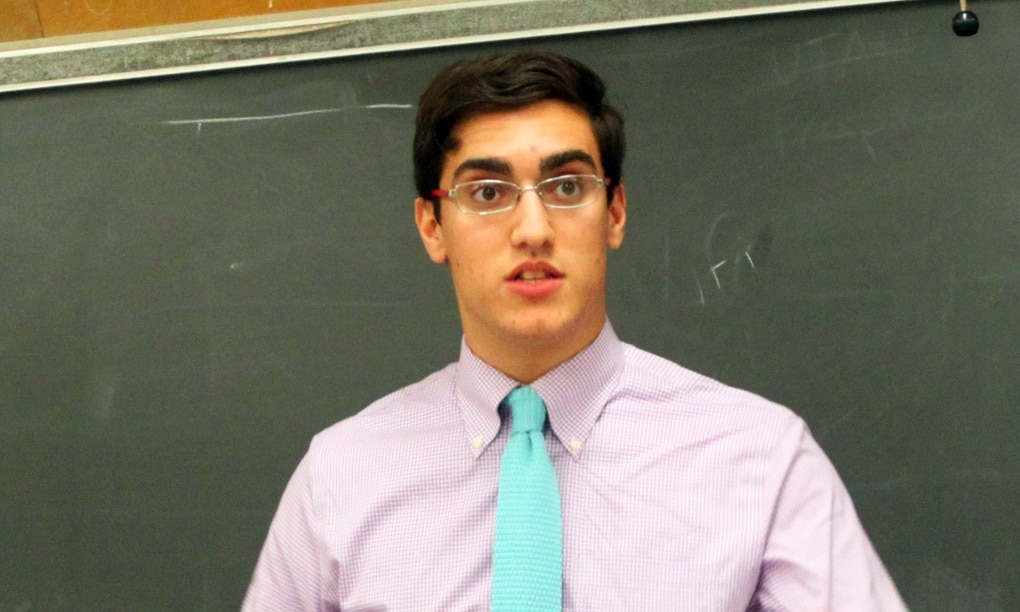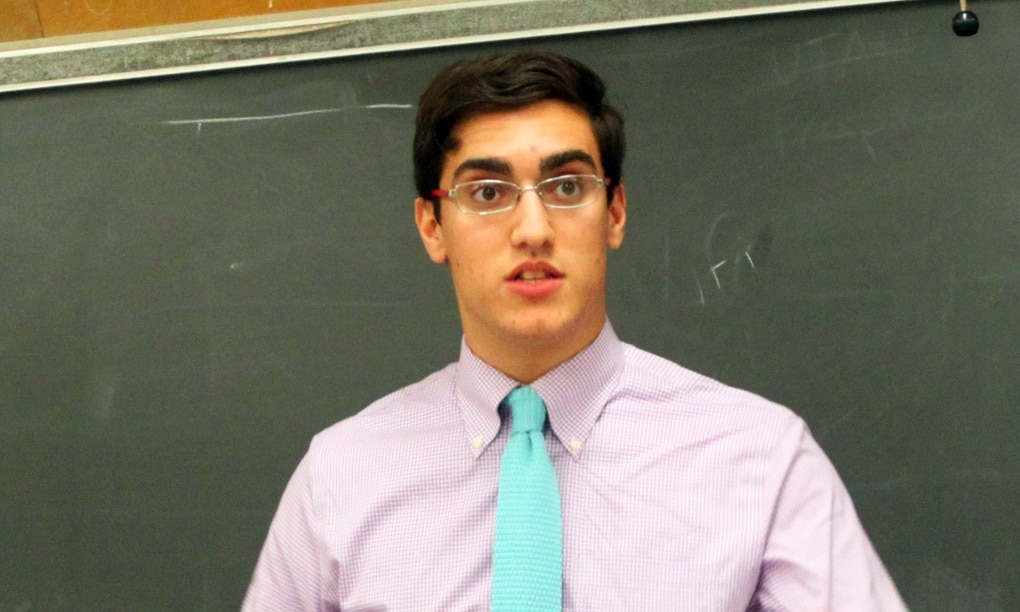 A Facebook fan page; Justice For Feras Morad has been set up for a Long Beach, California community college student by fellow classmates after the 20 year old 3.9 GPA student and debating champ came to be shot dead at the hands of police on May 27.
A shooting that supporters of the dead youth argue should never happened and was a grave over reaction to what had actually taken place.
The Facebook page since liked by 755 people and shared close to 400 times has claimed that an incident which saw the 20 year old aspiring Harvard law student shot down by a cop purportedly after the Moorpark College student declined to yield to attending cops demands to 'back off' is riddled with inconsistencies and misleading statements at the hands of cops.
Asserts the post in part: At approximately 6:00 pm on May 27th, 2015, Feras Morad began to show symptoms of sensory degradation caused by ingesting psilocybin mushrooms. Witnesses report that by 7:00 pm, Morad was asking his friends where he was and what he was doing, but their answers did not seem to register with him.
Approximately 25 minutes later, Morad broke through a second story window that shattered, dropping him onto the cement below. Kamiran Dadah immediately phoned the police and ran down the stairs to find Feras sitting on the ground, severely bleeding from a deep gash on his shoulder. Dadah and Fobes urged him to get back in the house, but Feras Morad stood and walked through an open gate and into the alley.
The unnamed officer arrived alone in the alley and confronted Feras after stopping his car, telling him to raise his hands. Morad was not able to comply, and instead moved about aimlessly in the alley as witnesses yelled to the police officer that he was unarmed and in need of immediate medical attention.
Feras Morad was shirtless, without any weapon, bleeding from multiple wounds, and possibly suffering head trauma from the fall. Witnesses report that Morad did not threaten the officer. He did not physically swing, attack, or verbally indicate aggression toward the police officer or anyone else. Feras Morad was unable to comply with any of the officer's demands for compliance and continued to be confused and injured, "like a bird with a broken wing hobbling around in the house", one witness said.
The officer was unable to immobilize Feras, but witnesses report there was no fight, just the police officer trying to subdue Feras. As Dadah and Fobes were moved from the scene by emergency personnel, they continued to scream that Feras was unarmed and in need of help as the unnamed police officer fired 3 shots, all on target.
We have recorded official statements from both people who were with Feras that night. Both Kamiran Dadah and Ryan Fobes are awaiting to see the official narrative that emerges from the Long Beach Police, at which point we will get in touch with the press and explain what happened in that detail.
We want to know:
What threat did Feras Morad pose?
How could a trained police officer allow this escalation?
At what point did killing Feras Morad become necessary for anyone else's survival?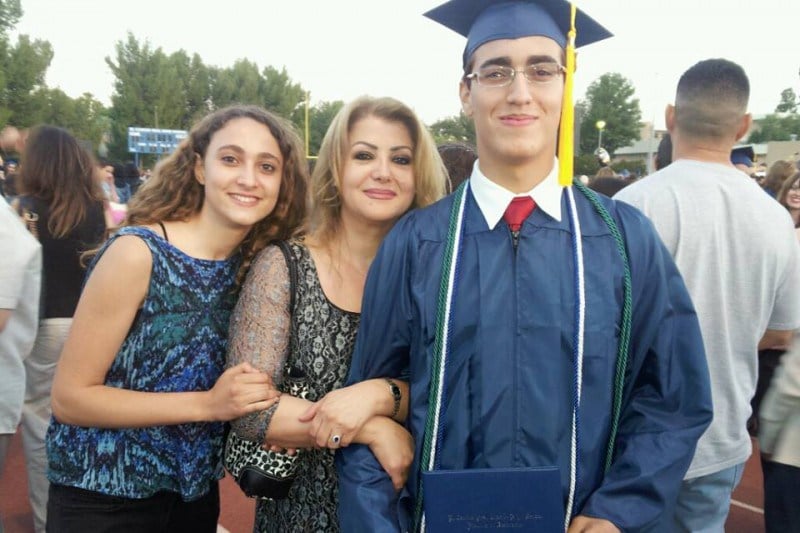 Since the incident, cops have maintained that the student had 'displayed violent behavior', was intoxicated, and posed an immediate threat to the well being of the attending police officer.
  According to a police press release, the officer told Morad to stop so that he could get medical treatment:
The suspect advanced more rapidly toward the officer who perceived the suspect was now a threat and going to assault him. During the next few minutes, the officer utilized verbal commands, an electronic control device, an impact weapon, and physical force to gain compliance but was unsuccessful. Ultimately, the suspect again advanced toward the officer, telling the officer he was going to attack him. At that time, an officer involved shooting occurred.
Since the fatal shooting and the open outcry that has resulted, and the demand to understand why a student who was obviously under the influence had to be fired at with a police gun, Long Beach police department has told it has now launched an investigation. Told a police statement which declined to release the name of the officer who shot Morad:
The Police Department thoroughly reviews all use of force incidents through a rigorous multi-step process that evaluates legal, policy, tactical, and equipment issues. The Los Angeles County District Attorney's Office is conducting an independent investigation of the shooting, as they do with all officer involved shootings that occur in Los Angeles County that result in injury of death. The Long Beach Homicide Detail investigates all officer involved shootings. This investigation remains ongoing. Anyone with information regarding this incident is urged to contact the Homicide Detail at (562) 570-7244. Anyone wishing to remain anonymous may call 1-800-222-TIPS (8477), or text TIPLA plus your tip to 274637 (CRIMES), or visit www.LACrimeStoppers.org
Also inspiring disturbing questions is why Long Beach police department failed to notify Feras Morad's family of his death until two days after the fact?
Told Morad's 16-year-old sister, Ghada Morad via CBS Los Angeles: 'I am so angry no words can explain what I'm feeling.'
Reiterated the student's father, Amr Morad via NBC Los Angeles: 'He wasn't supposed to be shot, even if he did something, if he was under the influence, he should not have been shot, he does not harm anyone.'
Contemplated Jordan Menard one of the individuals who set up the Facebook page and twitter support page (Justice 4 Feras) for Morad via the Press-Telegram:
'Debate is a very tight-knit group. The whole point is to build a community around Feras … I wanted to give my friends the ability to fight back against the system. I want police to stop seeing people as problems that need to be solved instead of human beings.'
As of June 2nd, cops have yet to have provide new answers as to how or why Morad came to be killed and whether any disciplinary action will be taken against the police officer who many believe chose open aggression as a first resort as opposed to common sense and practical human interaction with the individual that they had purportedly come to assist?
Please join us and invite others to honor Feras. #Justice4Feras https://t.co/7TqtCNBKtH

— Justice 4 Feras (@justice4feras) June 2, 2015
NBC Caught Altering Interview w/Witness to Fit Police Narrative in LBPD shooting #Justice4Feras http://t.co/esNKqqIErq via @PINACnews

— Justice 4 Feras (@justice4feras) June 2, 2015
Join us in our Rally for Feras to honour him and request honest discourse in LB this Thurs at 4pm. #Justice4Feras https://t.co/GpKk5KvTL5

— Justice 4 Feras (@justice4feras) June 2, 2015
Over $9k raised in 2 days. Please keep sharing to support the Morad family. #Justice4Feras http://t.co/88qCb3Rpnz

— Justice 4 Feras (@justice4feras) June 1, 2015
And then there was this comment on the web that struck a nerve with me, see what you think:
Its really sad that we are coming to a point where we can't trust our police to protect us, but we fear them instead. And its NOT a racial issue. Being a crappy person doesn't come in a race/color. Its the most none discriminatory condition on the planet.
What also saddens me is that I know, and on friendly terms with, many police offices. They are perfectly wonderful human beings. But, with the numbers as they stand (approaching 400 fatal police shootings in 2015) something has to give.
We need more extensive training for police officer, including ongoing continual training, better/ongoing psychological screenings to make sure they are/are still up to the job. Maybe weekly/bi-weekly therapy sessions, body cameras, something. This has to end.