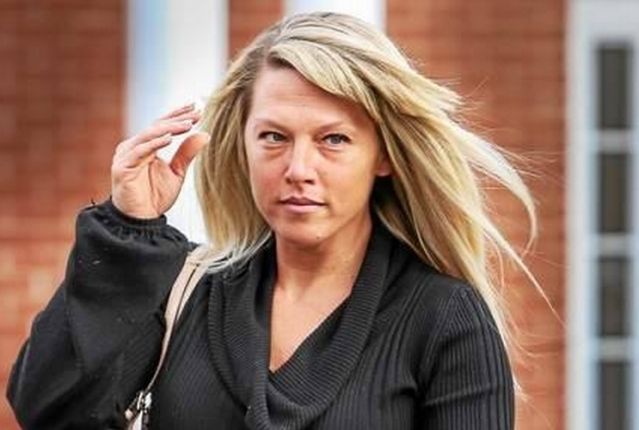 Married 'cheer' mom Iris Gibney has pled guilty to having had sex with a 17 year old high school soccer player in her car on November 15, 2014.
Appearing before a Pennsylvania court yesterday the 42 year old Victoria's Secret employee told the judge that she had made a 'horrible decision' after cop busted the woman having sex with the boy in the car park after a school soccer match.
Pictures: Iris Gibney, Cheer mom has sex with 17 year old after meeting him at high school football game
According to a police report the married woman acknowledged meeting the boy at a football game while volunteering as a cheer mom at her older daughter's school, Pottsgrove High School.
The teenager, who has not been named gave a detailed account of how they met when the two were picked up at around 10:30pm in November in a parked truck in Hollenbach Park.
The woman's arrest came after cops noticed two cars in the lower parking lot of Hollenbach Park after the park was closed.
As cops approached the vehicles, a police report documents cops coming upon two individuals in the back of a Mitsubishi 'engaged' in physical activity.
Shit would get out of hand after cops asked the teenager if the female was his girlfriend, with the boy relenting that he had met the mother of three at a school football game.
According to a police report via The Delaware County Daily Times the two had met the month before with the mother proceeding to sexting the minor and sending nude images of herself to the boy's cell phone.  
The teenager told police that he 'wasn't going to lie' and admitted that he and Gibney were having sex.
After speaking to Gibney the officer 'realized she was much older than the juvenile.'
Told the mother at the time of the bust: 'I've never been in trouble before. I can't believe I did this. I have three children of my own — I am so, so sorry.'
Offered Assistant District Attorney Kristen Feden: 'She was an adult. She should have known better.'
Since pleading guilty to disseminating obscene or sexual materials and corruption of a minor the mother will be remanded on five years probation, 100 hours of community service as well as sex, drug and alcohol treatment.
As part of her punishment the married woman was also ordered to avoid contact with the teenager or his family. 
'I can tell you that Ms. Gibney is devastated by her conduct in this case,' reiterated defense attorney Fortunato Perri via CBS Philly.  
Adding: 'It's been extremely difficult for her family. She's been a loving and devoted mother and wife.'
'She's extremely remorseful for her conduct. It's had a devastating effect on her family, her children,'
The woman's husband meanwhile has said he's 'upset, hurt and just trying to keep his family together.' 
The defacto age of consent between an individual younger than 18 and an adult is 18 in the state of Pennsylvania, whilst 16 for teens no more than 4 years in age difference.
Images via facebook