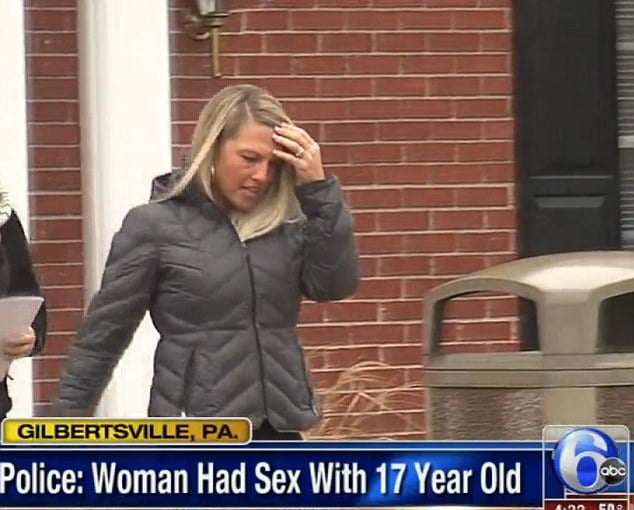 Iris Gibney a 42 year old Pennsylvania mother is facing multiple charges after allegedly having sex with a 17 year old boy she met at a high school football gam where she was volunteering as a 'cheer mom.'
Iris Gibney, soccer cheer mom pleads guilty: 'Yes I got caught, I'm in therapy now'

The woman's arrest would come after cops caught the woman having sex with the 17 year old boy in her car.
At the time of the Iris Gibney's arrest, cops would tell the cheer mom and the student were naked whilst the cheer mom was purportedly performing a sex act on the boy.
Questioned by cops, the boy would admit that he had met the cheer mom at a Pottsgrove High School football game earlier this year.
Of note, authorities would tell that Gibney's daughter was a member of the school cheer squad where she volunteered as a 'cheer mom', which involved going to games to support the squad and often carpool. 
Investigations would reveal that Gibney and the student – who attends Pottsgrove High School – would communicate on Twitter and in chat rooms.
A follow-up investigation with the student and his parents showed that Gibney had sent text messages to the student that contained explicit images.
Gibney according to a report viaWPVI has since been charged with Corruption of Minors, Disseminating Obscene Materials to a Minor, and Trespass by Motor Vehicle.
According to the arrest report obtained by NBC, Gibney said to officers when she was caught: 'I've never been in trouble before. I can't believe I did this.'
It's understood Gibney is married with three children.
She works in retail at the Victoria's Secret in King of Prussia where she would return to that evening after posting $50 000 bail…
Iris Gibney is set to appear in front of a preliminary hearing on December 30.
Images via facebook